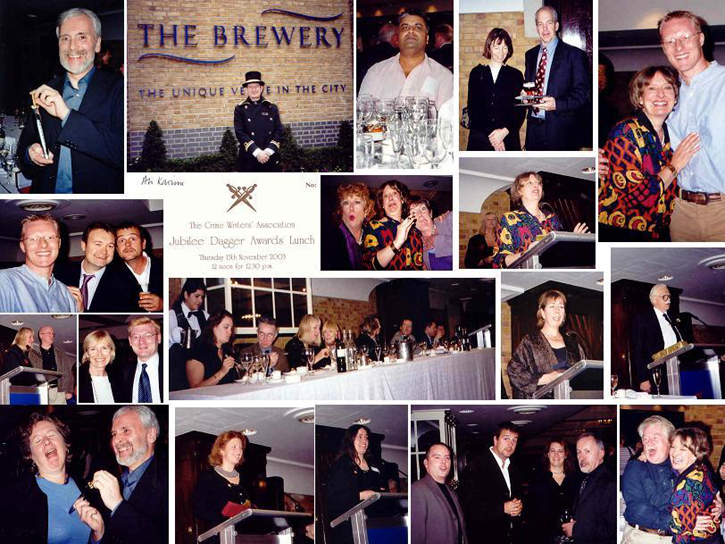 CWA Dagger Awards
The Brewery 13th November 2003 London
© 2003 Mike Stotter and Ali Karim
Mike Stotter and I were invited to attend probably the most prestigious event in the British crime fiction calendar. Prior to the award ceremony Robert Barnard was the winner of the 2003 Cartier Diamond Dagger Award, presented for a lifetime of achievement. Marking a career of nearly 30 years in crime writing, during which he has written more than forty books and won several awards on both sides of the Atlantic. The award is sponsored by Cartier. The Diamond Dagger was presented to Robert Barnard at the British Museum on 7 May, 2003.
Also at the Cartier awards ceremony, Adrian Muller was presented with a Red Herring, a "Special Merit Award for services to the Crime Writers' Association and for which no other token of appreciation would be appropriate".
This year was somewhat special as it was the Crime Writers' Association 50th Jubilee Dagger Awards Lunch. As last year, it was held at the Brewery, Chiswell Street, in London.
Michael Jecks informed us that there were 289 people in attendance, which was the most that the CWA had ever catered for. Given those numbers, it was surprising to find that CWA big guns such as Ian Rankin, Val McDermid, Reg Hill, Martina Cole, Mark Timlin and Denise Danks were not in attendance.
Without a principal sponsor, just individual sponsors for each award category the CWA put on a good show. Linda Lee Potter (a journalist who had worked as columnist for The Daily Mail for over 37 years) was the after-lunch speaker. Chair Hilary Bonner oversaw the event in a jovial style, and ably assisted by CWA stalwart and next Chairperson, Michael Jecks. It was noticed that all speakers had donated their fees to the Charity National Society for the Prevention of Cruelty to Children (NSPCC).
The first surprise was the presence of the ghost of John Creasey (a disguised Peter Lovesey) who talked about the 50 years of the CWA, as he was the first chair of the association. It was a shame that Michael Gilbert, one of the founders of the CWA, was too ill to attend. We send him our best wishes.
A great deal of hard work was organized by Danuta Reah, Janet Lawrence and Gillian Linscott of the CWA who ensured that the event went without hitch. And the winners :-
Leo Harris Award
An additional award this year was made to Roger Forsdyke for best contribution to Red Herrings.
GOLD AND SILVER DAGGERS FOR FICTION

GOLD: MINETTE WALTERS - FOX EVIL (MACMILLAN)
SILVER: MORAG JOSS - HALF BROKEN THINGS (HODDER & STOUGHTON)

Also nominated were:
Boris Akunin - The Winter Queen (Weidenfeld & Nicholson)
Robert Littell - The Company (Macmillan)
Carlo Lucarelli - Almost Blue (Harvill)
Robert Wilson - The Blind Man Of Seville (HarperCollins)

Minette Walters gave a short speech, explaining how much The Daggers had meant to her. She also mentioned that on the eve of George Bush's visit to the UK, she would donate the prize money to Medicines San Fronteres – a French charity. She gained a rousing show of support as she was greeted by loud applause.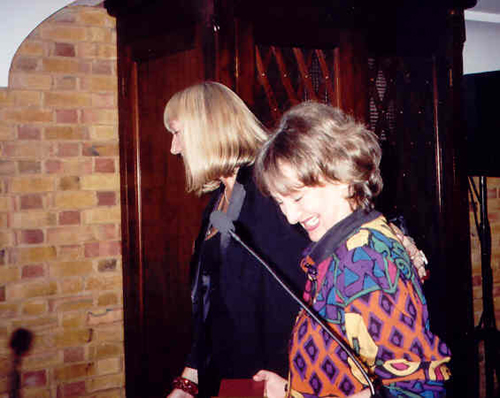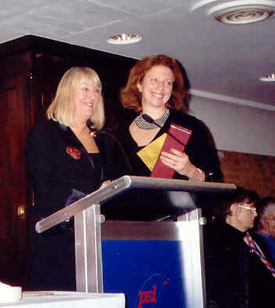 GOLD DAGGER FOR NON-FICTION

SAMANTHA WEINBERG - POINTING FROM THE GRAVE (HAMISH HAMILTON)

Also nominated were:
Michael Bilton - Wicked Beyond Belief (HarperCollins)
Erik Larson - Devil In The White City (Doubleday)
Chandak Sengoopta - Imprint Of The Raj (Macmillan)
Donald Thomas - Underworld At War (John Murray)
Peter Walsh - Gang War (Milo Books)

Samantha was genuinely surprised at the win and gave a short emotional speech.

THE CWA JOHN CREASEY MEMORIAL DAGGER

(For first books by previously unpublished writers.)
WILLIAM LANDAY - MISSION FLATS (BANTAM)

Also nominated were:
Rod Duncan - Backlash (Pocketbooks)
CJ Sansom - Dissolution (Macmillan)

Unfortunately Mr Landay was unable to attend but his publisher read out a short letter from him.
THE CWA SHORT STORY DAGGER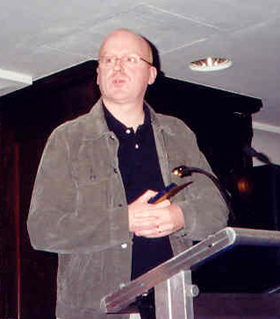 JERRY SYKES - CLOSER TO THE FLAME

Also nominated were:
Marion Arnott - Dollface
Judith Cutler - Doctor's Orders
Kate Ellis - Les Inconnus
Anthony Mann - Ester Gordon Framlingham

Jerry Sykes, who has been published in Shots as well as in many other magazines, gave a short speech.
CWA DAGGER IN THE LIBRARY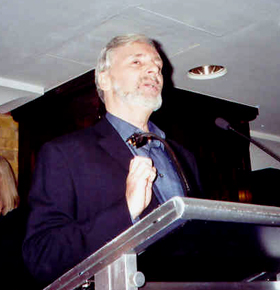 STEPHEN BOOTH

Also nominated were:
Christopher Brookmyre
Ann Cleeves
Julia Parsons
Mike Ripley
Stephen Booth was genuinely surprised to have won, but as library events were important to him he was delighted to have won the award. He gave a short speech telling everyone how important libraries had been to him as a child as his parents were not 'book-ish' people, so it had been the library that had cultivated his love of words. Therefore the award was very important to him.
We were told that Christopher Brookmyre had been a very close second and he was asked to stand for his applause.


THE CWA IAN FLEMING STEEL DAGGER
DAN FESPERMAN - THE SMALL BOAT OF GREAT SORROWS (TRANSWORLD BANTAM)

Also nominated were:
Lee Child - Persuader (Transworld)
Roger Jon Ellroy - Candlemoth (Orion)
Lucretia Grindle - The Nightspinners (Pan Macmillan)
Robert Littell - The Company (Pan Macmillan)
Henry Porter - Empire State (Orion)
Gerald Seymour - Traitor's Kiss (Transworld Bantam)
The award was presented by Lucy Fleming (Ian Fleming's niece).
Dan Fesperman was in town and he thanked Selina Walker his UK editor for her work in making THE SMALL BOAT OF GREAT SORROWS read better. Dan told everyone that winning the award had made him shaken – not stirred.

THE CWA ELLIS PETERS HISTORICAL DAGGER

ANDREW TAYLOR - THE AMERICAN BOY (HARPERCOLLINS)
(To be published in the US by Hyperion in 2004 as 'An Unpardonable Crime'.)

Also nominated were:
Tom Bradby - The White Russian (Bantam Press)
Marcello Fois - The Advocate (Harvill Press)
Lee Jackson - London Dust (Arrow)
Gillian Linscott - Blood on the Wood (Virago)
C.J. Sansom - Dissolution (Macmillan)
Olen Steinhauer - The Bridge of Sighs (Century)
This had been awarded in October and Andrew was unable to attend today so the award was accepted by his editor Julia Windom.


THE CWA DEBUT DAGGER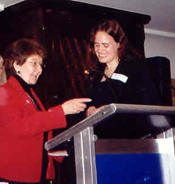 KIRSTY EVANS - THE CUCKOO
Also nominated were:
Duncan Brewer - The Woman From Smyrna
Sandra Charan - The Third Room
Margaret Dumas - Speak Now
Avriel Geneson - Speak No Evil
Judy Larkin - Without Apparent Reason
Peter Wynn Norris - The Long Train
Bryon Quertermous - Lunchbox Hero
Chris Rose - Driftlines
Melissa Kate Rowberry - The Mouths of Men
Maria E. Schneider - Soul of the Desert
Michael Shenton - The Amazing GM Dog
Betty Jacque - Days of Future Past
Otis Twelve - On the Albi
This was introduced by Michael Jecks who with Andrew Taylor, had really made this such an important way for new authors to get published. All previous winners and some finalists had ended up with publishing contracts from the award. This year 12 were in attendance. Of which 4 were from the US, 1 from Australia, and Avriel Geneson who had managed to attend after problems with her Passport in Israel.

But leaving we managed to grab a word with literary agent, Jane Gregory and her client Minette Walters.
Shots : Firstly Jane your agency has already established a huge roster, and still attracting new writers such as Chris Simms. How did this all come about?
Jane Gregory : Basically I think it comes from our reputation. It has to be said that I was well known in the publishing business as a 'rights person', and I brought along a colleague who was a aficionado of crime fiction. She taught me over the 14 years of our partnership about the genre.
Shots : You manage authors such as Mo Hayder, Minette Walters, Chris Simms, Val McDermid….it is like a who's who of crime. How do you cope with their very different styles?
Jane : We like the diversity, but the reality is that we go for excellence. Excellence in writing, excellence in style, excellence in plot as well as excellence in character. We talk to authors when they are embarking upon their career. When they bring their books to us, we ask them quite stridently – 'What do you want to do? Where do you want to go? What is your five-year plan?' – If they say well it's an interesting sideline for me while I do x, y and z……then we're not interested. If they say to us that actually I want to be Minette Walters or Ruth Rendell…then we explain how hard it is going to become a full-time writer. If they fall down on the floor with shock, we say 'Goodbye.'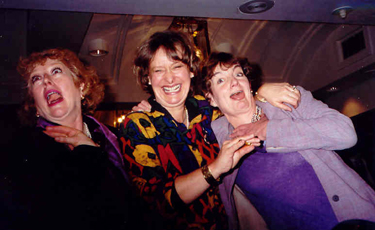 Shots : How do you work with writers when they are new, as opposed to, say, Minette?
Jane : Well we've worked with Minette since she was a beginner and he loved her right from the start. Minette had five publishers after her, and at that time there was a big deal in 'series-characters', not stand-alones. We sold Minette to the sixth publisher who was really, really enthusiastic. He did ask however, if the characters in her first novel would continue for perhaps a series? We said that they might. We did realize that perhaps the characters would not continue, but we knew that Minette would produce wonderful books, like 'The Sculptress' which was far better than a sequel to 'The Ice House'.
Shots : Were you involved with selling Minettes TV work?
Jane : It's all part of what we do, as we're not just a literary agency, as we also have connections in film and TV. Where we don't have direct access, we have connections like our man on the West Coast of America – He looks after our interests in the world of feature films. He often tells us that British TV is more innovative and more creative and certainly better written than most US TV.
Shots : Minette, what's it like to be back at the CWA Dagger Awards? And coming home with a prize?
Minette : It's lovely really wonderful, but it is my third, which makes the day particularly delightful. I have to say that when I won the Jon Creasy, I was warned by Jane and others that it could be the beginning and end of my glittering career, because I didn't have a series character as 'The Sculptress' was different. But the Americans, bless their hearts, gave me the Edgar for it, and then the CWA gave a Gold Dagger for 'The Scolds Bridal' – I think I am still the only writer who has won a Creasey, an Edgar and a Gold Dagger for their first three books.
Jane : If I may just but-in, but we'll need to check but I'm not sure how many living writers have won the Gold Dagger twice!
Minette : Well I know that Lionel Davidson who is a fabulous writer has won it three times. So I have one to go to equal Lionel's record. I know that the prize is not a big prize in terms of celebrity, which is bizarre, because I think that the best writers are attracted to the crime/mystery genre.
Shots : So how important is winning the Gold Dagger to you then?
Minette : The CWA Awards should be far more well known. It does however mean a great deal to me as what I have won is for the best crime novel in English in the world this year. Well I think that The CWA Daggers are so much more broader in terms of the award than say the Americans offer. It is effectively saying that anybody (even if that means translating a work into English) is eligible for the shortlist. That is massive if you think about the number of books published in English in the crime and mystery genre. Judging panels naturally have issues of subjectivity – issues of taste and style, but getting back to your original point – yes I do feel winning the Gold Dagger is hugely important to me. It is a stupendous accolade but I wish it had a much higher profile. I just feel that crime and mystery is the biggest area for fiction. To give you an idea, I'm published in over 40 countries which shows that the genre travels well throughout the world, so the CWA Daggers do need to have a higher profile. Imagine if I could have donated £50,000 to Medicines Sans Frontiers that would have really done something. In closing, I would like to thank the CWA for the organization of the awards, but I would like to say that it can't continue like this – we do need a main sponsor. I think Internet sponsorship is the way forward. We're all writers, we all use email, we send manuscripts via email, and the obvious sponsor would be BT Openworld, make it the biggest prize in fiction is what I say! Everybody reads crime novels whether they admit or not! Even Martin Amis has started writing crime.
Shots : And finally Minette, can you tell us a little about your new book 'Disordered Minds'?
Minette : It has received some brilliant reviews. It is for anyone interested in the Iraq War, and the awful unrest that was created in Britain because of it. That is the backdrop to the whole story. It is a story of a thirty-year miscarriage of justice and I think it is pretty gripping.
Shots : Thank you for your time and congratulations on your Gold Dagger victory.
Minette : I would like to thank Shots and their readers for supporting my work over the years.
Shots Ezine would like to thank the CWA for their cooperation and hospitality and more information on their activities are available online at www.thecwa.co.uk.
ROGUE'S GALLERY
Ali really doesn't have a drink problem!
David Shelley (Allison & Busby MD) with Maxim Jakubowski
BBC Audio books presents John Creasy Memorial Dagger
The ghost of John Creasey aka Peter Lovesey
Chris Simms, Simon Kernick & Mark Billingham
Anthony Mann & Marion Arnott
Hilary Bonner
John Harvey
Julie Wisdon (Harper Collins) accepts Historical Dagger for Andrew Taylor
Mike Jecks thanks Danuta Reah for helping with the organisation of the Daggers lunch
Mike Ripley in fine fettle
Silver Dagger winner, Morag Joss
Philip Gooden & Mike Stotter
Simon Kernick & Russell James
Zoe Sharp, Gillian Linscott & Janet Laurence -part of the Organisation team
Selina Walker & Dan Fesperman
Stephen Booth shows off his Dagger
Russell James & Mike Stotter still drinking!
Mike this is what you do with the Dagger!
Take your empties on the way out. please!