The medic who murders is always held in especial fear as we're alone with them whilst lying down in a weak and semi-naked state. They've been trained for years to make us better - but a few of them have macabre plans for our flesh.
Murderous medics can kill numerous times. One male nurse, Brian Rosenfield of Florida, killed at least twenty five elderly patients. Another male nurse, Roberto Diaz of California was found guilty of murdering twelve. And hospital orderly Donald Harvey admitted to over fifty such homicides. More recently, a British male nurse was found guilty of administering a date rape drug to several female patients. One of his victims, a trusting friend, had an allergic reaction to the drug and died.
Women also regularly murder in a medical setting. Beverley Allitt, a nurse who exhibited Munchausen's Syndrome By Proxy, is probably Britain's most famous female hospital killer. She injected helpless babies with near-lethal doses of insulin then attempted to revive them in front of other nurses and the infants families. This won her what she most craved - her colleagues attention and the parent's gratitude and praise. She pretended to adore those children but was really indifferent to their pain.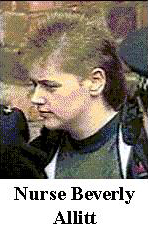 Nurse Allitt knew that when she injected insulin into these babies that they would have hypoglycaemic seizures and possibly fall into a coma. She also injected potassium into other children bringing on convulsions and heart attacks. When she could no longer gain access to such medication she semi-suffocated the infants in her care.
Beverley herself had been shown care as a child mainly when she hurt herself so damage and love became intricately entwined for her. Like all Munchausen practitioners she also had very low self esteem. Indeed, she became so severely anorexic during her trial that she often couldn't attend court.
Found guilty of killing four children and grievously harming many more, she was sentenced to life imprisonment. She remains in a secure hospital for the mentally ill where she's alleged to have fallen in love with another patient and has plans to marry him.
Her background and motivation were similar to that of American nurse Genene Jones, who features in this author's book Women Who Kill: Profiles of Female Serial Killers. Genene injected one baby with such a large dose of anti-coagulant that the poor infant had blood oozing from every orifice.
The book also includes the case of two American lesbian care workers who restrained and suffocated their elderly patients. They'd sadistically threatened and partially-asphyxiated some of these patients in the days before their deaths and the patients were clearly terrified of the two care assistants - but witnesses put the patients' terror down to senility.
Dr Harold Shipman - UK Mass Murderer
The most recent case of a murdering medic to make British headlines is that of Dr Harold Shipman who was convicted of fifteen murders on the 31st January 2000 and sentenced to life imprisonment. Shipman was a

general practitioner who regularly visited his older patients in their modest homes. As women regularly outlive men, most of his elderly patients were females who lived alone.
He would tell each woman that he was going to give her a vitamin injection or take a blood sample. Instead, he'd inject her with a fatal dose of morphine and within seconds she'd lapse into unconsciousness. Moments later her breathing would stop and he'd leave the home.
Most serial killers are tried for far fewer murders than they actually carry out and Shipman is probably no exception. Relative after relative came forward to say that their parents appeared in good health then died within minutes of the well-liked doctor appearing on the scene. The police investigated over a hundred potentially suspicious deaths under his care but some of the corpses were so decomposed that it was impossible to tell if they'd once contained his deadly medicine. But many families remain convinced that the doctor lethally injected their relatives - and one coroner suggested Shipman may have murdered up to a thousand elderly patients during his thirty years as a general practitioner.
The little we know about Shipman's childhood suggests it was far less abusive than that of virtually every other serial killer. Granted, his childhood was a solitary one as his parents didn't like him mixing with the other working class kids, wanting him to rise above them. But it doesn't appear to have been so physically and emotionally cruel that it would cause him to kill.
There was early tragedy in his life though, for his mother contracted cancer when Harold was still a shy study-obsessed teenager. Every day he'd come home from school and sit by the painridden woman - and every so often the doctor came by and gave her an injection of morphine that brought her instant relief. Less is known about his lorry driver father but when the man died, Shipman said he wasn't sorry that he was dead.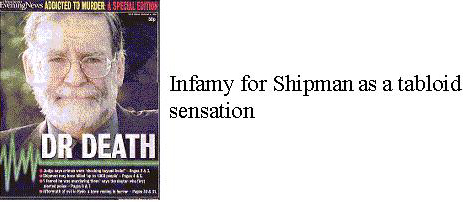 Stress may have affected Harold Shipman's state of mind and had some bearing on the murders. The young medic got his girlfriend pregnant when they were both seventeen, so he was a married man with a baby to support at a very early age. He also took on a huge workload and had so little money that at times they had to live with his wife's parents in a disapproving and deeply religious environment.
When a person is under such long term pressure it leads to a certain callousness as the person has nothing left to give. Shipman may have killed some of his more demanding patients for this reason, seeing them as time-wasters in his queued-out surgery.
But this can't be the full explanation as he killed one woman who had handed in a Christmas present to his surgery the day before. She made no demands on his time and clearly regarded him very positively. He killed other elderly women who were in very good health and who did lots of charitable work in the community so these weren't euthanasia-style deaths.
And they weren't sexual. One woman walked in on Shipman unexpectedly moments after he'd killed her friend. The dead woman's blouse was still buttoned to the neck and Shipman was over in the corner admiring her ornaments. He didn't stay with the bodies after injecting them, something a sadistic necrophile would definitely do.
The power motive also doesn't hold here. The victims drifted into sleep within seconds so showed no signs of anxiety. Indeed, many relatives commented on how peaceful they looked. These were almost instant, if unnatural, deaths.
Harold Shipman remains a diagnostic mystery - and he's still not talking. His wife has vowed to stand by him and some of his more loyal patients have said that they'd still trust him with their lives.
Women Who Kill: Profiles of Female Serial Killers by Carol Anne Davis was published in April by Allison & Busby priced £6.99