I drove to Manchester not really sure what this years event would hold in store for the hardcore crime fiction fan. This year, the book chain Waterstones organised this fifth convention, decided to hold most of the events in their 'flag-ship' Deansgate store, situation in the heart of Manchester.
Previous years' events had been hosted at the Renaissance Ramada Hotel, situated within walking distance from the store, and featured such luminaries as Guests of Honour - Mike Connelly, George Pelecanos and Ruth Rendell. This year we had a vast array of talents covering all aspects of the rapidly expanding genre. Big names such as Mo Hayder, Ian Rankin, Lindsay Davis, Peter Robinson, Paul Johnston, Stephen Booth, Natasha Cooper, Michael Jecks and Martina Cole. However, they had also scheduled many emerging and defining talents: the recently Dagger- nominated Mark Billingham, Michael Marshall, Simon Kernick, Carol Anne Davis and Laura Wilson; also chef and crime writer Anthony Bourdain and Jenni Murray from Radio 4's Woman's Hour. Panels featured True Crime, Future Noir, as well as local North-West writers promised a tremendously eclectic line-up, if ever I saw one.
The Dead-on-Deansgate event has transformed from a weekend gathering to one that spans the week. It starts with advice on how to get published from literary agent Carol Blake and editor Barry Turner right up to Uber-seller James Patterson closing off the festival.
Holding the event in the shop seemed to be problematical - well where was the bar? - being a serious issue that lay etched at the forefront of my mind. So after unpacking my gear in the nearby Travel Lodge, I trudged with my trademark camera, notebook and tape machine into Waterstones on a bright Friday lunchtime. Filled with a glow of excitement, enthusiasm for a genre that I love, and a mind brimming with questions for the assembled writers.
Firstly I spotted Stephen Booth (in his black sunglasses and dark blazer) stroll into the shop, and we chatted, following up the thread of our conversation from Heffers Cambridge. I congratulated him on the success of 'Blood on the Tongue' which he accepted modestly. Stephen was rather busy on book #4, but had various events due in the US shortly, including Bouchercon, so his time was rather precious. He indicated that he would be at the Circle club that night, but had to leave rather early for a signing at the new Borders in Stockport the following morning.
I was early, so I decided to try and grab a few minutes with Jon Atkin (the Events Manager) and Jude Davis (the crime buyer) of Waterstones. I found them in the crime section, organising tables and boxes of books that had been shipped in to satisfy the fans who would soon be swarming in over the weekend. They both cheerfully agreed to talk to Shots about the event and its history.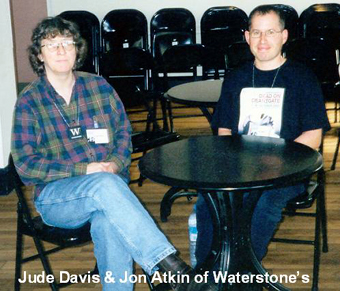 I really appreciate you spending a few minutes talking to Shots about Dead-on-Deansgate.
Jude and Jon : No problem, and it's cool to see you again and your camera.
Could you tell us how Dead-on-Deansgate actually started for Waterstones Manchester?
Jude : It started over a pint in a pub with Val McDermid and Robert Topping who was the manager at the time, and a guy who still works here called Dave Lovely.
Jon : Yes, it was just the three of them in a pub five, six years ago. Then the link with the CWA [Crime Writers' Association] sprang up with Waterstones Deansgate. That's when the authors got involved and it soon mushroomed to what it is today. It's now in its fifth year, and a truly international event. It is now the largest crime-writing event in the UK, if not Europe I guess, and it all came from three people in a pub.
So how important is the crime fiction genre to Waterstones Deansgate, in terms of sales?
Jude : In terms of sales it is very important. It represents probably between 22 to 25% of total fiction sales.
So within the crime fiction genre, where do you see the main areas of growth? Do you see a trend toward a more visceral (almost horror) type of novel? Like Mo Hayder? And what about historical crime, techno thrillers, cozy's?
Jude : The historical is a big growth area, I seem to see a lot of new writers emerging producing some very, very good books, 'Necropolis Railway' being a case in point, which has been a very big seller for us and is a very good book. That's one area that is growing. The darker, more visceral crime writing is also growing fast, like Mo Hayder, John Connolly, Mark Billingham, Michael Marshall, Simon Kernick, Tess Gerritsen, Karin Slaughter, that kind of dark crime novel seems to be finding a growing audience. We still get remarkable high sales of the cozy. Even Agatha Christie sells very well on a regular basis. In fact the crime genres very broadband today, and even now the tech-noir coming over from the SF genre making up a very, very varied and diverse crime genre.
Jon, with regard to events. Waterstones Deansgate really supports the crime genre. I recall earlier this year being amongst a crowd of over 150 people listening to Michael Connelly when he launched 'City of Bones'. Can you tell us about the schematics in organising a successful writer event?
Jon : Well you need to start well in advance, get to know the publishers, get to know what's coming out from the publishers advance listings. Then you try and sort it out, because a lot of these authors are so big, and have international schedules and profiles, that often they have been touring other countries. We would have loved to have had Val McDermid here this year, but she was booked to tour America promoting her latest book 'The Last Temptation', but we asked her in January, but she'd already been booked up. So it really helps to try and plan early, but it helps when you have the reputation of Waterstones Deansgate, when it comes to attracting the big name authors. For instance, we run this festival, and we also have the crime-doubles, where we pair two crime writers for an event.
I find the crime doubles fascinating, as you get two sets of readers, and there's this cross-pollination of ideas between writers.
Jon : Sometimes we put similar people together, and sometimes we put a new author and a more established author together. This can often result in very lively debates, and often that can be better than just one author talking to an audience.
Jude, looking back over the last 6 -12 months or so, what books really standout in your mind?
Jude : Sheesh…that's a difficult one, because I read so much, and a huge amount of great books have been released, you'll have to give me a few minutes.
Well, I'm particularly interested in the less well known books, up-and-coming authors, and perhaps authors changing styles, as well as naturally the big, well known authors such as Val McDermid, Michael Connolly and the like.
Jude : Well I guess 'Necropolis Railway' by Andrew Martin (as I mentioned earlier) was fantastic, and one that isn't a novel (we actually put in under true crime) 'The Poet and the Murderer' by Simon Worrell is stunning, and is about a Mormon forger who forges a poem by Emily Dickinson, a really stunning book. Other novels…….give me a few minutes.
So Jon, what's the behind the scenes work going on for Dean-on-Deansgate, as the event is based in the shop, but you do have other things going on.
Jon : Again we started months ago, well almost a year ago. It was a long process working with the publishers getting the schedules set up, and venues. This year we have expanded the reading/events room so that we can hold generous size audiences and it has big bay windows so it is airy and the lighting is good. We have a social event 'Get to meet the Authors' held at the circle club tonight, and tomorrow night is the Orion CWA Gala Dinner held at UMIST, when the CWA will be handing out some of their Daggers. So although most of the events are held in the shop, we do have these two social events also.
Earlier in the year there were some rumours that, for whatever reason, the CWA may have been distancing themselves from Dead-on-Deansgate, where did these rumours come from?
Jon : I don't know where these rumours started; in fact I heard one that the whole festival had been cancelled. It was just not true, as we were busy organising it. We issued a press release detailing the event, so again I have no idea where these rumours came from. The CWA are deeply involved, and they are still presenting the Daggers, and we have a wide range of authors in attendance. It may have been on a misunderstanding on how we were restructuring things, and that just lead to Chinese Whispers.
How did you manage to get Jenni Murray to interview Mo Hayder? As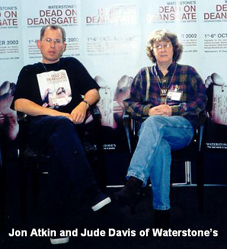 that's a bit of a scoop?
Jude : Jenni came to Val's launch of 'The Last Temptation' in February, as Val and Jenni know each other quite well. So we asked her 'How'd you like to come to Dead-on-Deansgate' and interview Mo Hayder?' and she agreed, so the deal was set up way back then.
Well I think that is a great scoop for Deansgate. I see you've also got Peter Robinson, who has flown in from Canada, Ian Rankin from Scotland, Martina Cole from Essex, and Anthony Bourdain from the US, so a truly international event. I had to mention Martina from Essex, being a former Essex-man myself !
Jude : Yes, a very interesting and diverse line-up.
So going back to my original question Jude, what about those books?
Jude : Well it is difficult, so I've listed them for you, but I must mention that this list is from the top of my head, and firstly features three writers who are changing direction - Paul Johnston with his new Greek PI novel, as well as Anthony Bourdain's crime novel which contrasts with his cookery/travelogues, and Michael Marshall Smith's crime debut 'The Straw Men'. The other books on the list are debuts, or less well-known novels, but three (Mark Billingham's 'Scaredy Cat', David Benioff's 'The 25th Hour' and Jim Kelly's 'The Water Clock') have actually been nominated for CWA Dagger Awards.
Jude's List :-
· The 25th Hour by David Benioff
· The Water Clock by Jim Kelly
· The Necropolis Railway by Andrew Martin
· The Poet and the Murderer by Simon Worrell
· The Straw Men by Michael Marshall
· A Deeper Shade of Blue by Paul Johnston
· Triggerfish Twist by Tim Dorsey
· Scaredy Cat by Mark Billingham
· Bobby Gold by Anthony Bourdain
By the way 'The Water Clock' by Jim Kelly (Published by Penguin) I really loved, so much so, that it's Waterstones Book of the Month.
You don't think that's the end, do you? What's happened to all the interviews and photos? The only way you can get to see them is to join our mailing list. Once a member you can get exclusive material not available to other visitors to our website. Is there a catch? Yes, you'll have to spend 30 seconds filling in the form below. You'll be given the URL free of charge - just a little extra something for your loyalty.