Ayo Onatade's Report on Scene 2003
For the fourth year running Crime Scene took place at the National Film Theatre at the South Bank. This year it included a tribute to Georges Simenon and his legendary detective, Inspector Maigret on the centenary of his works. The Crime Scene guest of honour was the legendary American crime writer, Walter Mosley.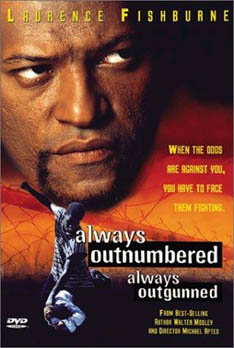 While the panels did not start until Friday 11th July, Thursday 10th July was technically the opening night and the gala event was a showing of Walter Mosley's Always Outnumbered, which was followed by a question and answer session. Always Outnumbered is based on Mosley's novel Always Outnumbered, Always Outgunned a collection of short stories featuring ex-con Socrates Fortlow played by Laurence Fishburne.
The gala party was held at the River Walk, in the magnificent Oxo Tower on the South Bank. While the party was held at a brilliant venue, which boasted of magnificent and spectacular views of London especially at night, and despite the fact that the alcohol was flowing quite freely from the start along with some rather lovely canapés, it should have been a really good affair but where were all the crime writers? I would venture to say that at a majority of those present were either from the NFT or TCM (Turner Classic Movies) who were the major sponsors of the event. Perhaps it was due to the fact that on the Wednesday evening a majority of the authors were in Cambridge attending the ever-popular yearly Bodies in the Bookshop event hosted by Heffers Bookshop. Luckily some crime writers did turn up and it was nice to see Martyn Waites, Mark Billingham, Natasha Cooper, Stella Duffy, Lauren Henderson, Teddy Hayes and, of course, the guest of honour Walter Mosley. Also present were fellow crime reviewers Ali Karim, Sarah Weinman and Michael Carlson. As one would have expected we soon formed a little corner by ourselves!
As far as I was concerned, apart from having the opportunity, to chat with the crime writers present, the two highlights of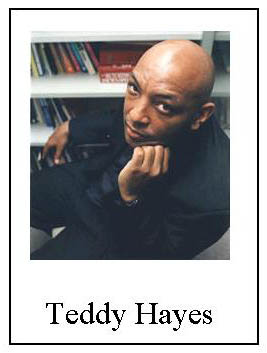 the evening for me was firstly, being introduced to Walter Mosley and having my photograph taken with him and secondly, meeting the American (but British based) author Teddy Hayes. Teddy is the author of a series of books featuring ex-Government agent turned reluctant P.I Devil Barnett.
Come Friday there were a number of literary events that I was interested in attending, but because of the fact that they clashed with one another I found myself literally hurrying from one theatre to another so that I did not miss anything. Needless to say, it didn't work! Like last year, I had to bite the bullet and decide what events that I wanted to attend. The first event that I attended on Friday was Snobbery, Assault and Battery: Why aren't crime writers considered 'real' writers. Unfortunately, John Harvey was unable to moderate and so the panel consisted of Paul Johnston (who was also the moderator), Martyn Waites, Mark Billingham, John Connolly and Lauren Henderson who took the place of Stella Duffy. Snobbery, Assault and Battery started off rather lively with authors introducing themselves.
The discussion ranged from why some authors had an inferiority complex about crime fiction and also the fact that within the genre itself there was also a certain amount of snobbery to the changes within the genre within the last twenty years. As John Connolly pointed out during the panel, when was the last time a cosy or humorous novel won a major award? Furthermore, it was also agreed that there were also problems within the genre itself. One of the important points that was discussed was initially raised by Lauren Henderson who pointed out that there are some extremely good novels being written as well as some extremely bad ones as well. Furthermore, Mark Billingham raised a question as to what is considered to be a literary crime novel? Is it because it is well written? Also what gives people (and who are these people) who decide what is a literary crime novel? It was also agreed that the genre is very self-contained and experimental. Therefore it manages to distant itself from others. Examples of crime writers that were also considered to have written literary crime novels included Dashiell Hammett, James Ellroy, Sarah Caudwell, Patricia Highsmith, James Lee Burke, Dorothy L Sayers and Raymond Chandler.
The second panel that I decided to attend on Friday was Lawyers at Work and Play. This panel consisted of Elizabeth Woodcraft who was also the moderator, Marcel Berlins, Natasha Cooper, Bob Marshall-Andrews MP, Michael Malone and Nicola Williams. Sadly Lisa Scottoline who was due to be on the panel was unable to attend. Michael Malone attended instead. Unfortunately because the first event that I attended was due to finish 15 minutes after the start of the next event I wanted to attend and also ran over, I ended up missing at least half an hour of Lawyers at Work and Play. This was a shame, as from the tail end of what I managed to catch it appeared to have been a very lively panel.
Friday ended with Lauren Henderson, Martyn Waites, Mark Billingham, Sarah Weinman, John Connolly, Michael Carlson, Thalia Procter, Richard Burke, Ali Karim and I going out for a curry near The Cut. It was a brilliant way to end the first full day of Crime Scene.

On Saturday I started off by attending the Annual Sherlock Awards. Sherlock Magazine presents the Sherlock Awards every year to the best fictional UK and International detectives of the year.
The awards were awarded as follows: -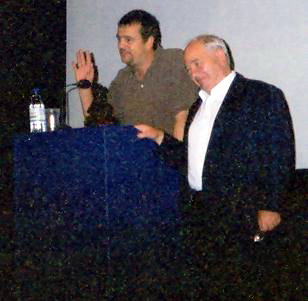 Mark Billingham with Colin Dexter
Best TV Detective – Team of Inspector Frost
Best Detective created by American author – Ed McBain
Best Detective created by a UK author – Mark Billingham
Comic Detective – Thursday Next created by Jasper Fyorde
A special Sherlock Award was given to Leslie Klinger for editing the reference library of the Hounds of the Baskerville's.
Colin Dexter handed out the awards to the various recipients and Mark Billingham gave rather witty acceptance speech, which certainly livened up a rather disappointing affair.
The second event was Criminal Canada. This panel was moderated by Michelle Spring, a Canadian based in Cambridge and she was in conversation with Peter Robinson a Yorkshire raised but Toronto based author and all Canadian Giles Blunt who won the Silver Dagger with his debut novel Forty Words for Sorrow.
Giles explained that he was grew up in North Bay but then moved to Toronto before living in New York for 22 years. He decided to set his books in North Bay because it has a strong sense of place.
Peter pointed out that he had been brought up in Leeds, a provincial city in the North of England. However, he also said that the Yorkshire that he knew as a boy was not the same as it was now. Both felt that the landscape had a lot to do with the way in which their books were written.
One of the questions raised by Michelle Spring was whether or not their novels could be considered to be 'homesick novels'. According to Giles Blunt he did not really consider this was the case. He did not want to go back and live in North Bay as it was too cold and he didn't want to have to deal with that aspect. The discussion also covered other issues including how did one get to write a compelling novel and the fact that Peter Robinson's novels have got darker as they have gone on.
The crowning glory of Crime Scene this year was the third event that I managed to attend on Saturday. It was a great coup. Janet Evanovich was in conversation with Lindsay Davis. For me, it was a chance to see two of my favourite authors in conversation which each other. I believe that it was the only sold out event over the three days. The auditorium was packed full and if you did not have a ticket then there was no chance for you to get in. Those present spanned a wide range of ages and sexes. There were quite a number of men in the audience as well as a large number of middle age to elderly women present as well. It was pleasant to see such a wide range of people as it showed that both authors had a wide cross-section of fans.
A lively conversation took place between the two authors and the some of the topics discussed was the different ways in which they worked. According to Lindsay Davis she normally rights a synopsis, Janet Evanovich on the other hand knows what she wants to write but also has a time line. But both agreed that discipline was needed. Lindsay also went on to say that when she wrote her first book it was picked apart, but now she does not do it so much as she knows what needs to be kept. As for Janet, from her point of view she believes that she is a lot more efficient and secure in her voice as a writer. She has made a promise to the reader and that means consistency and expectation needs to be met. She said that she sees her books as being funny also with a social commentary that dealt with sensitive and painful issues via humour.
Lindsay was also asked if she were to write another book what type would it be? Her response was that she had been writing about Falco for twenty years now and if she did then it would not be a mystery or a Roman novel or historical. However, she still had a number of other books to write under her contract and after that she would see what would happen.
One of the questions that everybody wanted to know the answer to was whether or not and when (if it happened) any of their books would be made into films or feature films. According to Janet Evanovich, Tri-Star had bought the Stephanie Plum series but not much had happened since then. It has never gone into production, as it appears that they have not been able to come to terms with the script. Lindsay explained that Columbia Television had made her first book, Silver Pigs into a television film but it had been awful and that they had totally changed the characters. At the present time the BBC had three scripts and she was in discussion with them about it. Her view was to take the money and run.
This of course lead to the next question as to whom should play the characters. As far as Lindsay was concerned an unknown should play Falco. With the Plum series Janet Evanovich said that she saw Sandra Bullock as Stephanie, John Travolta as Joe Morelli, and The Rock (the wrestler-cum-actor) as Ranger. And as for Lula, the most preferred actress was Queen Latifah.
Janet went on further to say that she is currently writing the tenth book in the series and like the previous nine the title would be chosen by the fans. However, after the eleventh book this would no longer be the case. She is contracted through to book eleven and is also planning to write two other books. These would be thrillers and not in the Stephanie Plum series.
Both authors received a standing ovation from the audience at the end of the panel before leaving the auditorium to sign books.
While on the one hand it was great to see these two well-known authors in conversation together, it is clear that a vast majority of those present were there to see Janet. I felt was a shame, as much as I was pleased to see Janet I was a lot more interested in Lindsay and I felt that she got the short end of the stick in this case. What was even more disappointing was the fact that by the time the audience who had attended the event had managed to get out of the auditorium to get their books signed the queue was so long because the dealers had already started to queue up with their huge piles of books. And to compound this further, some fans had to wait nearly an hour just to get their few books signed because of this.
The final event that I decided to attend on Saturday was Walter Mosley in conversation with John Harvey. This event was also quite well attended and it was a delight to hear two well-known crime writers in conversation especially since they both had different perspectives. One of the questions raised was about racism. Walter Mosley pointed out that the United States was actually quite a racist country and that the issue was taken a lot more seriously here in the United Kingdom. Mosley also spoke about his latest book Six Easy Pieces. This is a collection of actually seven stories about Easy Rawlins and his friend Mouse.
Walter Mosley also explained that he has a number of other books being published this year one of these is a new Fearless Jones book as well as a book which was a critique on the United States view on terrorists. The discussion between both authors covered a wide range of social topics and social commentary. It was also nice to see a number of other crime writers amongst the audience as well.

The first panel on Sunday that I attended was Penguin Crime, A New Dawn. This panel was moderated by Michael Jecks and had Beverley Cousins (the crime editor for Penguin), as well as authors Liz Rigbey, Michael Ridpath, Francesca Weisman and John Rickards. Beverley Cousins explained that Penguin did not have a big crime list, but that the authors they currently had on their list were recognizable. Penguin are planning to start their crime list from scratch with a number of new authors joining their current well-established authors.

Luckily for me the next panel was being held in the same theatre as the previous event. Is Crime a Matter of Class? had crime writers debating the influence of class and education in their books. Crime reviewer and television presenter Michael Carlson moderated this panel. The other members of the panel were Paul Doherty (who replaced Alanna Knight), Lauren Henderson, Iain McDowell, David Roberts and Martina Cole. This was a rather interesting panel and had a lively discussion, which was rather spoilt by Iain unfortunately trying to use the time to promote his book instead of talking about the topic in question. However, the other members of the panel made up for his rather inopportune behaviour. Both Martina and Lauren were perfect foils and quite easily held their own ground. It was also interesting to listen to Paul talk as he had the most to say about the topic. Being a headmaster of a school as well as a prolific author he was best placed to comment on this topic. However, the highlight on this panel for me was Martina Cole. Not only did she stick to her guns, but she also trumped Iain by brandishing a copy of Richard Burke's forthcoming debut novel Frozen (which is due to be published by Orion) later on this year and had nearly all the audience roaring with laughter. Ms Cole is dynamite.
The highlight for me on Sunday was Rogues and vagabonds. Last year I did not manage to get to see them, but this year I was determined to make up for this defect. Vogues and Vagabonds is made up of a group of stand up comics and actors/actresses who are also crime writers. It was therefore a delight to see Fidelis Morgan, Stella Duffy, Maureen O'Brien, Martyn Waites and Mark Billingham entertain us on the Sunday afternoon. While they might say it was not the best performance that they had given. I for one enjoyed myself thoroughly. The fact that they had Thalia Proctor, Sarah Weinman and I sitting in the front row on the one hand encouraging them and on other hilariously but gently heckling them did not appear to put them off one jolt. In fact from the response received from Mark Billingham and Martyn Waites, I believe that if we hadn't been there to heckle them they would have been sorely disappointed. The premise of Rogues and Vagabonds is that they read and act out parts from their various novels. So for over an hour we had Martyn, Mark, Maureen, Stella and Fidelis enacting scenes from their various books with the help from one another. If you have not seen Rogues and vagabonds before, they may I suggest that you do. They may not have considered themselves on form at Crime Scene but as far as I was concerned it was a perfect way to finish the weekend and certainly not something to be missed.

All in all did I enjoy Crime Scene this year? To a certain extent I did, but that was mainly because of the company I was with over the weekend. The panels that I managed to attend were also very good and I would say (in no specific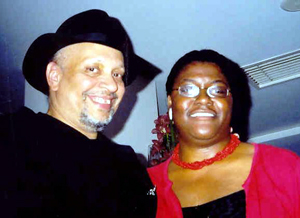 order) that I enjoyed the interviews between Lindsay Davis and Janet Evanovich, John Harvey and Walter Mosley, Rogues and Vagabonds, and Snobbery, Assault and Battery. This is not to say that the other panels were not good, but these were the ones that stuck in mind after they had finished. Furthermore, at these occasions it is so nice to be I the company of one's favourite crime writers and just get the opportunity to chat to them on an informal basis. One thing I have come to realise quite sometime ago is that they don't bite and they are extremely good company. They also have a lot of appreciation for those of us that read and review their work. I also enjoyed meeting Richard Burke whose debut novel is due out later on this year and I look forward to reading it with immense pleasure. He is an author that I am sure will be going places and will no doubt soon garner a loyal following.
There were a couple of disappointing things about Crime Scene this year which I can't ignore and I believe that the organisers need to take into account when they start organising the event for next year. For example, what happened to the advertisement about the event? As far as I am concerned Crime Scene was not advertised well enough and this showed by the number of people who attended the different panels. The only exception to this was Janet Evanovich in conversation with Lindsay Davis. Furthermore, I am sure that if they are going to organise a gala party for the panellists, then I believe that it would be sensible for them to take into consideration what events are also taking place around the same time. It would have been much better if they had had the party the same evening of the first full day of the panels. Then they would have been certain to have a lot more crime writers present instead of the half a dozen that managed to attend. Furthermore they need to sort out the timing of the panels. While it is expected that they might over run, it is most annoying to realise that you have missed the beginning of a panel because the start takes place around 15 minutes before the end of a previous panel.
The other thing that I know not only I found annoying but others did too, were the number of dealers who were at the event. It's not that I believe that they shouldn't be there but, they made it all the more difficult for the fans who wanted to get their books signed. While we were busy attending the panels, the dealers were busy queuing up with their piles of books waiting to get them signed. As a result of which, many of us were unable to get ours signed because we had to make a choice. It wasn't a very fair choice as many of us only had a few books to sign. The dealers made it all the more difficult. They monopolised the book signings. It would be nice if the organisers to bear these in mind, it makes all the difference.
Despite all this, Crime Scene was the place to be that weekend and I wait with bated breathe to see what the plans are for next year.