The annual Crimescene event is a curious mix of what is best in the genre from films and literature. Adrian Wooton of the NFT is the director of the festival whilst Maxim Jakubowski, King of the Erotic Novel and owner of Murder One bookshop, is the Literary Director. The main sponsor is Turner Classic Movies (TCM) who generously maintain this festival each year, as well as running concurrently the Crimewave season on their cable/satellite channel (www.tcmonline.co.uk). This year Penguin Modern Classics were also sponsoring the event to coincide with their re-launch of the Georges Simenon's Maigret novels.
Thursday 10th July 2003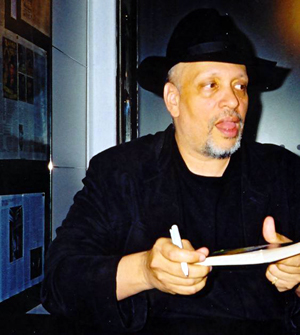 I left work and headed to Waterloo and checked into my hotel for a weekend of films, writing and conversation. Guest of Honour, Walter Mosely was in town and the event kicked off with the first British screening of Walter's film - 'Always Outnumbered'. Walter Mosely gave a Q & A session after the movie finished. This was a great start to the weekend with Walter wearing his trademarked black hat. Straight after he was driven by Limo to the opening party.
I arrived at The River Walk Bar and Grill in the OXO-Tower for the gala party. I met up with Mette Haack who is TCM's Director of Marketing and Ann Rosen who looks after PR for TCM. They remembered me from last year, and we had a chat about what they had in store for Crimescene 2003, which is even more jam-packed than last year. After the chat, I went in and grabbed a beer and cooled myself on the balcony which overlooked the Thames. Between slugs of beer, I let the wind cool me down and felt like Bob Hoskins' gangster from 'The Long Good Friday' as I watched the guests arrive.
The TCM crew remembered the Shots article from last year as we ran a competition 'My Feet are Killing me'. The purpose was to match the crime-writer with their footwear.
Crimescene 2002 :-
http://archive.shotsmag.co.uk/crime%20scene%202002/crime%20scene%202002.htm#top
I called my fellow Shots writer, Ayo Onatade and Canadian book reviewer, Sarah Weinman from my Cellphone and necked another beer. I missed our editor, Mike Stotter who was still recovering from his back operation, as last year we had a great time at Crimescene 2002.
While the guests arrived I decided to have a chat and beer with Mike Riley TCM's Vice President for Europe, Middle East and Africa to find out more about TCM and their links to Crimescene.
Ali : Michael, can you tell us a little about TCM's involvement with Crimescene?
Mike : Sure Ali. Crimescene is a wonderful opportunity to work with the National Film Theatre. We share a passion with film, especially in this particular event which has an association with the crime genre. Crimescene is just such a great fit with Turner Classic movies. TCM do feature a number of genres but Crime is a very important one for us. So working with the NFT and sponsoring the event is excellent. In association with the sponsorship we like to bring our on-air film capacity to bear, as TCM reaches just under 9 million cable and satellite homes in the UK.
Ali : Can you tell us a little about your Crimewave season?
Mike : Crimewave is a season of some of the great Hollywood Movies, featuring stars such as James Cagney, Edward G Robinson all the way up to modern classics like The Fugitive with Harrison Ford. Crimewave really explores our passion for crime movies.
Ali : How do you get such amazing guests like Richard Widmark, Walter Mosely, Herbert Lom etc ?
Mike : Well that is thanks to the NFT who coordinate the guests and they do a fantastic job in getting access to people who, again, are passionate about film. Last year Richard Widmark was an important guest for us as he features in a lot of our Turner Classic movies. It was fantastic to see one of our icons at our sponsored event in association with the NFT.
Ali : I would like to personally thank you for continuing to screen one of my favourite movies 'Kelly's Heroes' – an absolute classic in that sub-genre the wartime crime film, and full of humour with Donald Sutherland.
Mike : ….Laughing…..glad you like it.
Ali : So what is the process in getting rights to screen classic movies such as Kelly's Heroes?
Mike : Well, we own a very large library of films. This started originally when Ted Turner bought the MGM Library in the early 1980's. We spend a lot of time sweeping through our broad library plus we also spend a lot of time and money refreshing the library with new acquisitions, looking for quality and classic films. We liase with Warner Brothers in the UK, making sure that we are getting access to titles.
You mentioned Kelly's Heroes, which is one of our favourite movies too, and we play it a lot as we get a great deal of viewer feedback on that movie, but balancing that we like to have a lot of new material too. We are constantly looking at the depth of our library to ensure that we are getting the best possible films for our audience, especially crime movies which are very popular.
Ali : I want to put you on the spot now, as you have access to an amazing crime movie library, what are your personal favourites, contemporary as well as classic crime movies?
Mike :…laughing…that's a tough one….…working with TCM gives me such great access to many amazing movies. Well James Cagney is one of my favourite actors, so White Heat and Angels with Dirty Faces are right at the top of the list, Edward G Robinson's Little Caesar has to be up there, too. Aamong the contemporary movies, The Godfather, whether it's one, two or three are just superb and probably my favourite contemporary crime movie series.
Ali : Thank you for your time Michael, we really appreciate your continued support of Crimescene.
Mike : And thanks to the NFT for allowing us to sponsor such a great event and I hope you enjoy it.
I left Michael with a group from TCM who approached with a couple of glasses of wine. I necked the wine and then went back to the bar and spotted Ayo and Sarah who were chomping on finger nibbles. The waiters brought over a superb selection of nibbles which I decided to wolf as my stomach was filling with icy white wine and cold beer. As we chatted, crime writers Mark Billingham and Martyn Waites joined us. Mark and Martyn both looked tired as they had been busy promoting their new books Lazybones and Born under Punches, so they necked a few beers to relax.
Fellow crime writers, Natasha Cooper, Lauren Henderson and Stella Duffy joined us at the bar. Stella told us about her upcoming play 'Immaculate Conceit' which she helped adapt for the stage from her novel. It was being staged at the Lyric Theatre in Hammersmith from 27th August to 13 September (tel 0870 050 0511). She told me 'Well it's not mine anymore. You write it on a page, but it all happens in the reader's head. Then it becomes something a large group of people can see physically and that is terrifying.' When I asked her how she felt now that the play is about to appear on the West End, she replied 'Writers working in the theatre can encounter hierarchy problems, but I'm pleased with the results.' I am really looking forward to seeing the play as Stella is a brilliant actor as well as an accomplished writer.
Then there was a hush as Walter Mosely arrived. Adrian Wootton of the NFT gave us a short speech welcoming us to Crimescene 2003, followed by Mike Riley of TCM who told us about the film treats on offer both at Crimescene as well in the Crimewave season. Literary Director Maxim Jakubowski introduced the literary events and then passed the microphone to Walter Mosely. Walter told everyone how glad he was to be back in London, and wished us all a great event.
After the applause, I chatted with Maxim Jakubowski who incidentally, has a new collection of short stories - 'Future Cops' out currently. Mark Billingham joined us and we talked about the Hannibal launch that Murder One hosted in 1999. Both Mark and I attended Maxim's event and quaffed Chianti and Fava beans to celebrate the return of Hannibal Lecter. Maxim told us an interesting snippet. Apparently Thomas Harris has a book due out at Christmas, but Maxim did not know if it features Lecter. Well it has been four years since Hannibal was released, and the prospect of a book by Harris is an interesting Christmas present.
I then spotted Ayo with up and coming writer Teddy Hayes. Walter Mosely came over and we clinked glasses and had a laugh. He really is a great guy and relishes being in London again, one of his favourite cities.
After more beer, people started to peter way. Ayo and Sarah were working the next day so they said their goodbyes. I grabbed a bottle of wine and chatted to other journalists, and found myself having a long chat with a guy from The-Do-Not-Press.
Finally I went over to Adrian Wooton of the NFT and Mike Riley with the TCM Crew and thanked them for hosting a great party. They wondered why I didn't photograph any feet this year! And we all had a laugh about last year.
With a stomach full of beer I headed back to my hotel, but ended up walking in the wrong direction, and had to flag down a cab at a late night Kebab shop. I ended back at my hotel around one thirty am with chilli sauce stains down my trousers and a vague recollection of a great night.

Friday 11th July
I woke up really late, with a queasy stomach and groaned as I noticed a chilli-sauce trail leading to my laptop. I recalled posting an excitedly drunken message about Thomas Harris's new book on rec.arts.mystery (RAM) newsgroup in the early hours of the morning. There were guilty chilli-sauce stains on my laptop keyboard, so I quickly logged on to see what drivel I posted. I realised that I would get a ribbing when I went back to the NFT as many writers lurk as well as post on RAM. Lucky that like Walter Mosley, I am a man of colour so it is difficult to detect a blush response. I posted a fast apology explaining that I had posted drunk, due to my excitement about the Thomas Harris book coming out in December. The post was basically unreadable anyhow but remained good-natured as is my Modus Operandi.
Back on the South Bank, I sat nursing a beer out in the sun and was soon joined by the glamorous actor and writer Fidelis Morgan; the writer of the Copper and Fry police procedural's Stephen Booth; Canadian reviewer for January Magazine and Deadly Pleasures, Sarah Weinman and debut crime writer and documentary filmmaker, Richard Burke-Ward. They all ribbed me about my RAM post last night in a good-natured way. After a chat we all split up to the various panels that were starting.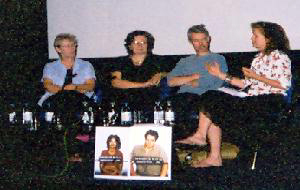 My first panel was 'The Unusual Suspects' featuring Natasha Cooper, Michelle Spring, Andrew Taylor and moderated by Leslie Forbes. The discussion centred around whether crime fiction acts as a safety valve or acts as incitement. Leslie is an excellent moderator, honed from her work as a broadcaster with the BBC. The topic dabbled with the idea that for only a very few it can incite, but so can the Playstation 2, but on the whole it is more of a safety valve.
My next session was 'The Business of Crime' featuring writers Stephen Booth, Fidelis Morgan and Ruth Dudly-Edwards, with Uber-Agent Jane Gregory and moderated by Selina Walker of Transworld Publishing. The panel centred around the actual business of writing and getting work into print. Having writers, an agent and editor made it very interesting. It was somewhat of a coincidence that the writers all came from HarperCollins and that was a source of some internal humour. Selina kept the session lively and thought provoking, providing a great insight into the complex world of publishing.
My last session of the day was 'Snobbery, Assault and Battery' with Mark Billingham, John Connolly, Stella Duffy, Martyn Waites and Paul Johnston. This was a heated panel where there was vigorous debate about 'real' writers as opposed to genre writers. It took a turn looking at the Harry Potter phenomena with Mark Billingham being on top form telling us that he liked damned good stories as his first priority, as opposed to literary merit or the lack of. A most interesting panel and very funny.
On problem with Crimescene is that with three auditoriums (NFT1, 2 and 3) many panels clash, and you are often 'hot-footing' between panels and this was the case in point throughout the event. But the bar is a safe bet at anytime, and that's where many of us congregated at the end of the day.

Saturday 12th July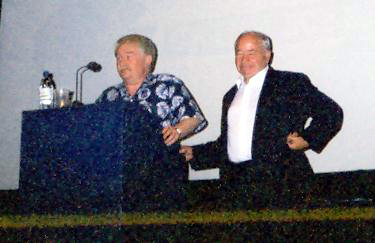 The Annual Sherlock Awards ceremony was held at NFT and introduced by Mike Ripley who thanked everyone for their best wishes following his recent health concerns, especially Elizabeth George. He was looking in good health and then introduced Colin Dexter to the podium who would be presenting the awards. Colin told a joke in his normal slow and measured style and then moved onto the awards.
The first award was for best TV Cop which went to author R.D. Wingfield and Yorkshire TV for 'A Touch of Frost. Colin Dexter explained how luck plays such an important aspect in life, for it was the actor David Jason who chose R.D. Wingfield over Mike Ripley for the TV series after he finished his obligations with 'Only Fools and Horses'. Mike Ripley jovially muttered 'Sod' under his breath. The award was accepted by Richard Bates of Yorkshire TV who was the producer of 'A Touch of Frost'. He explained how they had sifted though a huge pile of British crime novels to end up with a shortlist of two possible series characters for David Jason's approval - R D Wingfield's 'Frost' and Mike Ripley's 'Angel'.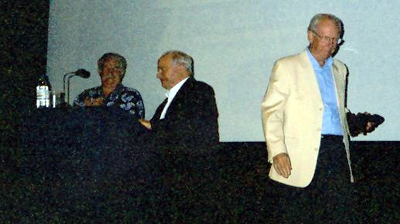 Jason, who had been on holiday in Mauritius, had liked them both but decided upon 'Frost' after much deliberation. So 36 episodes later, 'A Touch of Frost' is still going strong. He thanked everyone he works with on the show, but particularly author, Rodney Frost.
The next award was for Best US Detective series, and this was presented to Ed McBain for his 36th Precinct series. Ed McBain/Evan Hunter was currently on holiday in Italy so the award was accepted by Jon Wood of Orion Publishing who read out a short note of thanks from Ed McBain. Jon also indicated that Ed has over 100 million books in print currently, and this year was the 50th anniversary of the 37th precinct series, and that McBain was the first US author to win the CWA Gold Dagger. Jon Wood was greeted with a rousing hand of applause on behalf of Ed McBain.
The next award was for best British Cop by a UK author. Colin Dexter presented to Mark Billingham for his of character DI Tom Thorne for Sleepyhead, Scaredy Cat and Lazybones. Mark, aptly dressed for the occasion in tee-shirt and shorts, made a short and funny speech. He then thanked his editor Hilary Hale, his agent and all at Sherlock Magazine.
Colin Dexter then explained the difficulties in writing comic crime, and gestured to past master Mike Ripley. The award for best comic crime character went to Jasper Fforde for his character Thursday Next, from The Eyre Affair, Lost in a Good Book etc. As no one was available to accept the award, Dexter jokingly gave it to Ripley for safe-keeping.
The final award was presented to Leslie Klinger for his work on the annotations of The Hound of the Baskervilles and came from the Roger Johnson of the London Sherlock Holmes Society.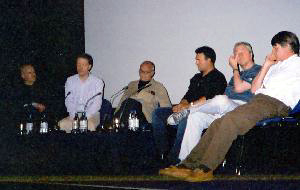 The awards had overran so after taking a few photographs, I shot over to NFT 1 for the Future Crime Panel as I like a smattering of SF. Peter Crowther was the moderator, with writers Jon Courtney-Grimwood, Richard Morgan, Adam Roberts and Stephen Gallaher. I am a fan of Grimwood's Arabesk series, I enjoyed Adam Roberts's 'Polystorm' and have been long time fans of horror/SF and TV writer Stephen Gallaher as well as Richard Morgan and his ground-breaking 'Altered Carbon'. The panel itself was not as interesting as I had hoped as it got bogged down on the theme of Genocide and mass murder, however during the Q & A some interesting thoughts on reality were discussed.
As I left NFT 1 I was confronted by a heaving sea of Janet Evanovich fans who had arrived en-masse. This event was the sell-out and I grappled with the thought of how the New Jersey writer had such a huge fan base in England. So I decided to go to the bar and a have a beer to contemplate this weird fact.
I spotted Richard Morgan who released the amazing SF/Noir debut 'Altered Carbon' last year at Deansgate, and was following up the success with 'Broken Angels'. I was interested on how he was coping following up such a dazzlingly original book, and one that found an audience on both sides of the Atlantic. Film rights for 'Altered Carbon' had been snapped up by the Matrix Team. So after buying him a beer, we sat and talked in the sunshine of this fine Saturday afternoon.
Ali : Now that your ground breaking SF-Future noir debut 'Altered Carbon' is out in paperback, what was it like following up such a critically acclaimed and commercially successful book?
Richard : I think the thing with the second book 'Broken Angels' is that I knew that it was going to be very different from 'Altered Carbon' but I really didn't consider what the response was going to be, as I don't really think about that when I'm writing. So I just went ahead and wrote it – besides the idea for the story was in my head anyway, as it had been kicking around in my brain for quite a while, and was pretty complete. When I finished it, I realised that it was very different. The response has been fairly mixed, as many readers wanted a repeat of 'Altered Carbon' – another future crime novel, so to those readers, hey, sorry guys 'Broken Angels' is a different book.
Ali : Going back to 'Altered Carbon', was the reaction different in the US to the UK?
Richard : No they were very similar. Everyone in the US has been very kind from NY Times, US Today as well as the book-sites like Barnes and Noble, January Magazine. In fact the reviews mirrored those that I received in the UK so whatever nerve I touched here, was the very same nerve in the US.
I am wondering whether they'll like 'Broken Angels' in the US as much though, because it is a very hard book, and it has a lot less morality in it than 'Altered Carbon', which is hard to believe I guess. I had a few people tell me that after they had read 'Altered Carbon' that they felt that the central character Takeshi Kovacs although he was a bit of a psycho, he was a man with a code and honour and that had really worried me as I had not intended any of that. I visualised him as a psycho who accidentally ended up doing some good. So when I was writing 'Broken Angels' I was consciously thinking that I must not make this guys actions justifiable, but if they have to be justified, they have to be at a real stretch. So the second book is much harder and much nastier and the other thing is the extent it deals with crime, is different.
Ali : And that lead me to the interesting fact that although your work is firmly rooted in the SF Genre, your book has been widely reviewed in crime-fiction Magazines and Ezines. What is your reaction to that?
Richard : I think that is pretty nice, as I am a big fan of crime/mystery fiction and read a lot of it anyway as we discussed at Deansgate last year. So I was very flattered to be taken into the crime-fiction fold. But I would not define myself as a crime-writer. What I am actually writing is SF, which encroaches into crime-fiction.
Ali : So would you feel that 'Broken Angels' fits into crime-fiction or more into the SF genre?
Richard : Well it's harder edged SF, in so far as it takes place on another planet. Where as perhaps 'Altered Carbon' was based on 'The Big Sleep' template. If 'Broken Angels' is based on any template then it would be more 'The Good, the Bad and the Ugly' or 'Kelly's Heroes'….laughing…so the crime featured is war in general. I try in that novel to explore how war can be viewed as a crime from a different series of angles and levels. Now some people got that and liked it, but some people got it and didn't like it, and some people didn't get it all. I got some feedback saying, hey this is your basic heavy metal SF/Military/Pornography adventure. In the end each reader takes different things from a book and as a writer you can't dictate what angle the reader brings to the book either. I was surprised at the reviewer that took that reaction as I think that the book has more going on than that. Saying that there are crimes within the book, and Kovacs to some extent is acting as a detective within his capacity as an envoy. So I guess 'Broken Angels' has more a war feel than a crime flavour. More 'Aliens' than 'Alien'.
Ali : Any update on the progress with the film rights to 'Altered Carbon'?
Richard : I got a phone call from Los Angeles a couple of days ago. They have appointed another screenwriter and are into another re-write, and everyone's very enthusiastic, which translated really means 'No, he didn't write a dog - so don't drop it'…laughing…….and that's nice to know, so basically encouraging news, but you never know with Hollywood. They still have six months before the option runs out.
Ali : So what is in store for book #3?
Richard : Well we are going back to a smaller scale noir tale. It's due out in spring next year. It is a complete departure from the previous two books. Different character, different scenario, and whether it is crime or not will be an interesting question. If it is crime then it is corporate crime and if I had to cite general influences – one of them would be Ellroy, in a big way. If you imagine something like 'Wall Street' mixed with 'Salvador' mixed with 'L.A. Confidential, then that's it's sort of shape. It's set in the corporate world in the very near future, about 40 to 50 years from now. Very unpleasant, very violent but essentially noir in tone. The hero is surrounded by things he does not understand and he does not know what is going on. There is a lot of bloodshed with lots of innocent lives being lost and the last thing I would add is that you really have to bring your own morality to this party.
Ali : Sounds a really intriguing mix, we look forward to it! Thanks for your time.
Richard : My pleasure and great to talk to Shots again!
I had missed Criminal Canada, an interesting panel with two of my favourite writers Peter Robinson and Giles Blunt, due to a clash with the SF Panel, so I thought I'd track Giles Blunt down to find out why he writes about the snowy and cold places in Canada.
Ali : Hi Giles and welcome to Crimescene.
Giles : Hey, glad to be in London but looking forward to getting back home as I've been on the road for what seems like forever.
Ali : Could you tell us a little about your new book 'The Delicate Storm'?
Giles : Sure. The Delicate Storm is quite different from the first book 'Forty Words for Sorrow' as it is less of a general thriller but more of a 'whodunnit' which is a change of pace for me. It involves some recent Canadian history in so far as it opens with a body being found which has been apparently mauled by bears, but they soon figure out that he was murdered first and then fed to bears to hide the evidence. The trail leads them down to the States to New York and then onto Montreal and thirty years into the past with some early terrorism and a dose of Canadian history. It comes back full circle to Algonquin Bay.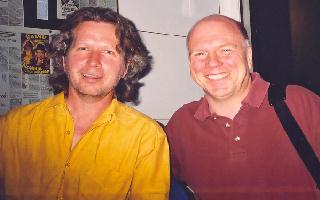 Ali : I really enjoyed 'Forty Words for Sorrow' and found Detective John Cardinal a very interesting character. How did you come across Cardinal as a character? And did he gestate inside you for while before he surfaced?
Giles : Maybe he did. I read an interview with Graham Greene like a thousand years ago, he was talking about 'The Heart of the Matter'. He said he wanted to write about a policeman who is under investigation, but you don't know who the investigator is. Anyway, he wrote a wonderful book, but it was not that book, and he said that he never did explore that idea. I thought that idea was a wonderful one, and as he never used it, so why don't I steal that? I parked that idea away for about fifteen years. I'd always wanted to do something on the Moors Murders, and I put that away for about fifteen years and then one winter (and I don't advise anyone to do this), I went jogging along the shore of Lake Nippersink at Christmas time. It was like thirty below zero, it was freezing but I could just make out the outline of a mineshaft on this island, and I thought what a great place to set a crime novel. So the Cardinal books all originated from those three ideas coming together and that became 'Forty Words for Sorrow'.
Ali : I know you are touring, but what are you working on at the moment?
Giles : Well I'm working on book #3 of the Cardinal series, and I am at about the halfway stage of the first draft and I am happy to say it's not set in winter. It's called 'Black Fly Season' as it's raining bugs not snow.
Ali : We look forward to it. Thanks for your time.
Giles : My pleasures and best wishes to all your readers.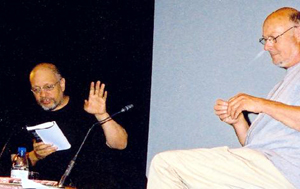 Then it was back to NFT 1 for the Walter Mosley and John Harvey in conversation panel which I had been really looking forward to as I am a fan of both Harvey's Resnick as well as the varied work of Walter Mosely including my favourites Easy Rawlins and Socrates Fortlow. The session was wide ranging and really showed that John Harvey had done his homework. Particular focus was placed on a discussion of the 'black experience' and aspects of racism in US Society. Mosley provided great insight into his writing and the issues of US Culture and how it was seen from the side of the minorities.
Then it was a quick drink and back to NFT 1 for an Archive Special : James Bond at 50, which was an interesting look at some rare footage on the Bond Phenomena. The film became out of sync at one point and the presenter held the audience well. The short talk by John Glen was most informative, and this was followed by the screening of Dr No.
I bumped into Richard Burke-Ward and Simon Kernick, and together with Ayo and Sarah we went off to Pizza Express for dinner. Over dinner I spoke to Richard about his work. Richard Burke-Ward is a debut novelist who posts on RAM newsgroup, and ribbed me about my kebab and beer soaked post on Friday night. I was interested to learn a little more about this cheerful writer.
Ali : Hello Richard, I believe you have a debut novel 'Frozen' coming out from Orion shortly, would you care to talk about it?
Richard : Sure. Orion is publishing nine new writers in their New Blood Series, being published in January 2003. They have let me be one of them so I am completely thrilled.
Ali :So tell me little about your background?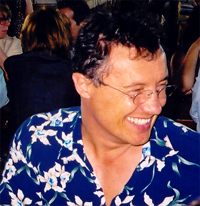 Richard : I was originally a TV producer. I made science documentaries which a number were lucky enough to win awards. TV is very much a collaborative thing, and very directed by what the audience wants to hear and see. I really wanted to tell stories that were less predictable than that. So I just started writing, and had no idea that it would lead into a novel, which is what happened, and I was thrilled, and a publisher liked it so here we are. It's called 'Frozen'.
Ali : Do you think that having a surname like 'Burke' as in James Lee will affect your sales?
Richard : Having the name Burke has been the plague and the benefit of my life, more the plague than the benefit. This is because of the constant accusation of nepotism. As my first job on television was on the science program 'Tomorrow's World' where the main presenter just before I joined had been the well-known James Burke. Everyone was convinced that I was either his son or a relative. I don't look like him and have nothing to do with him. And now here I am blessed with a publishing contract and a book coming out, and frankly spoken if I can sit in the shadow of somebody as fascinating as James Lee Burke, I would be delighted, but I would never want anyone to judge my books against his.
Ali : Would you care to tell us a little about your novel 'Frozen'?
Richard : Sure. It is a psychological thriller written in the first person. It features a hero called Harry, who fell in love when he was 13 years old with a girl called Verity who arrived in his village. They had some amazing adventures, but in adulthood she is found at the bottom of the cliffs at Beachyhead, comatose and never for this world again. The book is really about Harry's process in trying to understand how someone he has been secretly in love with, and who he has seen since he was 13, could possibly have got herself in that position - down at the bottom of a cliff.
Simon Kernick is doing well with two cracking crime thrillers under his belt 'The Business of Dying' and 'The Murder Exchange'. Over dinner he told us this funny bit of trivia and his link to Colin Dexter.
Simon : In July 1986 I was sharing a house with four other people in Henley-upon-Thames in Oxfordshire. One day the landlord came up to us and told us that they he wanted us out of the house and he would pay each of us 25 pounds to be out of the house as there was going be a film crew working there on filming a new TV series. He told us that it was starring John Thaw and was called Morse, which meant nothing to us, apart from of course John Thaw being from 'The Sweeny' – a fantastic TV show. Anyway they filmed an episode of Morse in our house, it was the one where Trigger (from 'Only fools and horse's) is the killer. I knew nothing more about it as I left the country for two years after it was filmed so I never saw the episode, but yes, my old abode was used to film an episode of Inspector Morse!
So there you go you heard that bit of trivia first at Shots Ezine.
After Dinner I went over to the NFT's IMAX cinema and watched 'Matrix : Reloaded' in full screen IMAX at the midnight screening. Seeing the car-chase on an IMAX screen was amazing. These late nights were however, becoming a habit!

Sunday 13th July
I was really worn out in the morning so after a shower and long laboured breakfast I went back to the NFT for the final day of Crimescene. I guess I was too tired to concentrate on the early panels so I sat at the bar and heard a shout from my dear friend, Martina Cole who beckoned me over for a chat.
Ali : Hi Martina welcome back to Crimescene, and congratulations on the great success of 'Maura's Game' which has been a permanent fixture at the top of the book charts. What do you put the success of the book to?
Martina : Thanks Ali. Well I guess the success of 'Maura's Game' is down to me being a fantastic writer ….laughing… and make sure you tell your readers that I am being ironic. No, really I think a lot of my readers wanted to know what happened to Maura, but it took me ten years before I was ready to bring her back. She's never coming again but it was great to write the book and I enjoyed it.
Ali : So what's next for you?
Martina : I'm just finishing the next book which is called 'The Know' which is a mixture of 'Faceless' and 'The Lady Killer' and is about a child-killer. One of the children who gets killed has a mother who is a small-time prostitute and petty-criminal so the authorities don't take the childs disappearance too seriously until the body turns up six months later.
Ali : Last time we talked you were telling me about the voluntary work you do in the prison service. Would you care to tell our readers about this aspect of your life?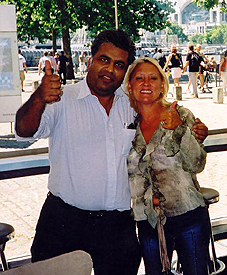 Martina : I do a writers class at Belmarsh Prison, and I still argue and lobby on behalf of the prisoners in the system. A friend of mine, Vic Dark has just had his book published. Vic was a long serving prisoner and served a long sentence, but he is out now and reformed. He is very straight and has a family and lovely children, so I work with people like Vic, to help them out of the system. I understand that some people do need to go to prison, we are all aware of that, but I am appalled at some of the conditions that the prisoners have to live in, and that's what we're arguing about.
Ali : I heard about a signing you did at Lakeside (in Essex) where the queue was like a giant snake, so could you tell us a little about your readers?
Martina : Yes, that signing was amazin. As for my readers, well I'm lucky as I think I have the loveliest readers of all the authors in the crime genre. For some unknown reason they always want to meet me. And so many men read my books now. It used to be mainly women, but now it's about 60% women and 40% men. I had this man come up to me at a signing and he asked me to sign the book to his wife. I asked him what his wife's name was, and he said Albert, so I assume he got married in Amsterdam ….laughing…. and the next two ladies that came along told me that he knicked my books ….laughing… so there you go…I have a really loyal and resourceful readership as you can tell some of my signing events attract 300 to 400 people….
Ali : Have you been involved in any TV work lately?
Martina : I have quite a few things going on. I don't know if you saw it on Channel 4, but I did Crimeteam with Brian Sewell. Well, there was nearly a murder committed on that show I can tell you. He is the hardest man I have ever worked with…laughing….I spent five days in Bournemouth on that programme….I'd never do that again…I'd rather have my eyes poked out with needles than do that again. He's a nice man but plays to the camera and I think, deep down, he doesn't like women. The Guardian said that he displayed the misogyny that a serial killer would have been proud of….laughing…but he did make me laugh……..
Ali : I see that you are on a panel discussing 'class' this afternoon, so what are your thoughts on 'class' within the crime genre?
Martina : I'm not sure. I write about people who commit crimes to get out of their background and environments. I suppose there will be a lot of discussion about the differences between 'blue-collar' and 'white-collar' crime.
Ali : We look forward to it, and thanks for your time.
Martina : Thank you and a big kiss to all my readers at Shots and pass my best wishes to Mike Stotter!
Soon my bar-fly companions Simon Kernick, Richard Burke-ward and Sarah Weinman joined us where we had a few more beers. We all then followed Martina Cole to the 'Is Crime a Matter of Class' panel, where she was joined by Lauren Henderson, Iain McDowall, David Roberts and moderated by Michael Carlson. It started off in a controversial manner with Maxim making a gaffe vis-à-vis Martina Cole, and soon drew more controversy as Iain McDowall tried to blurb his new book repeatedly. In fairness, Michael Carlson preformed a brilliant job moderating such a hot panel. There was little agreement as the whole topic was contentious and personal as we each write with an eye from the 'class that we think we belong in'. Class is a purely British institution that most Americans would be confused by. The funniest part of the panel was listening to Martina Cole's one-liners.
Then it was my final panel 'Rogues and Vagabonds' with Fidelis Morgan's troupe comprising Mark Billingham, Stella Duffy, Martyn Waites and Maureen O' Brien. This consisted of a hilarious series of readings and sketches from each of the writers work. The troupe got into character and proceeded to entertain us. The sketches were alternately bawdy, rowdy and damned funny.
I had to dash off as the panel clashed with the 'Oxblood' panel and I wanted to talk to Tony Strong as I really enjoyed his last book 'The Decoy' and wanted to learn about his new novel.
Ali : Can you tell us a little about your new book 'Tell Me Lies'?
Tony : It's loosely based on a true story that was told to me from a friend of a friend's. There was a knock on her door, and a policeman asked her if she had heard or seen anything or anyone acting suspiciously, as someone had been killed on her street. She hadn't, but the policeman took a statement anyway.
She later started a relationship with the policeman who eventually told her that they knew who the killer was, but needed three pieces of evidence to take the killer to court. This is because the Crown Prosecution Service (CPS) requires three pieces of evidence before they can start court proceedings. He wanted her to say that she saw someone hanging around the street at a certain time, because once they get to court, he said they would drop her testimony as they had the two other pieces of evidence, and those would be enough to get the jury to convict.
One of the other pieces of evidence also turned out to be tainted, so by this time she was in fact being asked to lie. So I thought what if the woman being asked to lie was in fact the victim, and that was how it kind of started.
'Tell me Lies' is about two young professional women in London who share a flat of which one has a little forensic expertise because she works in the National Gallery in the conservation department. She discovers that she has been drugged and raped, while the other one is murdered.
I also see the book as a love story as it features her relationship with the investigating detective. It is a forbidden love story as detectives are not meant to sleep with their witness, which is of course the best type of love story as the love between them becomes more and more powerful as it is covert.
There are several different genres in the book from the police procedural, the court room drama and the psychological thriller but the one that really interested me was the morality tale. I really cut everything back to focus on this idea - would you lie if you absolutely knew who the killer was, and that your lover absolutely needed you to tell one lie, to capture the man who killed your flatmate, would you do it?
So at the point that she lies, the reader should be rooting for her to lie, and she does. The guy gets put away and then she gets a note from someone telling her that he is the real killer, and of course he wants to play with her in a game of cat and mouse. There is nothing that she can do as she committed perjury and her boyfriend conspired with her to commit perjury. So she is trapped in the grip of this stalker/killer. So the core of the book for me, lies at the moment that she stood up in court and told the one lie. It's really the Matilda tale told within an adult context.
Ali : Very interesting. I guess your breakthrough novel was 'The Decoy' which is out in paperback. What does your wife think of these dark ideas that come from your mind?
Tony : She doesn't read the books, she hasn't read the latest, as it's still sitting on her side of the bed. She likes light fiction, chick-lit and being my wife does not obligate her to read my books.
Ali : Thanks for your time and insight.
Tony : Thanks for your interest.
I decided then to go back to the bar and have a cup of coffee before setting off home, and was greeted by a very excited Martina Cole. She had been invited to meet one of her idols, Herbert Lom as he was due at the NFT to introduce 'The Man Who Watched Trains Go By' – A 1952 British film in which he co-starred with Claude Rains. Martina asked me to join her as she really wanted a photograph with the great man.
Martina and I waited with Adrian Wooton and Maxim and other special NFT Guests for the great man. When he arrived, I was amazed at how little had changed in his smile. We were all personally introduced and we all talked to this veteran of international cinema. Martina Cole was for a rare occasion lost for words. I managed to get a couple of nice pictures with her and Mr Lom.
A real thrill for me was to tell him how much I enjoyed his work as Police Commissioner Dreyfus in the Pink Panther movies, but also how much I enjoyed his work in David Croneberg's adaptation of Stephen King's 'The Dead Zone'. But when he smiled, I still recalled the manic character Dreyfus.
So after I said my farewell to Mr Lom, Martina and all the other others, I left yet another Crimescene with some rather special memories.
If you like the crime genre in books and are passionate about film, then you really must come to London in July to Crimescene as well tune in to Turner Classic Movies – TCM.
More info at :-
Read Ayo Onatade's report on Crimescene 2003
Shots eZine would like to thank Director of the festival - Adrian Wooton of the NFT, Maxim Jakubowski – Literary Director and Mike Riley, Mette Haack and Ann Rosen of Turner Classic Movies (TCM) and special thanks to Ian Cuthbert (NFT Press-office) for their cooperation.
Make sure you come next year