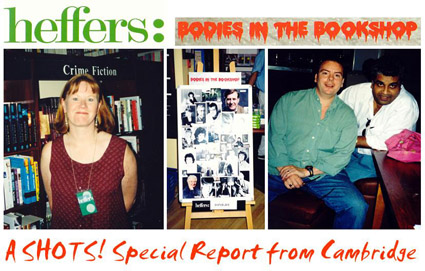 Following the hectic schedule the SHOTS team had at CrimeScene at the NFT, it was good to spend a day in the sedate city of Cambridge. Heffers bookshop is situated a mere stones throw from Trinity College. Parking is another matter, as the city is not car-friendly. I eventually found a car park and headed into town. It was a scorcher of a day, so I was pleased to find an air-conditioned café two doors down from Heffers. I sat and sipped coffee waiting for the governor (Mike Stotter) who duly appeared, amused at the name of the café - 'Café HA HA' which he found apt, as we both like a good laugh. Deryn Lake arrived early, and found us sipping our coffees.
The event is the twelfth annual extravaganza held at 'Heffers' called 'Bodies in the Bookshop'. Over forty crime writers, as well many of their publishers were in attendance. Writers mingled with their fans, signed books and sipped drinks supplied generously by Heffers. It is a really fascinating occasion, where readers can talk informally with writers, as well have their books inscribed. The event also attracts many book dealers, who look to have their first editions monographed. I think what is fascinating is that emerging writers are able to talk to the established names, and the dialogue that results is fascinating.
Mike, Ayo Onatade and I headed off with cameras and tape machines primed, and engaged in some criminal conversations with many of the assembled, who very graciously gave us some of their time to talk about their work, as well as the state of the Crime Genre. I enjoy talking to writers and so began an evening of Criminal Conversations. It hopefully should introduce you to writers that you may well be unfamiliar with.
We first approached Mary McInktosh the Manager of Heffers in Cambridge to see what her thoughts were on the current state of the genre.
SHOTS : Hello Mary, it's great to see such a large turnout from both the writers as well as the readers. Can you give us a little background to Heffers 'Bodies in the Bookshop' event?
Mary : Hi, Heffers in Cambridge have been here for 126 years, not always on this site and 'Bodies in the Bookshop' is in it's 12th year. It originally started much smaller than this. This year we have around forty crime authors tonight.
SHOTS : So how did 'Bodies in the Bookshop' come about?
Mary : It started with really a different idea. It wasn't a formalised event originally, just an informal meeting where crime writers could talk to their readers quite intimately, rather than say, a public reading. It also allowed the writers and readers to share their enthusiasm of the genre.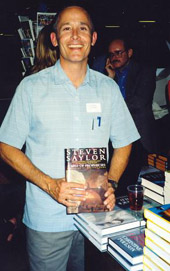 SHOTS: So how important is crime fiction to Heffers as a commercial product?
Mary : Crime fiction after 'paperback general fiction' is the next best-selling genre, far outstrips SF, horror, romance and so on.
SHOTS: Do you see the market for crime fiction expanding, as it seems to be going through a real renaissance?
Mary : Yes, it is a very good time for crime fiction. In fact it has been steadily growing as a market for the last ten years. Over the last five years it really has gained in importance. It's very interesting if you look at the Sunday broadsheet newspaper reviews. Crime used to have a small 'round-up' type of page, but now we also get books being reviewed individually, and crime is being recognised as an important genre.
SHOTS: Within the crime genre, if a budding author were contemplating 'pitching' a debut novel, what 'sub-genre' do you see as being the most important over the next year?
Mary : The historical crime novel has become very interesting over the last couple of years, it is a significant sub-genre and there is a lot more mileage there now, for example, Lindsey Davis, Steven Saylor, Deryn Lake and Fidelis Morgan have really moved that sub-genre along incredibly. The 'hard-boiled' is going through a more fallow period at the moment. But the harder, almost horror/crime sub-genre like the novels of Mo Hayder, Mark Billingham, Michael Marshall and John Connolly are growing and pushing out the genre boundaries, and I think we'll see more growth of this neo-horror type of novel.
SHOTS: What about the 'Techno-Thriller' ? that sub-genre seems to have gone quiet?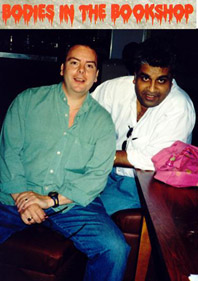 Mary : It's interesting, the whole SF market has gone quite quiet recently, but like most genres, it's time will come again as the cycle turns.
SHOTS: It is always refreshing to see so many women present both as writers and readers involved in the crime genre.
Mary : That's a very interesting point. Female crime writers use not just female detectives but also female protagonists, and these are becoming much more important within the genre, as we all know more women read crime novels than men, which is an interesting and complex debating point.
These are cheery those words from Mary, as it proves that the crime genre is indeed going through a great resurgence, and is today almost 'legitimate' within society. There was a period when the crime novel was held in near contempt or ridicule, but even those self-same pulp novels, are now back strongly in vogue. It was interesting to hear that the historical crime novel is coming through a renaissance too, so to further investigate this phenomena we went to find Deryn Lake, one of our most talented historical crime writers. Deryn Lake was busy signing copies of her latest book Death at St James's Palace and she agreed to tell us a little about it.
SHOTS: Hi Deryn, could you please introduce your work to some of our readers who may be unfamiliar with your novels?
Deryn : My current series features John Rawlings, who is a young 18th Century apothecary cum detective. As well as each book having a crime, it follows the family saga. Right from the beginning of he series, the same characters feature in each subsequent book, and so the story of John Rawlings life is unfolding, so I guess you could say it was a bit like an 18th century soap-opera.
SHOTS: So can you tell us a little about the new book, without giving too much away?
Deryn : Apart from Rawlings, the other big figure in the books is a character called John Fielding, who is based on the real John Fielding who was blinded in an accident when he was 18. Fielding was principal magistrate of London, and known as the 'blind beak', finally received a knighthood in 1761. And in my book, Fielding's wife is taken ill, so she can't accompany him to receive his knighthood, so Rawlings goes. My editor and I were given the most marvellous private tour of St James's Palace, because it's closed to the general public. Anyway, without giving too much away, a fatal accident occurs to a nobleman - a mysterious fall on the grand staircase at St. James's Palace. Did he fall or was he pushed? There hangs the tale.
SHOTS: I see a big, big renaissance currently in historically researched fiction at the moment, would you care to comment?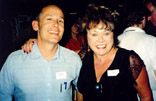 Deryn : There is a big renaissance in historical fiction, and they are coming back which I am very pleased about because I was a historical novelist, and had to stop as the tide turned against the genre, and so I turned to a life of crime. So now I'm actually working on a straight historical novel. The pendulum has indeed swung back.
SHOTS: Have you a working title for the new book?
Deryn : Yes, it's called The Governors' Ladies - the plural. It's commissioned and I plan to start in the January, and it will probably take me a year to write, so my editor will probably take a further 6 months to get it out, so we're really talking 2004.
SHOTS: Finally could you tell us who you read? Influences in your own work?
Deryn : Influences, well the great Daphne Du Maurier, Georgette Heyer, Margaret Irwin, all the greats. Currently I'm very much into Ruth Rendell especially her Barbara Vine Novels. I think they are splendid. I'm very much an admirer of the works of Steven Saylor and Lindsey Davis, and coming high on my list is Fidelis Morgan, who has only written two books ('Unnatural Fire' and 'Rival Queens') and I thought her second novel was stunningly funny, it really made me scream with laughter.
Next we spotted Iain McDowall looking through the true crime racks so we wandered over to find out a little from the academic Scotsman.
SHOTS: Iain could you introduce your novels A Study in Death as well as it's follow up Making a Killing?
Iain : The idea behind them, is that they are a dark procedural series set in a fictional midlands town. Two Detectives (DCI Jacobson and DS Kerr) cracking cases and behind the story, I suppose is my view of England as it is now, today. So they are set in contemporary times, but not totally realistic as I call it neo-realistic. And I'm currently working on the third one, which has a working title of 'Perfectly Dead'.
SHOTS: When's that due out?
Iain : Hopefully it will be later this year, so maybe June 2003 for publication.
SHOTS: So how long have you been a writer and what were your previous occupations?
Iain : I've been writing off and on for about ten years now. I've been doing it full-time just for the last two years. For a long time I was in the academic world after that I went into computing and spent most of the '90's in the world of computing. In fact I used that experience in the books, as I go to understand many of the computer scams being used, and I've used them as sub-plots throughout the books.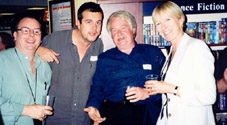 We left Iain with his pile of books that he was signing for a patient group of is readers when Ali caught the eye of Caroline Carver. Her debut Blood Junction which won the CWA 'Debut Dagger', and interviewed last month with Mike Stotter in Shots #14, Ali thought he'd hassle her with a few of my own questions.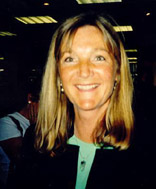 SHOTS: Caroline, I really enjoyed your debut novel Blood Junction and thought India Kane is a great character, can you tell us a little about what you're working on at the moment?
Caroline : I've just delivered the manuscript of book two set in far northern Queensland. I've chosen hot and wet as opposed to hot and dry this time around. It's starts with a light aircraft being sabotaged over the rainforest and our heroine has to find out who-dunnit, she gets thrown into the thick of the adventure. India Kane is also in the book, but at the moment I don't really want to give much more away.
SHOTS: Can you then tell us a little about Blood Junction'for those who haven't read it yet?
Caroline : Yes it it's just out in paperback. Blood Junction is really about India Kane, a journalist, who at the start of the book is pretty lonely and it's her journey to find herself through the pursuit of a mystery in the Australian outback. At the end she does indeed find her place in the world, but it's not as she expected. In the US, my agent sold me as Minette Walters meets Die Hard, as it deals with family relationships as well as adventure.
SHOTS: Cool. So who are you reading at the moment? and who are your favourite writers?
Caroline : I'm reading Alison Joseph The Night Watch. I was on a panel with her at Crimescene at the NFT, and she was a great woman, and I loved the idea of her character Sister Agnes. I thought it was a great idea to have a nun detective, so that's my book for the weekend.
As a sidebar we discovered that Caroline's planned rally across the Arctic has been cancelled in favour to writing book three.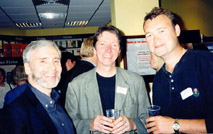 After that interesting talk, Shots spoke to an established writer who is enjoying great success both in the UK as well US, made even more remarkable that his work is set in the Rural 'Badlands' of Derbyshire. Having met Stephen Booth many times, he is always dapper, erudite and has an unique insight into the genre.
SHOTS: Hi Steve. congratulations on the release of Blood on the Tongue which has been extremely well received both by your critics and your readers.
Stephen : Thanks and good to see you here.
SHOTS: Have you been following the reviews? And what are your thoughts about its reception?
Stephen : Well the reviews have been universally good, which is the first time that it has happened to me. There is usually someone, somewhere who doesn't like the book, but this hasn't happened with Blood on the Tongue so yes, it is a pretty good feeling.
SHOTS: Can you tell us a little about the novel, for the readers who are not familiar with this title?
Stephen : Well it is the third in my series featuring the Detective duo Diane Fry and Ben Cooper. The novel involves a mysterious world war two aircrash/aircraft wreck and a missing pilot. A Canadian granddaughter of one of the airmen arrives trying to track back the past. Ben Cooper gets a little smitten with her, and gets interested in something's that perhaps he shouldn't do.
SHOTS: That brings me to an interesting point. I have great sympathy with Diane Fry, because of what she endured prior to coming to the Peak District. A lot of female readers (I believe) don't have as much sympathy, but tend to side with Ben Cooper, who I wish I could 'shake' !
Stephen : Well I do find that the readers do fall into the two camps. They are either Ben Cooper or Diane Fry supporters, but they are not necessarily spilt male and female. In fact a lot of women do support Diane Fry, which is interesting as I did thing it would be the other way around. I think it's the kind of reader who sees below the surface and can see why Diane is the way she is, her vulnerabilities and what happened to her in the past, and these things are what makes her that way. For me she's actually the more interesting of the two characters to write about, for that reason. I also think that she's a very complex character, and I have to bring this out, especially the vulnerability that she tries to conceal, and also make her believable, and make people understand her, even if they don't like her.
SHOTS: Can you also explain the success of your British 'Peak District' based crime novels in the US?
Stephen : That is something that is very difficult for me to explain, it was indeed a surprise for me. One thing I could suggest is that they are very British, and that does appeal to many US crime fans. But I think there is something about the characters that is universal, and many readers write to me about Diane and Ben, who are my lead characters, I constantly get emails from American readers about the relationship between Ben and Diane, like what's next in their lives and so forth. They seem to have struck a chord I guess.
SHOTS: Thank you, one last question, what are you working on at the moment ?
Stephen : There is indeed a fourth book featuring Ben and Diane, called Border Rats, which I guess will be published in April next year, if I get it finished, because I'm a bit behind at the moment.
Glimpsing a streak of platinum blonde from the corner of his eye, Ali saw Laura Wilson, and he was off. She recognised him from Crimescene, where they had talked about shoes. Her previous novels A Little Death and Dying Voices have garnered some tremendous reviews.
SHOTS: Hi Laura, can you introduce your three novels to readers who may not be familiar with them?
Laura : Hello again, and sure I'd love to. Well they are set in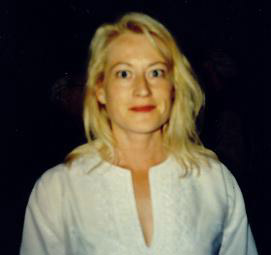 Britain in the recent past, by that I mean 20th Century, and they're psychological crime and really from the point of view of the criminal and those who are affected by his or her actions. Policemen don't really feature much in my work, and if they do, they tend to be rather incompetent. I'm really much more interested in why people do, what they do, for example something as drastic as murder, rather than the grisly mechanics of violence or indeed the wheels of order and justice.
SHOTS: So what are you working on at the moment, now that My Best Friend is out in paperback.
Laura ; I am just about to start the fourth revision to my fourth novel. I like to pay great attention to detail, and it's title is Hello Bunny Alice narrated by an ex-playboy bunny and it's really about the '60's and '70's and how that all new and wonderful and technicolor world of sex, drugs 'n' rock 'n' roll went horribly wrong; turning into sordid-ness and paranoia. It also involves the British comedy world of that time. The comediennes are not based on any one in particular, but if you know of the British comedians of that time, you'll recognise shades of Peter Sellers, Tony Hancock, and those sorts of people. The only person taken from real life is my dog, who appears as a Basset Hound and is portrayed as himself. Needless to say whenever Alice the heroine is in any kind of trouble, the dog is of no use at all.
SHOTS: Thank you very much, it sounds very interesting. One last question, who are you reading at the moment?
Laura : I have just read The Walkaway by Scott Phillips which I thought was absolutely brilliant. I loved his first novel , The Ice Harvest and I'm just about to give myself a real treat by re-reading Patricia Highsmith's Tom Ripley series. She's one of my favourite writers.
SHOTS: That's funny, as I recognise her influence in My Best Friend that sort of claustrophobic and subtle malice that lurks under the veil of normalcy.
Laura : Well she's my favourite writer, I just love her work.
SHOTS: We look forward to Hello Bunny Alice and enjoy revisiting Mr Ripley.
John Baker was now free from signing his stack of books. His trade mark hat was missing, and when we pointed that out, his son quickly passed over a rather cool baseball cap.
SHOTS: John, it's great to see you again and I must say that I have been most impressed by your Sam Turner series set in York.
John : Thank you very much, and I glad you've enjoyed them.
SHOTS: Could you introduce Sam Turner to some of our American readers who maybe unfamiliar with your series based in York?
John : The series is based around a private eye who lives and work in York, which is a historic city in the North of England. There are 5 novels in print, and the next one is due in February. The last one was Shooting in the Dark, which is now out in paperback. The new one is entitled The Meanest Flood because it is based on the York floods that hit the town last year.
SHOTS: Sam and his various 'helpers' are interesting characters, could you tell us how you came about creating Sam Turner P.I. without libelling anybody?
John : Well it's an interesting story. I play snooker. Sam plays snooker, and I guess I first met Sam in a snooker hall. I play regularly in a cellar club in York. On night, I was playing with my regular partner, and this guy walked in, who was three-sheets to the wind, I mean legless (really drunk), and he arrived at the table with a pint glass filled with beer and a shot glass of rum. He dropped the shot glass into his pint, and drank it back in one hard gulp. His eyes glazed over and I thought, he's the kind of guy who was reacting only to crisis….laughing….I was just blown away by him…I couldn't take my eyes off him, especially when he approached the snooker table. I expected him to foul or tear the cloth. But he potted every ball on the table. I thought about him later, and I guess it was in the night that I would like to write about this character, perhaps take some of his snooker skill away, and take the beer away, but then see how he manages, and I just started writing. Before long I had Poet in the Gutter .
Andrew Taylor was signing a huge stack of his Requiem for an Angel collection (featuring the three books that make up the Roth Trilogy). I can't recommend the series strongly enough - a chilling look deep behind the motives and actions of a murderess through four decades.
SHOTS: Great to see you again, Andrew and congratulations on the success of 'The Roth Series'. Could you care to introduce the books to readers who may not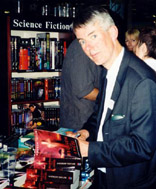 be familiar with them.
Andrew : Great to see you again. Well 'The Roth Trilogy' is a sequence of novels that moves backward into the past, tracing the secret history of a murderer. The first one is set more or less in the present, when she's in early middle age, and in full flow as a killer of young children. The second one is set in the 1970's and follows her as a teenager and shows some of the reasons why she's turned to this sort of 'career' and the last one is set way back in 1958 and shows her as a very young child, as a bystander in a very different sort of case.
SHOTS: The books are extremely chilling. I was almost frightened to turn the page, especially being a parent with young children, but when I went back through them, I realised that although, I initially thought that they were very visceral, in fact they aren't at all. Would you care to comment on that?
Andrew : I find it very odd, that so many readers seem to find the books extremely gruesome, when point in fact, they aren't. There is very little blood and guts in them. It's all done by the readers imagination. There are very few corpses lovingly described. It's all hinted at. The interesting thing is that the reader's imagination picks that up, and so the real horrors are in the readers minds. By god there are horrors in there.
SHOTS: Very interesting. I also found the angle you used with the church quite unique.
Andrew : The idea behind that was, that I thought it would be interesting to show how a religious point of view varies from a secular one. If you are a secular person you have one notion of right and wrong, if you are Christian then you have another one, and that's what I wanted to carry across the whole of the trilogy.
SHOTS: I see that the Lydmouth series has been relaunched recently with some remarkable covers.
Andrew : Yes, in fact they've never been out of print, there are 6 and soon there'll be a seventh. This series is set in the 1950's and is a crime series centred upon the love affair between a married police inspector and a woman journalist who is not married. In the 1950's the idea of small town adultery was a really big thing. So basically they have to constantly keep their affair quiet, but at the same time sort out corpses that keep happening.
Natasha Cooper is a real figurehead in the UK crime genre. We have bumped into each other quiet a lot and I was eager to discover more about this enigmatic writer.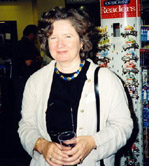 SHOTS: Natasha Cooper, Clare Layton or Daphne Wright it's great to see you again.
Natasha ; It's good to be here.
SHOTS: Can you tell us a little bit about your work as Natasha, Daphne and Clare?
Natasha : That's a really difficult one. The novels I wrote as Daphne were historicals and setting a novel in the 19th century means that the female characters have to get married if they are to have a passport into real life, and I grew rather irritated with that. So I wondered what sort of novel I could write that could feature a tough and independent woman. And that was for me - crime. So I suppose that's how I started to write as Natasha Cooper, and I loved those, but I was getting more and more interested in what happened to families of victims and the families of criminals. I wanted to explore the aftermath of crime and that's what I do as Clare Layton. I explore the ramifications of a crime 20 or 30 years after the act. It's a different type of novel so I needed a new name.
SHOTS: Very interesting. You started your career in publishing so I wondered when the writing started, was it before, during or after your career in publishing?
Natasha : It started as a dyslexic six-year old and I couldn't really read, so I started writing. I recall wanting to write one story called 'Smugglers on the Beach' and I recall not being able to get past the title. My Grandmother was a novelist and she encouraged me, but because of my difficulty reading and writing, I couldn't really do anything about it. Then I found myself in publishing, and I began to read the 'slush pile' and I thought if they can do it, so can I. But reading the 'Slush Pile' had a bad effect, because everything I wrote made me think of someone like me writing a snide and cruel report, so I dropped it again. Then I became an Assistant Editor, Commissioning Editor and then Editorial Director. I had really got know about writers and the process. I had taken many books apart, to fix them and then I thought I really must try, and it was at that point that I did.
SHOTS: You have a Clare Layton book Those Whom the Gods Love out at the moment, as well as a Natasha Cooper Out of the Dark, could you tell us a little about them ?
Natasha : Well 'Out of the dark' is the latest in the Trish McGuire series. Trish has just had a miscarriage, she hadn't known she was pregnant. The pregnancy came at the worst possible time for her, and she felt furious about it, so when she had the miscarriage, she blames herself and feels very guilty about it. As she's sitting there feeling miserable and guilty she's hears the sound of a car crash outside her house. A seven-year-old boy is run over, not killed but very badly injured. When she goes to the hospital to enquire about him, and gives the police her name, they get very excited as the child has her name sewn into the seams of his fleece. So who is he? Why is he looking for her? Where has he come from ? and that's what the book's about.
The Clare Layton Those Whom the Gods Love like all the Clare Layton's is about investigation on the aftermath of crime. A young journalist starts interviewing a warlord in a horrible civil war in an unspecified country, but there are overtones of the Balkans, and the rape camps. She is having to deal with the warlords view of rape, and how he considers rape not terribly important and a natural human instinct, as animals do it, chimps do it, etc. She comes home and makes a radio program about it, making the distinction between date rape and stranger rape, and her mother hears it, and is very upset. It turns out that her mother was once date raped and the novel becomes all about that.
I'm currently working on the next Natasha Cooper and involves the First World War, the art market and Drugs.
Mark Billingham who had been busy signing copies of Scaredy Cat was now free. I thought I'd catch up with what he'd been up to recently.
SHOTS: Hi Mark, great to see you again !
Mark : Hi Ali and great to see you too. We've seen a lot of each other recently!
SHOTS: Yes indeed, anyway Scaredy Cat seems to be storming up the charts, so where is it currently?
Mark : It is number 5 in The Times chart, this week which is just gobsmacking, we're all thrilled, because the first book did OK, you kind of think the paperback will do OK, but you are always more concerned with the book that's in your head, the one you've just done. You naturally are nervous when it's released. So to see Scaredy Cat do so well, and that people are buying it is hugely gratifying.
SHOTS: So where are you with your next book, Lazybones?
Mark : 'Lazybones' is delivered, and I will be working with my editor over the next few months.
SHOTS: We saw you at Crimescene with Fidelis Morgan on 'Rogues & Vagabonds' which was extremely funny. Any more acting roles due?
Mark: I don't think I'll be doing much acting, plenty of stand-up comedy though. Actually that piece at Crimescene was great fun, we all had a great time doing it, and it was so different, especially seeing someone else perform your work.
SHOTS: Especially a Geordie version of Tom Thorne.
Mark : Martyn Waites had a great laugh playing Thorne.
SHOTS: Thanks Mark, and good luck with Scaredy Cat and we look forward to Lazybones.
Mark : And you too.
To continue with the acting theme, we approached the glamorous Fidelis Morgan and gave her a five-minute break from the stack of books that she was signing dutifully. Her interview with Steven Saylor at Crimescene, as well as her 'Rogues and Vagabonds' panel had been masterful.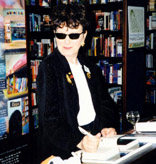 SHOTS: Fidelis - great to see you, glamorous as ever.
Fidelis : Thanks and great to see you too.
SHOTS: Could you give us some background to your books Unnatural Fire and The Rival Queens for those who haven't read them yet?
Fidelis : Well they are 'who-dunnits' set in 1699, which is rather a specific year, in so far as it was a time very similar to our own. I see my books as modern books, set in the past, as the restoration was very spookily similar to our own era. They just had the 1660's which for us read the 1960's when men wore fancy clothes and long curly hair. That led into the 1670's (or for us the 1970's) which was glam-rock, and then came the 1680's (or for us the 1980's) when every one discovered money. Then the 1690's came along (or for us read the 1990's) when everyone discovered that you could lose it.
SHOTS: Your character, the Countess of Clapham (aka Ashby de la Zouche), is very strange.
Fidelis: The Countess is a 60 year old woman who had been a mistress to the king, she's rather clever, rather funny, rather fat, rather short and is totally reduced to utter poverty, but doesn't like people to know this. So she lives in a house with no furniture at all but with one front room decorated so people think she's rich, when in actual fact she sleeps in the kitchen.
SHOTS: So you are about to embark on a very extensive US Tour. For our American readers, could you tell us about it?
Fidelis : Well I'm going to New York, Boston, Minneapolis, Portland, Seattle, San Francisco and surrounding area, Los Angeles and the general area around like Pasadena, San Diego, Scottsdale, Tucson, San Antonio, Bouchercon, St Louis, Murder-cum-Magna, Chicago, Pittsburgh, then Back to New York and I'll be crossing the Atlantic both ways on the QE2.
SHOTS: Where can your US Fans get details of the tour?
Fidelis : It's detailed at my website www.fidelismorgan.com at the personal appearances page.
SHOTS: So when you're back, are you back to writing?
Fidelis : On the day that I arrive back in England, it's Publication day for book #3, titled The Ambitious Stepmother.
SHOTS: And that's when?
Fidelis : November 5th, "Remember, remember the 5th of November, gunpowder, treason and plot"
SHOTS: How apt, we look forward to seeing you on your return and good luck on tour!
Fidelis : Thank you.
SHOTS would like to thank all the writers for their time insight, as well as all the staff of Heffers in Cambridge for being such gracious hosts. Make a note in your diaries to attend next year.