Pulp Fiction: The Crimefighters
Edited by Otto Penzler
Quercus £12.99 ISBN 1905204574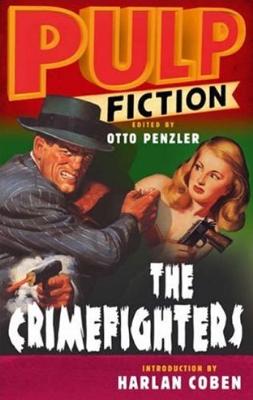 I'm not sure THE CRIMEFIGHTERS is the best title for this collection, but since titles like THE HARDBOILED DICKS have already been taken, an anthology by any other name it would surely read as sweet. Garnered mostly from the pages of Black Mask magazine, this batch of detective tales is diverse enough to appeal both to the classic crime newcomer and the hardened hardboiled pulp fan.
I speak as the latter, and although many of the entries are familiar, there are good arguments for including them. Paul Cain's stories were collected in SEVEN SLAYERS, but if you haven't read them, 'One, Two, Three' is a good introduction. Cain is, in many ways, the hardest-boiled of all Black Mask writers, and this story of triple cross is about as hard as it gets, and no less amusing for that.
The big names are there too. Raymond Chandler's 'Red Wind' should be familiar to anyone who's read detective fiction, but as you read its opening pages in this context it's easy to realise how Chandler's prose style and his softer-boiled version of the genre set such a standard. It reminded me too that 'Red Wind' was adapted in the Showtime television series Fallen Angels, with Danny Glover as Marlowe. Worth seeing if you can find it. Dashiell Hammett's 'The Creeping Siamese' is interesting for a couple of reasons. First, it's a clue-laden story that shows how much he learned from traditional mysteries while his Continental Op was setting a whole new standard of realism. And second, because you can see some of the elements of this tale reappearing in THE MALTESE FALCON.
Erle Stanley Gardner is a big name too, but for Perry Mason, not Ken Corning, though Corning and his secretary Helen Vail are a lot like Mason and Della Street, but maybe 33 1/3 rpm faster. 'Honest Money' is a good yarn that has a little bit of the bite of political corruption. Meanwhile, Horace McCoy's 'Frost Rides Alone' is a rather straight-forward tale of an airborne Texas Ranger that at first glance may seem out of place in a hard-boiled anthology. Maybe that's why it was called THE CRIMEFIGHTERS! Yet as you read it, you sense its influence on Elmore Leonard, and maybe it's just because I wrote about Cormac McCarthy's NO COUNTRY FOR OLD MEN last month, but the setting is similar and the border bits are effective in a very 1930s movie serial western way. So is George Harmon Coxe's story featuring 'Flash' Casey, the newspaper photographer: many of them were made into B pictures, and this one moves with a fast pace that makes you long for the good old days of yellow journalism. And there's Cornell Woolrich's' 'Two Murders, One Crime' lest you forget where his roots lay.
But it's the relative unknowns who make this anthology so impressive. Norbert Davis ought to be better-remembered for things other than his novels about the detective pair of Doan and Carstairs, Cartsairs being a Great Dane, but his humorous approach never really appealled to Cap Shaw, who edited Black Mask in its glory days. Still, 'The Price Of A Dime' featuring Hollywood detective Ben Shanley, is a small jewel of a story, amusing and fast-paced. You wonder if Shanley is where Robert Leslie Bellem got Dan Turner, his over-the-top hardboiled Hollywood dick. Thomas Walsh had a long career as a novelist long after his pulp days ended, but his very first Black Mask story, 'Double Check' is a classic inside heist story, which ends in a wise-cracking shootout. Charles Booth's 'Stag Party' is equally entertaining, and William Rollins Jr.'s 'Chicago Confetti' reminds you just how fast-paced and crackling first-person narration can be.
Speaking of first-person narration, Carroll John Daly's Race Williams is best-remembered today as the inspiration for Mike Hammer, and 'The Third Murderer', a short novel originally serialised in three issues of Black Mask, is a good example of why Daly's not remembered for much else today. Race was a ground-breaker in his day, but the story and the writing are all over the place, something which got more noticeable in Daly's writing the longer the stories were. But it's the kind of thing anyone new to the pulps needs to experience, to get into the mind-set which made Williams the readers' favourite for many years.
Finally, one disappointment. Frederick Nebel's sombre cop Steve McBride and wise-cracking newsman Kennedy are among my favourite Black Mask characters, but 'Wise Guy' isn't one of their best outings. You can see the appeal, especially as McBride holds sway throughout, but the spice is missing. Kennedy and McBride deserve their own collection, and if no one wants to edit it, I'd volunteer happily!