City Of Light
Lauren Belfer
Sceptre £6.99 ISBN 0340748427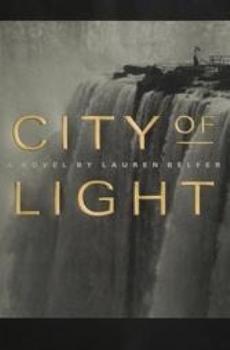 Part of my remit for this column is to dig out American works that may have been overlooked in this country. Lauren Belfer's first novel, City Of Light, attracted little notice when it was published here, but at least it was published.
Perhaps because it looks like, and was marketed as, an historical romance, it didn't make an impact in the crime field, but it probably should have. In my mind, simply learning that rusty old icy Buffalo was indeed called the City of Light was worth the price of admission.
Louisa Barrett is the headmistress of an exclusive girl's school in Buffalo, upstate New York, just a waterfall away from Canada. It is the turn of the century, and the waters of nearby Niagara Falls are being harnessed to provide the new miracle of electricity. They are also providing huge profits for the cream of Buffalo society, the very people who have given Miss Barrett their patronage.
But Louisa Barrett has secrets of her own, regarding her goddaughter Grace, whose mother, Louisa's best friend, has recently died. Grace's father, Tom Sinclair, is in charge of the Niagara Falls power plant, and when an outspoken engineer dies in a suspicious-looking accident, Louisa can't help but look at him as a suspect. But given that there is a nascent environmentalist movement growing to protest the diversion of water from the Falls, when another death occurs, Louisa finds herself in the middle of a deepening, and threatening, puzzle.
So far so good, and Lauren Belfer weaves a fascinating historical tale, book-ended by the dark side of President Grover Cleveland's character, and the assassination of President William McKinley. It will draw comparisons with Caleb Carr's The Alienist, and perhaps also with The Devil In The White City, since Buffalo's Pan-American Exposition serves as a backdrop for much of the action.
This was Buffalo at its elegant turn-of-the-century peak, when its position on the Great Lakes made it a center of both trade and industry, and a rival to Chicago in terms of second-city elegance. Belfer makes the most of the history, particularly the way that provincial grandeur inspires a real narrowing of society.
But the book's strength is also its weakness. Miss Barrett may think she is a mover and shaker in her society, but in the end she is really its victim, and the novel follows the very slow progression of her self-awareness. Very, very slow, at times, as scenes seem to repeat themselves to the point where the reader is checking to see if the bookmark didn't fall onto the wrong page by mistake. And despite the Hawthornian touches of little Grace, with none-too-subtle echoes of The Scarlet Letter. Lousia's ultimate fate seems somehow a modern device, aimed at avoiding the necessity of further plot complications. It's almost as if, having managed to dodge the label of 'genre' fiction throughout, Belfer was forced to settle on it in order to resolve her plot to the genre elements (murder, rape, blackmail) that drive it. Maybe a better comparison than Hawthorne would be Dreiser's An American Tragedy, though here she gives us a far wider display of criminality throughout society than Dreiser might have dared.
Much as I liked the book, especially at the start, it has a couple of the more glaring lapses I've encountered in a while. These probably result inevitably from a point of view I'd call 'enlightened anachronism', one which allows its audience its feelings of moral superiority by attributing to at least one character a modern sensibility which seems out of keeping even with rebels of the era. This is also known as the 'Fried Green Tomato Syndrome' after the book and movie of the same name, and it does produce a couple of howlers.
The absolute classic pinnacle occurs when one character is described as coming from 'Shaker stock'. Now, furniture can come from Shaker stock, but since a cornerstone of the Shaker movement was abstinence from sex, and separation of the sexes, children did not, could not, by definition, come from Shaker stock. Still, it probably sounded so old New England! But Shakers aren't Quakers, not even as fakers.
There's also my favourite sentence, a lovely error forced by the necessity of establishing Louisa's feminist credentials. Louisa ponders that 'she'd suffered none of the dire consequences that traditionalists promised women who broke with their 'proper' roles (such as insanity).' Gee, I never knew insanity was a proper role for a woman. Live and learn!
Howlers aside, City Of Light is a book which takes a great idea and runs with it. If perhaps Belfer ran a little too far, or in a few too many circles, it's still an engrossing story, and deserved more attention from the crime world when it came out.
Gotham Central: Unresolved Targets
Written by Ed Brubaker & Greg Rucka, Drawn by Michael Lark & Stefano Gaudiano
Titan Books £9.99 ISBN 1845761308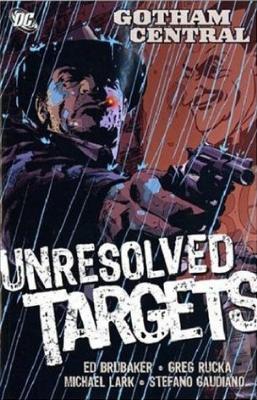 It's odd to think that one of the best police procedural series in America is being done in comics. You need good writers; Ed Brubaker has written some excellent crime comics, and Greg Rucka also writes crime novels, so the foundation is there. But the police-station drama is a difficult one to pull off in comic book form, as it is on film. It's better suited to novels (McBain, Wambaugh, Sjowall & Wahloo, Mankell) or television series (Police Story, Hill Street Blues, Law & Order, Homicide), where the ensemble casts have time to develop individual characters, and the plot strands can be extended across books or episodes.
On film, characters inevitably get lost and continuing storylines disappear of necessity. In comic book format, the problem is different. A story line is easy enough to extend, but a character is harder to develop. The shorthand which the actor can provide is a real challenge for an artist working within the limitations of panels, and in ensemble casts those panels can get very crowded. It's interesting that in Gotham Central some of the characters who are delineated the most sharply are the ones who remind us of people we've seen before. In this case, Captain Maggie Sawyer sure looks a lot like Maritska Hargitay, from Law & Order Special Victims Unit, not that there's anything ipso facto wrong with that.
Then there's the bigger formal question, specific to the world of comics, of how you make a simple police story work in a super-hero universe? The answer lies in the art. Where Gotham Central succeeds best is in its portrayal of Gotham City itself. Ever since Frank Miller drew new life into the character, the best Batman stories have recognised the city as a crucial element, if not player, in the stories, and in all its many incarnations since, Gotham has become progressively more insane, even worse than New York in the 1970s! Actually, my memory was that Manhattan in 1972, say, was pretty exciting, a lot more so than its present reincarnation as Disneyworld North. But Gotham City never met Rudy Giuliani. Anyway, in Gotham's atmosphere of grimy non-stop crime, even the Batman is over-stretched, and the crime-fighting of ordinary cops becomes a battle against chaos itself. This works perfectly, because, as we've seen, the ensemble cast tends to get squeezed into panels. In the Gotham Central series, the detectives are usually drawn into extremely tight panels, always constricted, limited, almost threatened by the frames. Page upon page, they are literally trapped in a maze.
That Batman's super-villains tend to be characters with super-psychoses, rather than super-powers, so they fit right in. The Joker and the Mad Hatter are the villains in the stories in this volume, and in this case there is a certain mad realism to their villainy, something the detectives can sink their teeth into. Even the Penguin, who's peripherally involved, seems realistic, almost sad. Their presence doesn't seem to imply the Batman of necessity, and the relationship between the Batman and the police remains one of resentment as much as anything else. In fact, the nature of the Batman as vigilante is something that should rub police the wrong way, by definition, and that tension is something this comic highlights well.
Brubaker and Rucka plot a dark picture of corruption, frustration, and sheer fatigue, whose attitude transcends the panels. They pull no punches; characters die (always a problem for successful series) and the crimes have the necessary mix of comic book grotesquery and crime-story reality. It's time they got to exercise their skills with a bigger story, one that could be collected in a Watchman-sized volume. Their work is that good, and I recommend it highly.