The Salton Sea
In the Imperial Valley of Southern California there is a little known body of water 226 feet below sea level, one of the lowest points in the United States. As there is no outlet from this sea, water is being removed only by evaporation, which results in a salinity level more than 25 percent higher than the Pacific Ocean. There is an eerie stillness to this vast sea, and a peculiar density to the water. This lake is the Salton Sea.
Set against this remote and mysterious landscape, an unexpected and brutal crime leaves an innocent woman, caught in the wrong place at the wrong time, dead at the hands of masked gunmen. Her husband's life is left in ruins, his every waking moment haunted by the recurring imagery of the murder he witnessed, but was powerless to prevent. He is alive, but lifeless in his despair. "The Salton Sea" is a character-driven crime thriller about an unlikely hero entangled in a web of deceit and treachery. Full of unexpected twists and turns, this is a compelling and emotionally-charged story about loss and recovery set to the lonely resonant tones of jazz great Miles Davis' horn.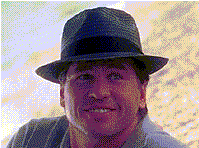 Danny Parker (VAL KILMER) is a man in search of redemption, consumed by a sense of loneliness and alienation. Following the death of his wife (CHANDRA WEST), he is set adrift in a seedy underworld inhabited by an eclectic, and often comical, cast of characters united principally by their choice of drug: crystal methamphetamine. An accomplished jazz musician, Danny is now a low-life "tweaker" in Los Angeles who leads us through a frenzied maze, one from which he must emerge before his tenuous grip on reality snaps for good.
In a bold attempt Danny secretly hatches a plan to serve as middle-man in a lucrative drug deal. With the help of his friend Jimmy "The Finn" (PETER SARSGAARD), Danny is introduced to Pooh-Bear (VINCENT D'ONOFRIO), a deranged methamphetamine baron with a penchant for sadistic recreational games, who seals the deal. But in this mad world, nothing is as it seems and no one is who he or she appears to be.
While making this perilous journey through the underbelly of Los Angeles, however, Danny reconnects with a tenderness long thought dead as he reaches out to help his troubled and vulnerable neighbor, Colette (DEBORAH KARA UNGER).
Joining the production's cast are ANTHONY La PAGLIA and DOUG HUTCHISON who portray narcotics agents Garcetti and Morgan respectively; ADAM GOLDBERG as 'Kujo,' a speed freak; LUIS GUZMAN, as 'Quincy,' Colette's violent boyfriend; rock veteran MEAT LOAF makes an appearance as 'Bo,' a shady druggie; GLENN PLUMMER as 'Bobby,' a drug dealer; in his acting debut JOSH TODD, lead singer of the band Buckcherry, as 'Big Bill,' one of Pooh-Bear's sidekicks; DANNY TREJO as 'Little Bill,' a member of Pooh-Bear's posse and Tony Award-winning B. D. WONG as 'Bubba,' a cowboy with crystal meth connections.
Castle Rock Entertainment presents A Darkwoods/Humble Journey Films Production, "The Salton Sea," directed by D. J. CARUSO (HBO's "Black Cat Run") from a screenplay by TONY GAYTON ("Murder by Numbers"). The film is produced by Academy Award® nominated filmmaker FRANK DARABONT ("The Majestic," "The Green Mile," "The Shawshank Redemption") along with ERIQ La SALLE ("E.R."), KEN AGUADO ("Ticker") and BUTCH ROBINSON ("The Original Kings of Comedy"). The film is executive produced by JIM BEHNKE ("The Majestic," "Zero Effect").
The behind-the-scenes team is led by director of photography AMIR MOKRI ("Coyote Ugly"), production designer TOM SOUTHWELL (HBO's "Black Cat Run"), editor JIM PAGE ("The Majestic"), costume designer KARYN WAGNER ("The Green Mile," "Eve's Bayou," HBO's "Black Cat Run") and Academy Award® nominated composer THOMAS NEWMAN ("Erin Brockovich," "The Shawshank Redemption"). "The Salton Sea" is distributed by Warner Bros. Pictures, an AOL Time Warner Company.
Castle Rock Entertainment is an AOL Time Warner Company.
ABOUT THE STORY
In the opening scene of "The Salton Sea," we are introduced to Danny Parker sitting alone on a bed in a dilapidated rooming house with a duffel bag full of money. Around him the room is ablaze with fire, but he seems unaware, quietly playing his trumpet. In voice-over against this distressing image Danny speaks to us, seeking to define who and what he has become. This opening confessional reveals him to be a man in crisis, struggling with his identity and haunted by his past. His probing questions propel us backwards into the story and we begin to travel through the recent events of his life that lead him to this critical point.
Suspenseful, intriguing and moody, Tony Gayton's screenplay caught the eye of producer Ken Aguado. Gayton's original screenplay unfolds in a very deliberate and measured way, never revealing too much at one time. Just when you feel you have come to understand what's at play, another layer is unveiled and your perspective shifts. Aguado explains, "Character revelations and plot twists are introduced throughout the entire piece, which is one of the reasons it's such a fascinating movie. A lot of scripts are boring after the thirtieth page because everything has been revealed. This film is not about the immediate moment. It's about the future, the past, and it requires two hours to figure out."
Aguado passed the script on to D. J. Caruso and insisted he read it immediately. Aguado remembers, "He really responded to the material for the same reasons I had. You find yourself trying to understand the hero, what his agenda is and what his and the other characters' motives are and where they will end up. You're surprised all the way through and there are some really funny moments."
D. J. Caruso recalls his thoughts after reading the script, "I loved it. I flipped out because I had been waiting for the right opportunity to direct my first feature film. I've had a couple opportunities before, but I really wanted my first film to be something that meant something to me. I'm obsessed with character journeys, whether that growth is a positive or negative growth. I was really compelled by the dilemma the lead character Danny Parker experiences."
Producing partner Eriq La Salle, widely known as the uncompromising doctor on the hit television series "E.R.," was equally compelled by "The Salton Sea." "It was one of the best scripts we had ever read. The opening is so powerful - a man sitting in a burning room, his life about to end, while he plays his trumpet and asks the audience 'who am I?' But, he also asks the viewer to listen to his story before making any judgments because nothing is, as it seems. The whole movie then delivers on that promise and reveals what led him to this place, this burning room. The narrative unfolds so gradually over the course of the film and it has you constantly guessing. It's involving and very rewarding in that way," says La Salle.
Aguado adds, "This is a movie that survives 100% on the quality of the writing and the story. It's challenging material that requires you to use your brain while also being emotionally engaged. And all the characters are interesting and richly-drawn."
Frank Darabont, with whom Caruso had collaborated on the HBO film "Black Cat Run," with Darabont executive producing and Caruso directing, was sent the script by the Humble Journey Films partners.
"I'm an enormous fan of D. J. Caruso," says Darabont. "D. J. was really excited about the script for 'The Salton Sea'. I have enormous faith and confidence in his instincts, so I took it home that night and read it. I thought the script was really terrific."
Darabont elaborates, "The script for 'The Salton Sea' was not like any other script I had read and consequently not really like too many other movies I see. It's definitely got its own unique texture and that's rooted in the script. D. J. is a director who respects the screenplay as he's shooting the movie. The result is a director doing justice to a good script."
Intrigued by the project, Darabont lent his support and joined the producing team to help the filmmakers bring Tony Gayton's story to the big screen.
ABOUT THE CASTING
At break-neck speed, the casting process was then underway. The lead role required an actor to project a sense of humanity and vulnerability while pulling the audience through his dark and difficult journey. "As the story unfolds, you find yourself feeling sympathy for a character that normally you wouldn't be very sympathetic towards. We needed someone with the acting chops who could pull that off," explains Aguado. At the top of Caruso and the producer's list was Val Kilmer.
Aguado explains, "This is a very dark role for an actor and it required someone who would throw himself entirely into the part. Val was our first choice." They were not disappointed, and in fact the actor's commitment to the role greatly surpassed their expectations. Aguado beams, "Val completely submerged himself in the character. He is very dedicated and serious about his craft, and I think this is one of his best performances."
Caruso adds, "I wanted Val Kilmer from the start. I enjoyed watching Val in 'Tombstone' because I thought his portrayal of Doc Holliday was just fantastic. In the 'The Doors,' he embodied and became Jim Morrison in the film. Val is the most passionate person I've ever met. You can only hope to have someone like him on your team wanting the movie to be just as good, if not better than you want it to be."
Tackling a character of such complexity was of immediate appeal to the actor, and he signed on to play Danny Parker without hesitation. Kilmer explains, "It was a very challenging role, one of the hardest I've ever done. This character is wonderfully tragic and beautiful. I was very affected personally by the character."
In summarizing his role, Kilmer continues, "Danny is a jazz musician who's really in love with his wife. They get lost one day near the Salton Sea, and his whole life changes. She's murdered and he survives. He blames himself and becomes locked in that period of time."
By infusing what could have been an unsympathetic character with humor and sensitivity, Kilmer fleshed out a multi-dimensioned portrayal of a man lost in a bleak and sordid subculture of drug users and dealers. "I had played a couple of alcoholics before - Doc Holliday and Jim Morrison - and other similar characters in theater, so I had a pretty good idea about addiction and those arenas of characters who become suicidal."
Adding to this experience, however, Kilmer sought real-life inspiration for his portrayal and spent time with police informants. Kilmer says, "Rats" are really desperate people. It's the end of the line and, as all "rats" know, eventually they get caught. There's no place to exist as an informant. It's tough - both sides are against you and you're always getting squeezed." The amalgamation of these experiences brought a depth of understanding and reality to Danny Parker. Kilmer concludes, "I put the pieces together in a non-intellectual way, watching how hard it is for some people just to survive."
Anthony La Paglia and Doug Hutchison portray undercover narcotics agents Garcetti and Morgan respectively. Their area of focus is crystal methamphetamine. Initially, they present a classic good cop/bad cop front.
Hutchison reveals, "As the story unfolds, all of the boundaries get blurred. It's refreshing not to see the same old stereotypical relationship. I like that you're never sure what's real or what's an illusion in the film."
La Paglia couldn't resist the role of Garcetti when he read the script, even though he had decided he'd had his fill of playing cop roles. La Paglia recalls, "It felt different from a lot of things I had read - it's an interesting story with a hard edge. My character is described as a man who doesn't like dolphins. 'Who doesn't like dolphins?'"
Hutchison spent time with actual narcotics agents in Riverside to help flesh out his character, during which time he accompanied them on a drug raid. "The officer that I rode with had an informant who provided the tip responsible for the bust. I grilled the officer about his relationship with the informant - it was really valuable information that perfectly applied to my character," remembers Hutchison.
Although the film is set in this harsh world, and centered around a man whose life has been destroyed in many ways, it is not a film without hope. "The film introduces you to a world of characters that most people will never meet in their lifetime - and thank god," Aguado says. "But you discover that people from all walks of life and in all kinds of different situations have their own sense of dignity, their own hopes, dreams and aspirations. This is not a film about pure and clean people. These are people who have been to a place most of us will never go, but they come out the other end changed, and hopefully better. All the characters are flawed, but loaded with humanity and reality."
It was these multifaceted characterizations that attracted Deborah Kara Unger to the story of "The Salton Sea" and to the role of Colette, Danny's neighbor in a down-and-out boarding house/hotel. Unger recalls, "I was struck by the extraordinary writing, and the story's emotional pace. This film does not insult the intelligence of an audience; the plot is rich and complex. It's a very dark world, but there are alarming flashes of humor and light, and the characters are unpredictable and colorful."
Casting Unger was a real coup for the director as she, like Kilmer, had been his first choice for the role. As Caruso's producing partner Butch Robinson explains, "D. J. wanted the film to be hyper-realistic, and he wanted someone who was attractive, but approachable, sympathetic and appealing." For everyone involved, Unger embodied all these characteristics.
Caruso explains, "I felt Deborah was right for the role of Colette because I found her to be sexy, intriguing and real, qualities that were essential for the character. Deborah's character Colette is really vital because she reawakens passion in Danny, something that he thought he had lost forever."
Kilmer states admiringly, "Deborah comes to work almost exclusively from an emotional connection, which lends a certain power to her acting."
Haunted by her own demons, Colette is a single mother who finds herself in an abusive relationship and is barely hanging on. Her despair and vulnerability mirror that of Danny Parker, and their friendship and compassion provide respite from the horrors of their lives. "My character is exceedingly fractured," Unger begins. "Both Colette and Danny are burdened by a past from which they're both trying to escape, to make sense of. They're both seeking retribution. And Colette feels a lot of empathy for the deep pain Val's character is enduring."
Kilmer further comments, "Our characters have a generosity of spirit and sensitivity in common. We also have a motive in our life that is different than survival, pleasure or greed. We're both seemingly lost and feel as though we've failed to help those we love. But we're also tough and neither one of us is revealing everything we know."
Caruso provided an opportunity for spontaneity in certain scenes, a flexibility and collaboration that reaped rich rewards. Caruso explains, "I like to be visually prepared but I also wanted to give the actors the freedom and make them comfortable enough so they felt free to do what they felt."
Kilmer responded strongly to the approach, but cautioned, "Improvisation must be in the same spirit as the writer's vision. Time is running out in our story, so the structure is very tight and dependent on a rhythm and pace. But there were moments when we were given room to really fly. All the actors in the film were well suited to that freedom."
"D. J. inspires trust and excitement in an actor," Unger reveals. "He allowed us to embrace the chaos of the characters' lives through an improvisation that helped feed the tensions needed in particular scenes. Imbalance is central to this story's world and a lack of certainty is intrinsic to the activities of most of the characters."
The filmmakers believe that the compatible acting styles of Kilmer and Unger elevated their respective performances, and indeed the film. "Val and Deborah have a very similar energy level. They're both intense, internal and thoughtful as actors," Aguado observes.
Unger, however, credits her co-star for heightening the stakes and enriching her portrayal. "Val was committed to the story and the characters. Without a doubt, I knew from the beginning that he would be able to embrace the film's world almost flawlessly, certainly fearlessly. He made every effort to let me know that whatever cliff I might want to jump off, he'd be there with a net. I'm thankful for his confidence to go places that I might not have gone."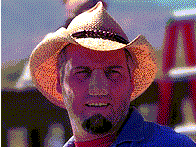 The story's many richly drawn characters attracted a top-notch roster of gifted actors, including Vincent D'Onofrio in the sinister role of Pooh-Bear, a twisted and menacing speed dealer. "As soon as I read the script for "The Salton Sea," I immediately thought of Vincent D'Onofrio for the role of "Pooh Bear," Caruso explains. "Pooh Bear is a character that I thought Vincent would be perfect to play. Vincent is the type of actor who becomes the character and hides behind the character so brilliantly that you forget that it's Vincent."
D'Onofrio describes his character as "a dealer who sits around with his buddies cooking methamphetamines. He's a sort of bandit who's out for the money and will screw with people and rob them along the way. He also has a strange way of communicating and dealing with situations - I don't want to give anything away, but it's weird stuff !"
D'Onofrio's versatility and unquestionable talent have spurned many memorable characters, but perhaps he's most widely remembered for his disturbing portrayal of a young cadet in Stanley Kubrick's brilliant Vietnam drama "Full Metal Jacket." The actor brings a similar intensity to "The Salton Sea," and will undoubtedly leave another indelible impression on audiences with Pooh-Bear. D'Onofrio explains, "I felt there was a lot I could do with Pooh-Bear when I first read the script. He's a foil character who really helps move the story along. I always try to avoid making typical choices with a character, and villains are particularly fun and interesting for me because I try to humanize them and give them heart. I have a very short attention span, so I pick the most interesting and complex characters I can find to keep from getting bored."
D'Onofrio often transforms himself physically for his roles, and Pooh-Bear is no exception. "I gained 40 pounds for the part. This will be the last time I ever put on weight for a film because I'm getting older and it's becoming harder to take off," says D'Onofrio.
Contrary to the depraved Pooh-Bear is Jimmy the Finn, Danny's naïve but loyal drug-buddy. Peter Sarsgaard, who garnered attention in the critically acclaimed film "Boys Don't Cry," brought a sincerity and affability to the role. "My character is involved in this whole crystal meth scene. No one is quite what they seem in the film, but Jimmy is transparent - he could never lie believably, for example. He's really honest and trusting, so Danny turns to him in this world of people who are foreign to him," explains Sarsgaard. Although unaware, Jimmy becomes more and more involved in Danny's struggle and conflict.
"The Salton Sea" characterizes a very specific branch of the crime underworld: the world of crystal methamphetamine. Like crack is to cocaine, crystal meth - crank or gack as it is often called on the streets - is the crystal form of methamphetamine. Cheaply made and easily accessible, meth is powerfully addictive and, arguably, the hardest drug to kick. Highly combustible meth labs litter the landscape of the United States in unsuspecting trailers, run-down shacks or in the kitchens of people's homes. Made largely from household products, law enforcement agencies have had a difficult time controlling the traffic of meth due to its surreptitious production.
Meth's speedy high keeps its addicts, also known as tweakers, awake for days at a time. Extreme sleep deprivation not only devastates a person's body, but it amplifies the craziness of the high and can cause hallucinations and insanity. With too much time on their hands, tweakers are predisposed to manic and obsessive-compulsive behavior. "It's a lunatic world," Kilmer concludes.
Not unlike a lot of Americans, the cast knew very little about meth and its ravaging effects. The director provided them with endless research material in the form of documentary video reports and articles, but they were also encouraged to visit drug recovery centers on their own. In visiting one such center in Riverside, California, Unger met former addicts who candidly shared their experiences. "I need to thank that center and those individuals with whom I spoke for really illuminating me and enabling me to feel intimate with a world that thankfully I've never journeyed through." She continues, "I had no idea meth was so common and was shocked to discover how pervasive it is. There's no one type of individual that becomes hooked - it's indiscriminate in that way."
Kilmer adds, "It's a really rough, hard drug, and unfortunately it's very popular now. It's cheap and easy to make, and you're high for a long time. It seems that being a tweaker is a vocation - the drug will grip you, and your life becomes an endless pursuit of getting it, using it for as long as possible, sleeping a little, and getting some more."
Told with humor and pathos, "The Salton Sea" provides a glimpse into a particular world of fringe-dwelling tweakers. Although tragically in the clutches of this drug, the camaraderie of this group and their absurdly funny antics provide comic relief from the darkness of Danny's journey and his more sinister dealings with Pooh-Bear and others. Central to this dark comedy is Jimmy and the character Kujo, played by Adam Goldberg. "Kujo is a motor mouth speed freak with grand designs," says Goldberg.
In summary, Val Kilmer says of the film, "It's a tragic and beautiful love story in many ways, but also a wild ride. You step into an unusual and unique world, both strange and dynamic."
Producer Ken Aguado says, "Everything about this movie will make you appreciate your life. People can lose their way in life and find themselves in a place they never thought they'd be. I think audiences will take away a sense of this character's quest for redemption. The film's journey is about his reemergence as a person into the world of the true and the honest. It's a cautiously hopeful tale with a tremendous amount of humor."
Producer Frank Darabont says, "What I loved about the script was that it took me into a world that I was quite unfamiliar with, but did so in a way that made it tremendously accessible to me as a reader and to me as a viewer. The story delves into a real underbelly kind of existence. It has an absurdist kind of reality where anything can happen and at the same time the script has its other foot in this very intense, real crime drama that you can take seriously."
Caruso says of the film, "I'd love for the audience to connect with the soul of the piece, the theme of redemption."