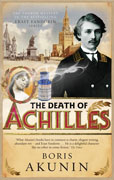 The Death of Achilles
Orion hbk £12.99 August 2005
The fourth bestselling novel in the Erast Fandorin series.
International intrigue, professional rivalry, the criminal underworld of nineteenth-century Moscow, and an irresistible femme fatale: if Erast Fandorin was hoping for a quiet homecoming, he is about to be disappointed.
Erast Fandorin returns to Moscow after an absence of six years, only to find himself instantly embroiled in court politics and scandal. His old friend General Sobolev - the famous 'Russian Achilles' - has been found dead in a hotel room, and Fandorin suspects foul play.

Using his now-famous powers of detection - powers that belie his twenty-six years - Fandorin embarks on an investigation, during which the political and the personal may become dangerously blurred. With the assistance of some formidable martial arts skills, acquired whilst Fandorin was in Japan, our eccentric and ingenious hero must endeavour to discover not so much whodunit, as why ...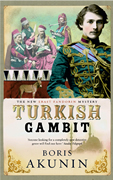 Turkish Gambit
Orion hbk £12.99
The Russo-Turkish war is at a critical juncture, and Erast Fandorin, broken-hearted and disillusioned, has gone to the front in an attempt to forget his sorrows. Captured by the Turks, he wins his freedom in a game of backgammon, before finding himself the unlikely rescuer of Varvara Suvorova - a 'progressive' Russian woman trying to make her way to the Russian headquarters to join her fiancé.

Fandorin's efforts to steer clear of affairs of state are thwarted when a traitor is discovered within the Russian camp. Within days, Varvara's fiancé has been accused of treason, a Turkish victory looms on the horizon, and there are rumours that one of Lady Astair's Azazel orphans may be making his own bid for power.

Our reluctant gentleman sleuth will need to resurrect all of his dormant powers of detection if he is to unmask the traitor, help the Russians to victory and smooth the path of young love in the third sparkling page-turner from Boris Akunin.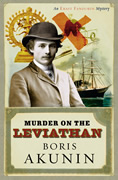 Murder on the Leviathan
Orion pbk £6.99
The second Erast Fandorin mystery from Boris Akunin, shortlisted for the CWA Gold Dagger.
'Akunin is an outstanding novelist...Fandorin is a beautifully drawn character who more than lives up to comparisons with Hercule Poirot or Sherlock Holmes...The characters are delightful and you can imagine them in a Woody Allen version of an Agatha Christie novel...Akunin's work is gloriously tongue-in-cheek but seriously edge-of-your-seat at the same time' Daily Express

On 15th March 1878 Lord Littleby, an English eccentric and collector, is found murdered in his Paris house together with nine members of his staff. A gold whale in the victim's hand leads Erast Fandorin to board the Leviathan, the world's largest steamship, as the murderer is one of the 142 first class passengers.

Commissioner Gauche of the French police has narrowed down the suspects to ten, and they are forced to eat together at every meal time in the ship's Windsor Suite until 'the Crime of the Century' is solved. But is the murderer really at the table, and can Erast Fandorin discover his or her identity before Gauche? As more passengers are murdered and the Leviathan heads towards Calcutta, Fandorin needs all his investigative skills to find the truth.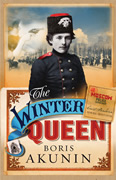 The Winter Queen
Orion pbk £6.99
'An absolute delight. Think Tolstoy writing James Bond with the logical rigour of Sherlock Holmes. A hoot' Guardian
This is the first book featuring Erast Fandorin, a gentleman sleuth who solves murders and mysteries in Tsarist Russia.

Moscow 1876. A young law student commits suicide in broad daylight in Moscow's Alexander Gardens. But this is no ordinary death, for the young man was the son of an influential industrialist and has left a considerable fortune.

Erast Fandorin, a hotheaded new recruit to the Criminal Investigation Department, is assigned to the case. Brilliant, young, and sophisticated, Fandorin embarks on an investigation that will take him from the palatial mansions of Moscow to the seedy backstreets of London in his hunt for the conspirators behind this mysterious death.