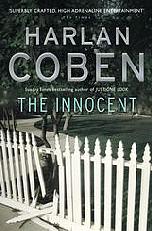 Ali : Welcome to Shots Magazine yet again!
Harlan : Great to see you again Ali – love the tie by the way, exactly who is your tailor?
Ali : …laughing…and checking for a gravy stain. Thanks Harlan. Well you have the No.1 spot with last years Just One Look, and also The Final Detail [A Myron Bolitar novel re-issued by Orion] has hit the book charts hard, so what's the pressure like having to come up with yet another twisty thriller?
Harlan : The pressure is mostly still self-inflicted, because basically I want to write a better book each year. I actually think that the pressure doesn't come from hitting the No. 1 slot, though it is deeply gratifying to hit the charts hard, but I believe that the pressure is the same right from when I wrote 'Deal Breaker', 'Drop Shot' to 'Fade Away'. To write a better book each time is the challenge, do I accomplish that goal? It's not for me to say, but the readers.
Ali : I've just finished 'The Innocent' and felt that you really worked hard on characterization, with Matt, Lauren and Olivia, and the other interesting aspect of The Innocent is that you don't have a central bad-guy this time?
Harlan : You're right, we don't have the central bad-guy and this was intentional. Just One Look as an example was my wanting to work with a female lead for the first time, and also I wanted the nastiest of nasty bad guys – hence Eric Wu – But with The Innocent, I wanted to do the opposite, I wanted a male lead and I wanted the suspense to come from someplace else than the external bad-guy, also another point was that in Just One Look, the plot was so fast that I'm not sure that my characters had enough time to look the reader in the eye as much as I wanted. So although when I started The Innocent, I still wanted to maintain the pace, but I wanted the reader to feel for the characters, but this time they may not be as nice as the reader may expect. Put it this way. Usually my characters are more happy-go-lucky, surbanites with lives that are going well. In The Innocent, these are damaged people, these are people on the outside looking in, these are people who have been to suburbia but didn't have great experiences as opposed to my previous characters and I suppose that gives the book a greater sort of depth.
Ali : I have to ask about these twists of yours. Do they appear as you write, or do you plot them in advance?
Harlan : Most of them I plot in advance as I know the ending before I start writing, I know who did it. I may not know why, but that doesn't matter as I learn the 'why' when I'm writing. I may not know exactly how and I may not know in what order the twists will come, but every once in a while a new one comes to me as I'm writing, it can sort of develop itself, a characters motivations may change. The Ghost in Gone for Good being a favourite example, as I didn't know his twist until I was deep into the novel.
Ali : So what can the readers expect from 'The Innocent'?
Harlan : I think I'm playing more on the grey's of life rather than the black and white this time, in the end it is a really twisty story but at it's core it is a story about finding redemption.
Ali : You seem to have cracked writing from a female perspective, how hard has it been over the years to crack that?
Harlan : I've never really had trouble writing female characters. Part of it is that I do have problems in how women are portrayed in some crime-fiction novels. The women in my books are like women I know, but saying that, when I wrote Just One Look I was very nervous about writing the female lead, Grace, but it came naturally and it became one of better experiences, both Grace and Charlotte.
Ali : Going back to Grace in Just One Look - do you ever feel sorry about what you put your characters through…laughing?
Harlan : No…laughing…not really…laughing…it's lucky I know that they are not real…laughing…It doesn't bother me….
Ali : Now these killer opening lines to your novels, how do they evolve? Do they come straight out or do you have to re-work them later as the novel progresses?
Harlan : Usually they come to me right at the start, but I actually try to ask that question on every line. I want every line to be a killer line, I never want to give the reader the opportunity to put the book down, so I am constantly asking myself if this is gripping? Is this exciting? Is this engrossing? I really want to hook you even with that first line, so that you are always right in the middle of the story. I do not want to make you wait five pages until you are in the thick of the story, I want you there right on page one.
Ali : I did find that in The Innocent, your style is very terse, you use a lot of dialogue to progress the plot, it almost reads like a screenplay? Would you care to comment?
Harlan : Well I've never written a screenplay in my entire life, I have always written to be as fast paced, and I guess I love dialogue, I always write a lot of dialogue as I enjoy reading it and find it the best way to progress a story.
Ali : Also how much research did you carry out with regarding to the strippers in Las Vegas for 'The Innocent'? …..laughing….
Harlan : All I'm willing to say Ali is that I am always prepared to make sacrifices for my readers…laughing…let's leave it at that….laughing…..
Ali : Laughing……In the US The Innocent comes with a new Myron Bolitar short story but we didn't get that in the UK?
Harlan : I'm not sure why, but the UK did get the book first, two weeks before the US release. I guess it is about the weird rights stuff that publishers and agents are involved in.
Ali : I'm interested in the popularity of your Myron Bolitar books in the UK recently as Orion have been re-issuing them, what's your thoughts about his return in terms of popularity?
Harlan : Well I'm thrilled naturally, I love to see my work on two different tracks and I love to see my books on the shelves. Orion have been great re-issuing them, and perhaps we'll see a new Myron book sooner than later……
Ali : That's great news. You have worked with Jon Wood [Your editor at Orion] for many years. What exactly is Jon's input in your writing?
Harlan : Well Jon's an editor. In most cases the relationship with an overseas editor is in simple terms just handling the book, not so much getting involved in the writing and editing process, but with Jon, because I've been with him so long, and in some degree with Malcom Edwards and Jane Wood and everyone at Orion also, it's much more than that because they do make suggestions, and I feel that give more than more, than most US authors usually receive from the British Publishers, and with Jon he's really given me a lot of good advice and feedback over the years.
Ali : Last summer, I was watching the book charts with some amusement as Just One Look stormed to No. 1 as I had predicted, but shortly after that Mike Connelly [another Orion author] came in with The Narrows and took the No. 1 position from you. Do you guys have any professional rivalry?
Harlan : This is going to sound totally Pollyanna, and naive – but basically no. If say, both books came out in the same week, that would be a problem but we came out in different weeks, so there is no problem. This I know is going to sound phony but I wish Mike Connelly, Dennis Lehane, George Pelecanos, Laura Lippman and everyone nothing but the very best – I believe that this is a business that the boat rises and falls together. I was told early in my career that no one has to fail for me to succeed.
Ali : Keeping on this topic, you were one of the first to champion a little book called 'The Da Vinci Code' by Dan Brown – which has been at the top of our book charts for ages. Can you tell us a little about how you got involved with Dan Brown? And what books should we be looking out for?
Harlan : It's a long story and coincidentally I just a call from my French publishers as Just One Look just came out there and is doing very well at No. 3 with 'Da Vinci Code' at No 1 and 'Angels and Demons' at No. 2. So I sent Dan an email saying….laughing…. 'Alright enough now!'….laughing….I hear the same thing happened here in the UK when Just One Look came out in paperback….The hardcover hit No. 1 but the paperback didn't because there were three Dan Brown books at No. 1, 2 and 3…laughing….I think there was a three-for-two deal going on in some bookshops…..laughing….Dan and I actually went to college together…Amherst College….and he actually read my stuff before I read his, this is going back some time. So his editor sent me a copy of 'Da Vinci Code' in manuscript form, well before anyone had heard about 'Da Vinci Code' – His previous books are now doing really well, but when they were first published they didn't do as well because perhaps they didn't get the publishing support or whatever, and so I read the manuscript and thought it was a wonderful read, and I was happy to pass a review and blurb it. I don't think the success of 'Da Vinci Code' is a negative thing, I think that it is a great thing in the publishing world when anything surprising happens and any work that has people buying books is no bad thing so I have no problem with the success of 'Da Vinci Code'.
Ali : So what is the next 'Da Vinci Code' ?
Harlan : Well, I haven't figured that out yet, but it's funny that in the same year I was recommending Dan's book here in Milton Keynes, two years ago the Manager asked me to pick a book to read, so I asked him to recommend one for me, and he gave me Mark Haddon's 'The Curious Incident of the Dog in the Night-Time' – which I read and was completely unknown in America at the time – So I ended up recommending it to the US readers while recommending 'Da Vinci Code' in the UK [which at the time also was unknown] – there you go.
Ali : Any news on the Myron TV show as well as Mike Apted's film version of 'Tell No One'?
Harlan : Well there's news on both. 'Tell No One' is about to start filming in France as it will be a French film. The Myron TV show will probably be a film, or even a series of films. Columbia Sony has bought it, with producer John Calley and he's also doing 'Da Vinci Code' so that's where the adaptations are at the moment.
Ali : And finally I heard that you are the toastmaster at Bouchercon in Chicago over the labour-day weekend in September – so can you tell us what your duties will be?
Harlan : There is some great advice I give to prospective toastmasters – basically two words – Remember Brevity!
Ali : Harlan, thanks for taking time out to talk us at Shots eZine!
Harlan : The Pleasures all mine, and pass my best wishes to Mike Stotter, and all the staff at Shots as I haven't seen Grog, Ayo and Liz for ages, and a big thank you to all my readers in the UK, you're beautiful!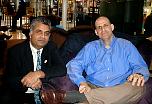 Ali Karim with Harlan Coben