So here we are again to celebrate the best of the best in crime and thriller writing from London. This year is special as we celebrate the golden jubilee of the oldest literary award in the UK – The Daggers; with all the CWA members voting for the Dagger of Daggers. The venue again is King George III Room in The Brewery in Chiswell Street in the city of London, and is at capacity with over 300 attending the UK's major awards for crime and thriller fiction. I had organised a table for some special guests as both Mike and I have had a tough year in our professional lives and decided to relax with our friends and colleagues from the world of crime and thriller writing / publishing. Joining us from Shots came our special reporter Ayo Onatade fresh from her adventures at Bouchercon Chicago.
Hosting and presenting the event were CWA Chair, Danuta Reah and Vice Chair, Robert Richardson with guest speaker, the fantasy novelist Terry Pratchett.
The CWA continues to support the National Library for the Blind to promote their activities and help to raise funds. Once again, the Foyle Foundation provided finance which has enabled all the winning books in the Dagger Awards to be converted into Braille for the second year. Crime writing being one of the most popular genres - The CWA is particularly pleased to bring it to a wider audience in this manner, and the guests at the awards gave generously to this important iniative.
On arrival, I spent some time chatting with forensic pathologist and creator of Lovejoy – Jonathan Gash who is a delightful gentleman. I had to thank Gilda O' Neil [the novelist] for her work in ensuring the lunch went without a hitch, and the tireless CWA press officer Zoë Sharp who returned from the US launch of her terrific thriller 'First Drop'. I must also make a special mention to Carla Banks, who debuted this year with a breathtaking thriller 'Forest of Souls' – the reason I mention her is that she is actually a non-de-plume of CWA Chair Danuta Reah.
I then had the pleasure of sharing a few moments with Dame Ruth Rendell [aka Barbara Vine] who was making one of her rare visits to The Daggers – we spoke about her appearance as guest of honour at Bouchercon 2003 in Las Vegas. She remarked how much she enjoyed meeting her American readers but also described Las Vegas as 'Ghastly', which was the concencious of many of us who attended the event.
Another highlight was clinking glasses with the great Mark Timlin and Denise Danks, London based writers who in my opinion are giants in the genre, and I am always surpised that they are not as well known as they should be. As cult writers, they are tremendous. If you've not discovered their work shame on you and time to catch up fast –
http://www.fantasticfiction.co.uk/authors/Denise_Danks.htm
http://www.nicksharman.co.uk/
I should also point out that Mark Timlin's excellent opus 'ANSWERS FROM THE GRAVE' is a standout and I urge you to seek this excellent gangster novel because it is one of my favourite reads of 2005. Other excellent London writers [and nominated for Daggers] who I clinked glasses with were Simon Kernick, Mark Billingham and the massivley underated Martyn Waites – again these writers are important fixtures in our genre and well worth adding to your shelves. I was also very pleased to see Mike Ripley well into his recovery from his recent stroke.
Then we were asked to make our way to our tables. Mike was on Table 4, which was directly opposite the podium so he took over my photographic duties, allowing me to chat with the guests on my table [3]. Joining me were my colleagues – My Chairman and Industrialist Michael Coates and his delightful and well-read wife Pat Coates, as well as Glyn Jones – the Managing Director of Palletline PLC who with their member Europa Ltd are involved in book distribution. Also on table three were the novelists Chris Simms who launched his tremendous thriller 'Killing the Beasts' [Orion] and Roger Jon Ellory who was making a big impact with his Mafia magum opus 'A Quiet Vendetta' [Also from Orion]. I was sat between uber-literary agents Teresa Chris and Euan Thorneycroft [of A.M. Heath Ltd]. This was most helpful, as Euan was formerly an agent with Curtis Brown [my former literary agents], and we discussed my current project, a techno-thriller 'Black Operations' which is currently being polished by an editor in the US. I got a few tips from both Euan and Teresa and we agreed to meet up again, because I also have many contacts in the industry. We were fortunate to be joined by Jennifer and Adrian Muller [co-organisers of Left Coast Crime 2006 which was to be held in Bristol] as well as two delightful young ladies from one of London's oldest independent bookshops – Foyles.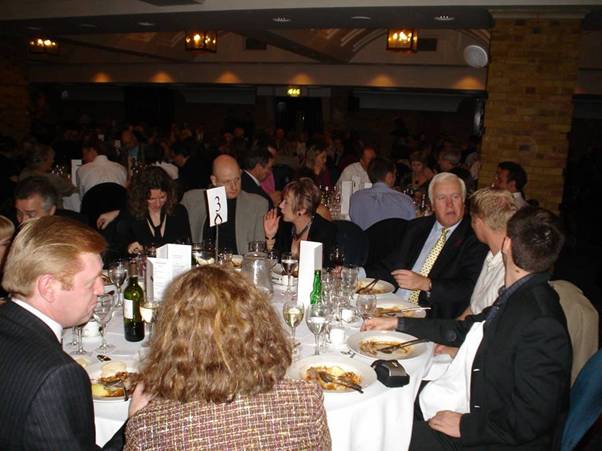 More information on the latest novels by my guest authors - Chris Simms and Roger Jon Ellory are available in the Shots eZine website :-
http://archive.shotsmag.co.uk/features2005/rj_ellory/quietvendetta.html
http://archive.shotsmag.co.uk/features2005/c_simms/c_simms.html
And for more information on Left Coast Crime 2006 :-
http://www.interbridge.com/leftcoastcrime2006/
It is an honour for LCC to be hosted outside of the USA and I urge you to support the event as it has an amazing roster of authors and publishing professionals.
Lunch was delicious as the food at The Brewery is renowned and the selection of wine excellent. The meal started with our loyal toast to the CWA founder Mr John Creasey.
After the meal, we were treated to a very droll after-lunch speech by the fantasy novelist and Discworld creator – Terry Pratchett who remarked that the only thing different between crime readers and SF/Fantasy readers were the lack of 'black-teeshirts' in the audience. As an avid SF reader I understood exactly what he meant. I spoke to Mr Pratchett after the event and found him even funnier when telling me about some of the SF Conventions he had attended [as in my youth I had been one of those young men who gathered at such events, replete with the eponymous black teeshirt].
Then after desert, the main event opened to the aroma of piping hot coffee and a few lone cigarettes, for those of us who still risked the dangers of tobacco.
THE AWARDS CEREMONY AND RESULTS
LEO HARRIS AWARD
The Leo Harris Award is for the best contribution to the CWA monthly bulletin, Red Herrings over a twelve-month period, chosen by the current editor, David Stuart Davies. Award and cheque for £150 presented by Leo Harris's daughter, Rosalind Dick to Prof Bernard Knight.
CWA DAGGER IN THE LIBRARY
Nominated and judged by librarians and awarded to a body of work, not just a single title. £1500 prize money, sponsored by Random House. Cheque and Dagger presented by Kate Elton Publishing Director of Arrow, to Jake Arnott, it should be noted that Joolz Denby was Highly Commended for this award.
Jake Arnott was born in 1961, and lives in London. He worked as a labourer, a mortuary technician, a theatrical agent's assistant, an artist's life model and a sign language interpreter before his debut novel, 'The Long Firm', was published by Sceptre in 1999 to huge public and critical acclaim. 'He Kills Coppers' and 'Truecrime' followed to equal acclaim in 2001 and 2003, and in 2004 'The Long Firm' was made into a widely-praised television series by the BBC. His fourth novel, 'Johnny Come Home', will be published in April 2006.
'In his first clever, complex, well-written story, Jake Arnott provided an illuminating glimpse into the underworld of the 60s in London society. Subsequent novels maintain the same high standard and with taut plots, strong settings and a wide variety of characters, his oeuvre is making a real impact on contemporary crime fiction.'
On accepting the award, he remarked that he often gives talks to prisoners and in H.M. Prisons, the most loaned books from the library were 'The Art of War' by Sun Tzu and 'The Prince' by Nicolò Machiavelli – read into that what you will.
CWA DEBUT DAGGER
For unpublished authors of fiction. £250 prize money, sponsored by Orion. Cheque and Dagger presented by Lisa Milton, Managing Director of Orion, to Ruth Dugdall (UK) for 'The Woman Before Me'. Highly Commended in this category was 'The Mystery of the Third Lucretia' by Susan Runholt (USA).
Ruth Dugdall - 'The Woman Before Me' (UK)
Rose Wilks' life is shattered when her baby son dies shortly after birth. Trying to cope, she develops an obsession with her neighbour's son that culminates in a terrible crime. Four years on, her probation officer must decide whether a woman who lost her own child could possibly have inflicted the same pain on another.
Ruth Dugdall was born in 1971. She holds a BA honours degree in English Literature (Warwick University) and an MA in Social Work (University of East Anglia). She qualified as a probation officer in 1996 and has worked in prison with offenders guilty of serious crimes, including stalking, rape and murder. This has informed her crime writing. Since she started writing, Ruth has won awards in several writing competitions, and has had short stories published in the Winchester Writers' Conference and the Eva Wiggins Award anthologies.
CWA SHORT STORY DAGGER
£1500 prize money. Cheque and Dagger presented by former CWA Chair Mike Jecks to Danuta Reah for 'No Flies on Frank' first published in Sherlock magazine, issue 64, Atlas Publishing Co.
Danuta Reah - 'No Flies on Frank' - Sherlock
'A very original and imaginative story, subtly and deftly told. With a menacingly gothic atmosphere, it contains many unforgettable images.'
Danuta Reah (who also writes as Carla Banks) lives in South Yorkshire with her husband who is an artist. She uses her urban background in her books. The settings range from the claustrophobic parochialism of the South Yorkshire mining communities to the international stage of new Europe and beyond. Crime – or at least dissent – runs in the family. Her father was a refugee from Stalin's Belarus; one of her ancestors, John Woodcock, was hanged, drawn and quartered in 1646 for his religious beliefs. Her latest book, 'The Forest of Souls' (written as Carla Banks) came out in March.
Danuta Reah was shocked as she was completely surprised considering the strength of the competition for this prestigious award.
CWA GOLD DAGGER FOR NON-FICTION
£2000 prize money. Cheque and Dagger presented by CWA Chair Danuta Reah to Gregg and Gina Hill for 'On The Run' from Hutchinson.
Gregg and Gina Hill - 'On The Run' - Hutchinson
'The hidden victims of Mafia crime by the children of Henry Hill of 'Goodfellas' infamy. A moving antidote to standard gangster literature.'
By the son and daughter of Henry Hill - immortalised in the book Wiseguy and the Martin Scorsese film Goodfellas - 'On The Run' is the harrowing account of a childhood spent coping with an explosive father whilst dodging Mafia payback. Henry Hill's business partner, Jimmy Burke has whacked every person who could possibly implicate him in the infamous Lufthansa robbery at JFK airport. On his way to prison, lifelong gangster Henry is given two options: sleep with the fishes, or enter the FBI's Witness Protection Program. Gregg and Gina are dragged along for the ride. Like nomads, they're forced to wander from state to state, constantly inventing new names and finding new friends, only to abandon them at a moment's notice. Living under constant fear of being found and killed. But Henry, the rock Gregg and Gina so desperately need, is a heavy cocaine user and knows only the criminal life. He is soon up to his old tricks and consistently putting their identities in jeopardy. And so it continues until the kids, now almost grown, can no longer ignore that the Mob might be less of a threat to them than remaining under the roof of their increasingly unbalanced father.
Gregg and Gina Hill were swept away from their lives at a very young age to enter the Witness Protection Program with their father and mother. This is the first time they've spoken about their experiences. They currently live in different parts of the US under aliases and because of the constant threat to their lives, they were unable to attend the awards.
CWA ELLIS PETERS HISTORICAL DAGGER
£3000 prize money, sponsored by the Estate of Ellis Peters and her publishers, Headline, and the Time Warner Book Group. The winner of this award was CJ Sansom's 'Dark Fire' (Macmillan), as announced at an evening reception at St Etheldreda's Crypt, 14 Ely Place, London EC1, on Monday, October 10th, with special mention to Iain Pears' 'The Portrait' (Harper Perennial Original). CJ Sansom was presented with his cheque and Dagger at the lunch by Jane Morpeth, Head of Fiction at Headline.
CJ Sansom - 'Dark Fire' - Macmillan
'An intriguing crime novel in which a majestic mastery of historical context and detail provides the background for an engrossing mystery. A twisty plot involves murky politics, a great cast of characters with the action exploring every level of society and offering an ever-increasing pace.'
It is 1540 and the hottest summer of the sixteenth century. Matthew Shardlake, believing himself out of favour with Thomas Cromwell, is busy trying to maintain his legal practice and keep a low profile. But his involvement with a murder case, defending a girl accused of brutally murdering her young cousin, brings him once again into contact with the king's chief minister - and a new assignment . . .

The secret of Greek Fire, the legendary substance with which the Byzantines destroyed the Arab navies, has been lost for centuries. Now an official of the Court of Augmentations has discovered the formula in the library of a dissolved London monastery. When Shardlake is sent to recover it, he finds the official and his alchemist brother brutally murdered - the formula has disappeared.

Now Shardlake must follow the trail of Greek Fire across Tudor London, while trying at the same time to prove his young client's innocence. But very soon he discovers nothing is as it seems . . .

CJ Sansom was educated at Birmingham University, where he took a BA and then a Ph.D. in history. After working in a variety of jobs, he retrained as a solicitor and practised in Sussex, until becoming a full-time writer. Following on from his remarkable debut, 'Dissolution', 'Dark Fire' is the second novel in his Shardlake series, and the third, 'Sovereign', will be published by Macmillan in 2006. He lives in Brighton.

CWA JOHN CREASEY MEMORIAL DAGGER
For first books by unpublished writers. £1000 prize money, sponsored by BBC Audiobooks. Cheque and Dagger presented by Sara Keane of BBC Audiobooks, to Dreda Say Mitchell for 'Running Hot', published by Maia Press.
Dreda Say Mitchell - 'Running Hot' - Maia Press.
'An edgy and exciting read, perfectly capturing the world of inner London, moving, funny and very fast. Elijah Campbell, desperate to leave the underworld and become a chef, becomes trapped in a world of crime and violence.'
What's the best thing about Hackney? The bus outta here!

And that's exactly where Elijah 'Schoolboy' Campbell needs to be in a week's time, heading out of London's underworld. He's taking a great offer to leave it all behind and start a new life, but the problem is he's got no spare cash. The possibility of lining his pockets becomes real when he stumbles across a mobile phone. But it's marked property, and the Street won't care that he found it by accident. The Street won't care that the phone's his last chance to change his life. And he can't give it back because the door to redemption is only open for 7 days.

7 days to exchange the mobile for cash. 7 days to cut the mobile's line rental to the Faces tracking his every move. 7 days to get out of a world where bling, ringtones and petty deaths are accessories of life. Schoolboy knows that when you're running hot all it takes is one call, one voicemail, one text to disconnect you from this life - permanently. And getting deeper into his old lifestyle may mean that he never catches that bus . . .

Dreda Say Mitchell was born into London's Grenadian community in 1965 and lives in London's East End. She has a degree in African history from The School of Oriental and African Studies and an MA from the University of North London. She has worked as a teacher and education adviser throughout London, specialising in achievement by working-class and black children.
Dreda was very droll and funny in accepting the award noting that the noise for her table was because she had brought her friends and family over from Hackney!

CWA IAN FLEMING STEEL DAGGER
For the best adventure/thriller novel in the vein of James Bond. £2000 prize money, sponsored by Ian Fleming Publications Ltd. Cheque and Dagger presented by Corinne Turner, Managing Director of Ian Fleming Publications Ltd to Henry Porter for 'Brandenburg' from Orion.
Henry Porter - 'Brandenburg' - Orion
'Set against the backdrop of the fall of the Berlin Wall in the autumn of 1989, the book takes the reader into the wilderness of mirrors that was Cold War international espionage. A complex, intelligent thriller by a skilful writer at the top of his game.'
<![if !supportLineBreakNewLine]>

September, 1989. The Communist tyranny in East Germany is on the brink. At the heart of the state is the Stasi, one of the most formidable intelligence services the world has ever seen. But even its regiments of armed guards, the special jails and interrogation centres and the hundreds of thousands of informers can do nothing to prevent the rebellion that ends in the fall of the Berlin Wall. It is in these last few paranoid weeks that Brandenburg is set.
Dr Rudi Rosenharte, formerly a member of the Stasi's elite foreign service, now an art scholar living in Dresden, is sent to Trieste to rendezvous with his old lover, Annalise Schering. Only he knows she's dead. He saw her himself, lying in her own bloodied bathwater. So who is this woman, this ghost? The Stasi is convinced Annalise is returning to the fold with vital intelligence. To make sure Rosenharte plays the game, they have imprisoned his family. But the Stasi is not the only intelligence agency with its hooks into Rosenharte. Soon he is encircled by no fewer than four, including the MI6 team led by Robert Harland, and he faces a stark choice between leaving his beloved brother to the mercy of the Stasi or returning to East Germany to carry out an assignment in this ferocious police state.
More than just a brilliant espionage thriller, in which the games of manipulation have never been more authentic, this is a gripping multi-layered novel that captures the most important geopolitical event of the last fifty years. In telling the story of twin brothers held captive by German history, it teems with incident and characters – many from real life. As the heroic struggle unfolds on the streets of Leipzig and moves to the miraculous climax at the Wall, Rosenharte learns the painful secrets of love and of his own past.
Henry Porter has written for most national broadsheet newspapers. He was editor of the Atticus column on The Sunday Times, moving to set up the Sunday Correspondent magazine in 1988. He contributes commentary and reportage to The Guardian, Observer, Evening Standard and Sunday Telegraph. He is the British editor of Vanity Fair and divides his time between New York and London.
Henry Porter was unable to attend so the award was accepted on his behalf by Jane Wood – Publishing Director at Orion who read out a letter from Henry.
CWA GOLD AND SILVER DAGGERS
For the top crime novel of the year, and the runner-up. £3000 and £2000 prize money respectively, presented by guest speaker Terry Pratchett. Gold went to Arnaldur Indridason for 'Silence of the Grave' from The Harvill Press, with Silver to Barbara Nadel for 'Deadly Web' from Headline.
Arnaldur Indridason - 'Silence of the Grave' - The Harvill Press
translated by Bernard Scudder.
'The story is of marital relations in pre-war Iceland. When a body is found in a shallow grave during building in a Reykjavik suburb, the detective must investigate the history of the area. Only recently it was wild hill country, and the relationships, often damaged, colour the whole story. It has a sympathetic detective playing off past and present. A marvellously atmospheric and haunting book.'
Downtrodden detective Erlendur and his team investigate the human nastiness in Iceland's hidden past. Alive with tension and atmosphere and disturbingly real, this is an outstanding continuation of the Reykjavík Murder Mysteries. Building work in an expanding Reykjavík uncovers a shallow grave. Years before, this part of the city was all open hills, and Erlendur and his team hopes this is a typical Icelandic missing person scenario; perhaps someone once lost in the snow, who has lain peacefully buried for decades. Things are never that simple.
Whilst Erlendur struggles to hold together the crumbling fragments of his own family, his case unearths other tales of pain. The hills have more than one tragic story to tell: tales of failed relationships and heartbreak; of anger, domestic violence and fear; of family loyalty and family shame. Few people are still alive who can tell the story, but secrets taken to the grave cannot remain hidden forever.

Arnaldur Indridason was born in 1961, the son of an Icelandic author. Having worked for many years as a journalist and critic for an Icelandic newspaper, he began writing novels. At one week in the summer of 2003, his crime novels occupied the top five spots in the Icelandic best-seller list.
Barbara Nadel - 'Deadly Web' - Headline
'When a teenage girl is found dead, the bizarre suicide is shocking. When another, similar body is found, all clues point to a dark underground of black magic and Satanism. Nadel has constructed a complex and realistic cast of characters including alluring policemen and their families. A splendid book with a gripping, exotic Turkish setting.'
A naked teenage girl is found dead near the beautiful Yoros Castle on the shores of the Bosphorus. She has stabbed herself through the heart but there is evidence of bizarre sexual practice. In another part of Istanbul, a young boy seems to have committed suicide in similar circumstances. What dark rituals could have compelled them to fatal self abuse?
Inspectors Cetin Ikmen and Mehmet Suleyman follow a trail that leads them to an underworld of Goth nightclubs and Satanic worship. But even these murky shadows hide more than they reveal and the answers to an ever-increasing number of suspicious deaths is more shocking and terrible than they could ever have imagined.
Trained as an actress, Barbara Nadel has worked as a public relations officer for the National Schizophrenia Fellowship and as a mental health advocate in a psychiatric hospital. She has worked with sexually abused teenagers and taught psychology in schools and colleges. Born in London's East End, she now lives in Essex and writes full time. She has been visiting Turkey for over twenty years and six of her previous novels are set there: 'Petrified', 'Harem', 'Deep Waters', 'Arabesk', 'A Chemical Prison' and 'Belshazzar's Daughter'. Headline recently published the first in new series set in the East End during the Blitz, 'Last Rights'.
THE CWA DAGGER OF DAGGERS
This year, to mark the Golden Jubilee, the membership of the CWA was given the unique opportunity to vote for the past winner of the Crossed Red Herring or the Gold Dagger whom they felt was the best of the best - the Dagger of Daggers. This is the first time that such an award has been made to a crime writer by his or her peers and the prize, a handsome crystal trophy, was awarded to John Le Carré for 'The Spy Who Came In From The Cold'.
John Le Carré - 'The Spy Who Came In From The Cold' - 1963
'The book didn't just revolutionise spy/thriller writing. It is a lesson in taut construction, narrative drive and manipulation of the reader - your grasp of who's on whose side switches backwards and forwards, but the final revelation is implicit in the opening chapter. A cold blast, yes, but a bracing one.' Philip Gooden
John le Carré was born in 1931. After attending the universities of Berne and Oxford, he taught at Eton and spent five years in the British Foreign Service. 'The Spy Who Came In From The Cold', his third book, secured him a world-wide reputation.
John le Carré is the nom de plume of David John Moore Cornwell, who was born in 1931 in Poole, Dorset, and was educated at Sherborne School, at the University of Berne (where he studied German literature for a year) and at Lincoln College, Oxford, where he graduated with a first-class honours degree in modern languages.
He taught at Eton from 1956 to 1958 and was a member of the British Foreign Service from 1959 to 1964, serving first as Second Secretary in the British Embassy in Bonn and subsequently as Political Consul in Hamburg. He started writing novels in 1961, and since then has published nineteen titles.
So after the awards, the assembled made their way to the bar. The main topics of debate [and controversy] were [a] The increased presence of translated novels making their way into the shortlists for the Gold and Silver Daggers and [b] The Ian Fleming Steel Dagger nominations – as some of the shortlisted did not appear to be 'spy-thrillers' in the vein of James Bond' – And the debate raged in the corners. Mike Stotter and I were too busy mingling with our friends and colleagues.
Pretty soon, the event began to wind down so many of us made our way to our usual hostelry to congratulate the winners and toast the shortlisted. Much drinking and good natured discussion ensued – a fitting end for a night of toasting the best of the best in our world of crime and thriller fiction. Joining us were Geoff Bradley of the excellent CADS magazine, David Stuart Davies of Red Herrings and Richard Reynolds of Heffers Cambridge – This is one excellent feature of The Daggers, as it allows the enthusaists of our genre to get together and discuss the books that surround us.
For background information on the Crime Writers' Association and the Dagger Awards go to the newly re-vamped website -
www.thecwa.co.uk
Mike Stotter, Ali Karim and Ayo Onatade of Shots Ezine would like to thank The CWA again for their hospitality and organization of the 2005 Dagger Awards. Special thanks go to Chair Danuta Reah, Vice-Chair Robert Richardson, Press Officer Zoë Sharp and the inexhaustible Gilda O' Neil for their efforts in making the Golden Jubilee Dagger Awards such a memorable affair.