Denise Danks & Mark Timlin
SHOTS was invited along with a whole host of representatives from the media to celebrate the launch of Headline's crime list. The venue was rocking as the wine and conversation flowed with liquid ease. Amongst those who attended were (and in no particular order and please forgive me if I've left anyone out):
Martina Cole, Martin O'Brien, Paul Doherty, Ann Granger, John Francome, Peter Tremayne, Simon Kernick, Mark Timlin, Peter Guttridge, Quintin Jardine, Laura Wilson, Daphne Wright, Geoff Bradley, Mike Ripley, Barry Forshaw, Laura Wilson, Bob Cornwall, Mike Jecks, Anne Perry and Robert Ryan.
"The whole idea is to celebrate our crime list," explained Lucy Ramsey, Senior Publicity Manager. "We have taken on a number of new authors recently: Brian Freeman, Patrick Quinlan, Louise Penny and have Andrew Nugent, Jed Rubenfeld, Clio Gray and Scott Frost coming up. And authors have awards recently include Martina Cole, for Best Thriller at the Nibbies, Barbara Nadel, the Silver Dagger. And Caroline Graham has been longlisted for the Theakston's Crime Novel of the Year Award at Harrogate for A Ghost in the Machine."
Headline also launched Crime Files to celebrate Headline's 20th year in publishing. To quote: "The company was founded on the bases of great crime and thriller writing. It is a commitment that has carried through every year of Headline's life and now, in 2006, our enthusiasm is as strong as it ever was."
You can obtain your copy of this colour publication by emailing crime-files@headline.co.uk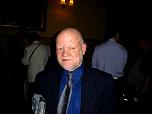 Geoff Bradley of CADS copy