Ken Bruen's Back in Town!
One my many highlights of Bouchercon 2003 [Las Vegas] for Grog, our webmaster and I, was meeting and drinking with Ken Bruen - the award winning cult writer from Galway. Ken is now one the pillars of the crime-fiction genre with his award-winning Jack Taylor PI series, as well as a back catalogue bigger than most writers twice his age.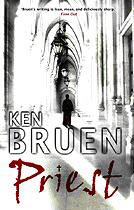 The editorial staff from Shots were fortunate to be asked by Transworld Publishing Editor, Selina Walker to meet Ken and help celebrate the launch of his latest Jack Taylor thriller - 'Priest'. The event was held in North London at the Prince Alfred and Transworld's hospitality meant that the Guinness flowed freely and was augmented by finger nibbles that would have made Jack Taylor very happy indeed.
Considering Ken lives in Galway [Ireland], we had kept in contact after drinking Vegas dry, but hadn't clinked glasses for a while, so it was good to see him again. I was not alone, because Bruen's popularity has risen considerably from his cult roots to the mainstream. Jim Driver, his former publisher [The Do Not Press] came, as did the writer Cathi Unsworth ['The Not Knowing'], Mike Stotter [Shots Editor], Ayo Onatade [Mystery Women, Shots Ezine and Crimespree Magazine]. David Headly of Goldsboro Books and I [representing Deadly Pleasures Magazine, Shots Ezine, January Magazine and Crimespree]. A surprise guest was actor, David Soul a good friend of Ken Bruen's and a man with a great sense of humour. Supporting Selina from Transworld were Simon Thorogood, Claire Ward and Louise Page.
Not only is Ken prolific (he has eight books being published in 2006, so those of you who have not caught up with his backlist, be prepared for some real treats) he is a wonderful wordsmith. His latest novel, 'Priest' highlights that talent and is a great place to be introduced to Bruen's P.I. Jack Taylor. One treat I have heard a great deal about, is Ken and Jason Starr's collaboration Bust, coming soon from Hardcase Crime [www.hardcasecrime.com]. And he has also edited Dublin Noir:The Celtic Tigers vs The Ugly Americans. Amongst the contributors are: Jason Starr, John Rickards, Shots' own Sara Weinman, Laura Lippman and Olen Steinhauer. But you'll have to wait until March for its publication.
Ken also told us that he had finally set up a website [www.kenbruen.com] which is just as well, considering his output. Ayo and Mike had now become big followers of Ken's work, so a total conversion at Shots for this tremendous writer. – Ayo had met Ken at Bouchercon, Chicago and they talked about the experience and their laughter filled the bar.
The other interesting aspect of Ken Bruen is his enthusiasm about writing and writers – as he reads, reviews and is a huge mine of information – I listened into Ken and David Headly of [www.goldsborobooks.co.uk] talking about an interesting first novel that is creating a real buzz – Mr Clarinet by Nick Stone. Ken had just read it and said jokingly 'I've never met Nick Stone and already I hate him! Mr Clarinet is just superb, an amazing book.' – And David of Goldsboro indicated that he had taken a record number of orders for this book, and for a hardcover debut of an unknown author – this was remarkable. Also worth checking out is the work of Cathi Unsworth who had garnered great reviews for The Not Knowing published by Serpents Tail. Writer Cath Staincliffe called it 'A Shocker with Soul' in her review at Tangled Web.
After catching up with what was new in Ken's life, I had a long chat with Jim Driver, who manages 'The Do Not Press' one of our top independent publishers [www.thedonotpress.com] - but after many years decided to close his publishing wing and concentrate on the music side of his business, which is a great loss to the genre. However, Jim still has some interesting books still available [via his website]. Personally I'd recommend grabbing any of Ken Bruen's work still available as well as Mark Timlin's magnum opus Answers from the Grave and Horace Silver's The Judas Pig.
So after much good natured drinking and talking about life and Ken Bruen's work, we all headed our separate ways.
If you've never read Ken Bruen - time to catch-up [see our previous interview and Ken Bruen Bibliography] :-
http://archive.shotsmag.co.uk/shots22/intvus_22/bruen.html
And if you are interested to see Selina Walker's rapidly developing crime / thriller list at Transworld Publishing :-
http://www.booksattransworld.co.uk/fiction/crime.htm
In the world of Ken Bruen, you need a torch because noir rarely felt this dark but beware, because the humour is jet black as well, but his writing has real soul.
As they say in Ireland – 'Bruen's your Man'.
Shots Ezine would like to thank Selina Walker and her colleagues at Transworld Publishing [London] for organising a wonderful evening.

© 2006 Ali Karim