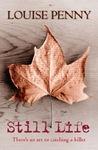 Headline Publishing really seem to really pushing their crime fiction / thriller list currently, so Shots were asked to meet up with a new addition to their list — Louise Penny, the Canadian Novelist debuting with 'Still Life'.
So who is Louise Penny and what does she write?
First in a crime/mystery series featuring Chief Inspector Armand Gamache debuting in Louise Penny's 'Still Life'.
Bought in pre-emptive offer by Headline (UK and Commonwealth), through auction by St Martins Press (USA), by Goldmann (Germany) and by Unieboek (Holland).
Audio and large print rights sold to Isis (UK).
Bought by the Book Club Association, UK

Runner-up for the CWA Debut Dagger Award, 2004
'The Canadian Louise Penny was Very Highly Commended for her entry Still Life, which missed taking the Debut Dagger by only a whisker.'
So what did Shots think of 'Still Life'?
"The writing is assured and the tale has all the ingredients necessary for a good read… the investigating officer, Chief Inspector Armand Gamache is a delightful man, honest, patient, sensitive to others' needs, fallible sometimes but very, very able. He and his side kick, Beauvoir, make a good team, which, one hopes will be appearing in a good many novels to come."
Catherine Hunt, Shotsmag Reviews (October 2005).

Read the full review
Joining us for the event [which included a reading by Louise], were reviewers, writers and booksellers - Maxim Jakubowski, Mark Timlin, Ayo Onatade, Thalia Proctor, Liz Hatherell, Natasha Cooper, Mike Ripley, Peter Guttridge and Margaret Yorke - all of us enjoyed plenty of wine and finger nibbles as we listened to Louise Penny reading from 'Still Life' as well as taking questions from the assembled group.
Shots wish to thank Lucy Ramsey of Headline for her hospitality and more information on Headline's list is available online :-
http://www.hodderheadline.co.uk/index.asp?area=he