2007 looks like being a successful year for one of the most popular people in the crime writing biz, handsome hunk Sven Martyn Waites.
His new novel, Bone Machine, from Pocket Books, is another examination of Geordie gangland, a territory Sven, sorry, Martyn, is rapidly making his own. The book also comes with a new author photograph on the inside back cover which shows off Sven's saturnine good looks to best effect.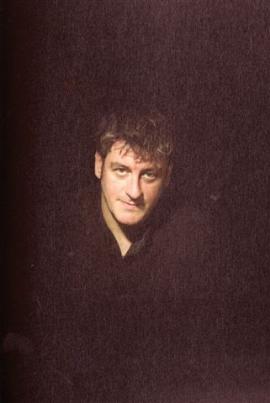 Hot on the new book's heels, in February, those wonderful people at Allison & Busby are re-issuing his 1998 classic Little Triggers, which is also set in Newcastle.
Yet crime writing is only one aspect of Sven's glittering career, for he is also a practising thespian, most famously guest-starring (along with other notables such as Kate O'Mara and Christopher Lee) in the television series The New Adventures of Robin Hood. Now this is not the rather wimpish, politically-correct BBC Robin Hood of recent months; this was an all-action extravaganza running to 52 episodes in the 1990s and noted for its historical accuracy.
For a start, it was filmed on location in Lithuania and the opening episode was famously set "in a village on the outskirts of Sherwood Forest which is regularly raided by the Mongol hordes." In Episode 2 it gets attacked by Vikings and in Series 3, is ravaged by Amazons and then Samurai warriors, which just goes to prove that Nottingham's reputation for street crime is completely justified.
As a guest star in Ringside Murder Martyn played a peripatetic wrestler called Vincent, though it is a role which probably pales in comparison to his scene-stealing appearance as "a copper" in Inspector Morse.
Sven graduated from television to stage work, in particular cabaret and as a vital part of the team presenting the panel game I'm Sorry I Haven't A Cluedo, along with myself and Stella Duffy. (Seen here at the inaugural performance in Manchester in 1999).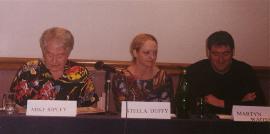 His skill as an impersonator led to the title "the man with two voices" and he found himself much in demand as a celebrity interviewee.
During one such interview (for the Mystery One Bookstore in America), he was asked which crime writers he would like to see on a desert island in a Survivor-type show. His choices were intriguing: "Stella Duffy because there should be one person shouting orders and Stella excels at that. Val McDermid because she's very good at organising things. John Connolly because he's good company and Mike Ripley, because he can find a bar ANYWHERE."
A frequent flyer at every literary party in London until recently, the crime scene may however see less of the Gateshead Heart-Throb in the coming year as I can exclusively reveal that he has deserted the metropolis for the rural life. Now comfortably ensconced as the squire of a medieval village in the Northern Home Counties, Martyn seems to be settling in to the country life. Should the world of literature or theatre call, though, he can fly anywhere at a moment's notice thanks to a private airstrip close to the bottom of his garden.
Just before Christmas, a proof of The Rabbit Factory by Marshall Karp, a first novel from an advertising guru turned scriptwriter (a bit like his mate James Patterson) thumped into the letter box.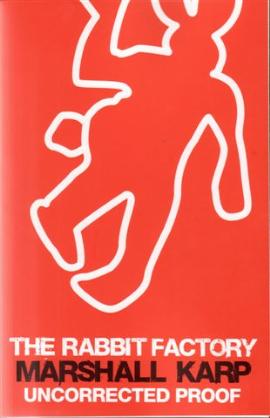 To be published in April by those wonderful people at Allison & Busby, my initial reaction was that this looks dangerously long for a humorous crime novel. It has over 600pages and no less than 115 Chapters, which I was beginning to think was the most in any book since that of Genesis until I remembered my old friend Andrew Vachss, whose Sacrifice had 195 (in less than 280 pages).
If you know of a mystery with more chapters: keep it to yourself.
My old and distinguished friend, and co-editor with me of such classic anthologies as Fresh Blood (and the imaginatively-title sequels Fresh Blood 2 and, you've guessed it, Fresh Blood 3), Maxim Jakubowski has long revelled in the title 'Godfather of the Charing Cross Road' due mainly to his stewardship of that holy-of-holies, Murder One bookshop.
Actually, I just made that up. Maxim is really most proud of the honorary title 'King of the Erotic Thriller' awarded to him for one of his novels a couple of years ago. To date he has had to face few, if any, challenges for that title but in 2007 there might just be a contender if internet gossip is to be believed.
Killing Johnny Fry is the new novel from Walter Mosley, to be published by Bloomsbury in February. Depending on which website you visit, it is either "a dark and outrageously explicit sexual odyssey" or "a fantastically filthy tale".
In what looks like a legitimate interview on Radar-on-line.com, Mosley – author of the quite brilliant Easy Rawlins novels – is asked by the interviewer: What's the trick to writing a sophisticated anal sex scene?
Now there's something you wouldn't expect to be asked on Richard & Judy's book club.
The black hero of Killing Johnny Fry (a book Walter describes as 'a sexistential novel') is, according to the Radar site a 'milquetoast', which had me reaching for my Chambers Dictionary (the illustrated 1905 Edition) to no avail. Then I re-read the word slowly as 'milk-toast' and began to wonder if someone wasn't having a go at Mr Mosley.
I was a strong advocate, back in 1991, for Walter's first novel, Devil In A Blue Dress, and utterly delighted on the chaotic night (at The Law Society I think) he won the Crime Writers' John Creasey Award. Chaotic because it was the same night I won the CWA's now defunct Last Laugh Award for the second time and I have to admit to some of the detail of that evening being a little hazy.
I vaguely remember Ruth Rendell (as Barbara Vine) received her Gold Dagger that year from Chief Inspector Reg Wexford, aka actor George Baker, and I was handed my Last Laugh pen-and-pencil set by none other than Hercule Poirot, aka David Suchet. I have no idea who presented Frankie Fyfield with her Silver Dagger that year, or who gave Walter his award, but I'm sure I was there.
If there was a group photograph taken of the night's winners, I certainly never saw it. Perhaps I missed it as I was called away to assist the late Princess Margaret, the guest of honour, who was desperate for a light for her cigarette and I had the only working Zippo in town that night.
Yes, I'm sure I was there. I mean, I couldn't make that up, could I? Me, Inspector Wexford, Hercule Poirot, Princess Margaret and Walter Mosley in the same room? It must be true.
Joseph Wambaugh, the Los Angeles policeman (who never fired his gun in a ten-year career on the beat) turned novelist was the crime writing sensation of the 1970s.
It has been a few years since he had book published over here, but the quite splendid Hollywood Station, from Quercus this month, has been worth the wait. It is not a conventional police procedural plot, rather a series of interconnected scenes illustrating life on the front line of the Hollywood beat.
The cast of characters is positively Dickensian and the crimes and misdemeanours they commit are listed with pathos, dark humour and irony, though always with humanity.
Hollywood Station must, even in January, stake a strong claim to be one of the crime novels of the year, but am I alone in preferring the cover of the proof (on the left below) to the dust-jacket of the finished book?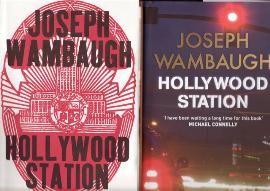 To celebrate its 50th edition, the magazine Crime Time asked forty "key writers and editors in the field" (surely some mistake there, as they asked me) to name five crime authors you really must read before you die.
Not surprisingly, Raymond Chandler probably got more name-checks than anyone (though Jim Thompson came close), Mark Timlin chose exclusively American writers and Michael Jecks chose exclusively history-mysteries. There was also fond affection shown from several quarters for the work of Charles Willeford, Rodney Wingfield and Donald Westlake/Richard Stark.
But jumping straight into 'Pseud's Corner' in Private Eye must be Frank Tallis, who recommends the works of Sigmund Freud, Richard von Kraft-Ebing, Maria Pappenheim (the librettist for one of Schoenberg's operas if you have to ask like I did), Ian McEwan and, no doubt for light relief, Barbara Vine.
Now there's posh.
I received an unexpected Christmas present from those wonderful people at Bantam in the form of an advanced proof of Dan Simmons' new book The Terror, which they are publishing in February.
I had not read anything by Dan Simmons before, though I knew his name from the world of sci-fi and fantasy writing, not to mention a trio of hardboiled detective stories. The Terror, it seems, is a new departure for him: a meticulously researched, very spooky supernatural thriller based around the ill-fated Franklin Expedition of 1845-47 to find a 'North-West Passage' though Canada's Arctic seas.
It's not a crime novel, it's more a horror story, and it certainly wouldn't qualify for the Ellis Peters historical-mystery award, but by God, it's an absolutely riveting thriller. The pages just have to be turned despite the knowledge that the Franklin Expedition didn't end happily. Now there's a trick, if you can pull it off, and Simmons does.
Fans of Cambridge-based Michelle Spring (among whom can be counted Ian Rankin, as he was the one who recommended her to me) will be delighted to hear that after a brief hiatus, she has a new book out, The Night Lawyer, a stand-alone thriller set in the newspaper world of London's Dockland.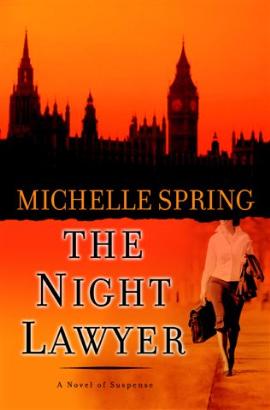 Available as an import from Ballantine Books of New York, it does not as yet have a British publisher, but this didn't stop a splendid launch party at Heffer's in Cambridge hosted by that crime guru of the Fens, Richard Reynolds.
I have to admit that I have a problem with the book, or rather two lines of it, where a character on the Isle of Dogs goes into a pub:
Pint of pale ale, mate, he says, and the bartender pulls him a cool glass of beer.
In my day, it would have been a barman and a local punter from the East End would have ordered a bottle of Light ale (or the traditional London favourite: light-and-bitter), which would have been poured, not pulled.
How things must have changed down Albert Square. Before you know it, they'll be drinking that foreign lager beer.
Just before Christmas I appeared on ITV 3's Super Sleuths programme on Inspector Frost, delighted to extol the virtues of one of my favourite fictional detectives (with Simon Brett appearing briefly for the prosecution).
Frost began life as a radio detective played by Leslie Sands, whom many may still remember as the actor playing Detective Sergeant Caleb Cluff in Gil North's TV series Cluff in the Sixties. (The series, I like to think, was part of a concerted promotional campaign which continued through All Creatures Great and Small and Heartbeat for the scenery of God's Own county, Yorkshire.)
So taken with the radio series was he, that the late gag-meister Bob Monkhouse tried to get a TV series made with himself in the lead. Later, Ronnie Barker was firmly in the frame, but other filming commitments intervened. When Sir David Jason stepped up, the rest was history.
I received a delightful Christmas present in the shape of a slim volume from the Americas entitled Mystery Muses edited by Jim Huang and Austin Lugar and published by the Crum Creek Press of Carmel (the one in Indiana, not the one Clint Eastwood was mayor of).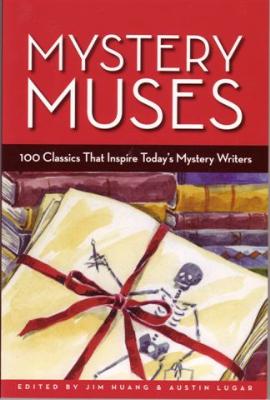 The basis of the book is that 100 mystery writers are asked: Did a mystery set you on your path to being a writer? Is there a classic mystery that remains important to you today?" which the more astute (or awake) of you out there may realise is actually two questions. This leads to some slight problems with the answers provided by the hundred writers questioned, as they are expected to name one book which acted as their 'muse' on the assumption that this is a 'classic mystery'.
Robert Heinlein's The Door Into Summer may well have inspired Marcia Talley to write mysteries, just as Carol Ryrie Brink's The Pink Motel acted as the muse for Roberta Isleib, but can either be described as a "classic mystery"?
Of the hundred writers asked to contribute, around ninety are American and I have to take the shame and admit that I have never come across over sixty of them; and so I shall be having severe words with the drivers of the mobile library which calls here at the village hall in Fenchurch St Paul every solstice.
I have, however, heard of most of the mysteries which acted as these writers' muses and many are indeed "classics" of the genre. Nearly half of them are British and the most-often cited authors are (by a mile) Dorothy L. Sayers and Agatha Christie, with Margery Allingham and, of course, Conan Doyle, close behind. Interestingly, no British author or title more recent than Ruth Rendell's A Judgement in Stone (from 1976) makes it and only one of the hundred predominantly American writers chooses a Raymond Chandler as his muse and only one, Peter Lovesey (one of the few Brits asked), selects Patricia Highsmith.
In drunken conversations with crime writers, of which I've had a few, though too few to mention, from both sides of the Atlantic, Chandler always comes up as a source of inspiration. I have also found John D. MacDonald and Robert B. Parker often cited by British writers, at least of my generation, and to be fair they do get a look-in among the Mystery Muses, whereas, surprisingly, other modern American masters, such as Elmore Leonard, James Crumley and James Ellroy don't.
I am delighted to say that the only writer who gets to name a muse and
is also named as a muse, is my old an distinguished friend Margaret Maron of North Carolina, who cites Dorothy L. Sayers' Have His Carcase as her particular inspiration, whilst Twist Phelan does the honours for Margaret's own Edgar-winning Bootlegger's Daughter from 1992.
I first met Margaret Maron in 1990 at the legendary (if not infamous) Boucheron held in London, when she inaugurated me into the American
group Sisters In Crime.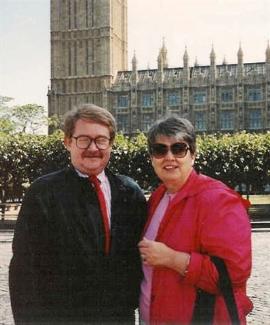 I was already a fan of her New York crime novels featuring police detective Sigrid Harald, but Bootlegger's Daughter, the first in a continuing series about Judge Deborah Knott (and her extended family) took Margaret back to her roots down home in North Carolina.
I have followed Judge Knott's career with interest and affection, as have many American fans, and even been fortunate enough to stay on the Maron family farm (complete with herds of untamed pink flamingos and in-house brewery) near Raleigh, North Carolina and visit many of the locations of the Knott novels.
I was intrigued to read recently that Margaret is due to be guest of honour at "Mayhem in the Midlands" in May 2007, though I had every confidence that she could easily charm the mystery-readers of West Bromwich and Wolverhampton. Then I read the small print at realised that the Midlands in question are actually around Omaha, Nebraska.
Among her many literary prizes and glittering reviews, there is one accolade which crime writer Carla Banks (aka Danuta Reah) is probably less than happy about having.
Unless I'm very much mistaken, her new psychological thriller Strangers from HarperCollins is the first crime novel in hardback to be priced at £20.
Over the last two years, hardbacks at the somewhat disingenuous price of £19.99 have become common, but Carla's is the first I've seen priced at the full twenty quid. Many would say £20 was far more honest than £19.99 as how is 1p going to make a serious difference to a reader's purchasing decision?
It was a marketing strategy inaugurated ten years ago by the late-lamented Do-Not Press, run by the irrepressible Jim Driver, who insisted on an £8 price tag for a large-format paperback original, when the going rate in the book trade was £7.99. The £8 price never seemed to catch on and even today, the going rate for a larger paperback is still £7.99.
I doubt the £20 tag will catch on either, but don't be surprised if there's a quantum leap to £20.99. Publishers seem to be firmly hooked on a price which offers a few pence change.
Twenty-five years ago, a hardback thriller (such as the late Tim Binyon's Swan Song) would have cost the punter £7.95; fourteen years ago, the new Denise Danks book, Wink A Hopeful Eye, cost £13.95; less than four years ago, the excellent Half Broken Things by Morag Joss was priced at £18.99. Now I can't work out what that says about the rate of inflation in publishing, all it really proves is that those titles were within reach of my desk without having to stand up.
Val McDermid, in a poacher-turned-gamekeeper role, has become the Editorial Director of Bloody Brits Press, a new paperback imprint which aims to "showcase previously hidden talent" (i.e. British) in the United States. (www.bloodybritspress.com)
I am surprised, and a little shocked, to think that authors such as Val are considered 'hidden talent' in the US and the first slate of BB titles includes many of her own most excellent Kate Brannigan private eye thrillers (including Clean Break and Blue Genes from the early '90s) which I would have thought were naturals for the American market.
Other authors getting the Bloody Brit treatment are well-enough known over here: Joyce Holms, John Malcolm, Chaz Brenchley, Danuta Rhea, Chris Simms, Sarah Diamond and Bill Kirton, though I have to take the shame and admit that Bill Kirton is a new name on me and that it is now over four years since I last saw the outrageously talented and disgustingly young Sarah Diamond.
It was back in 2002 during the London Libraries Association crime fiction promotion that I had the pleasure of chairing a discussion with fellow writers Sarah and Paul Charles.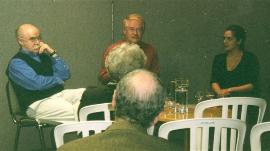 I took great pleasure in pointing out that while the gentle and charming Mr Charles was famous for his previous career as a music promoter of, and an acknowledged expert on, The Beatles, Ms Diamond was a crime writer who was not born until six years after The Fab Four disbanded. Oddly enough, I never got a Christmas card from Paul that year.
I note in that august organ, Deadly Pleasures, that the famous Barry Award for Best British Novel has been won by the small but perfectly formed Denise Mina, a brilliant crossing-sweeper of Glasgow's mean streets, for her superb novel The Field of Blood.
I did raise an eyebrow, Roger Moore style, when I noticed one of the other "British" authors short-listed for the Barry was Icelander Arnaldur Indridason.
After the first Mongolian detective made his debut last year, where next? Step forward Inspector O, a North Korean detective, in James Church's A Corpse in the Koryo, though so far only published in America.
Those wonderful people at Headline caused quite a dust-storm in the musty corridors of publishing last year when they reissued classic Jane Austen tiles "with more reader-friendly jackets" (ie.: repackaging them as 'chick-lit' whatever that is). Now they risk the wrath of an army of Sherlockians by doing the same to the Sherlock Holmes canon on the 120st anniversary of A Study in Scarlet.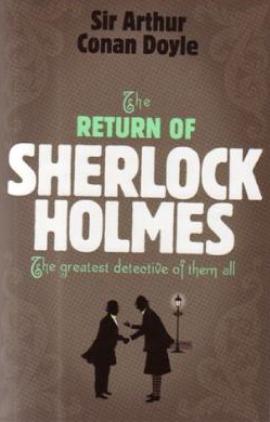 I really don't think all those Baker Street Irregulars out there have much to worry about, though. The covers are respectful and actually quite classy and the books are priced at £4.99 each, which no one can complain about.
On a visit to San Francisco many years ago, I asked a bookshop manager (a bookshop open on Sundays – joy!) why a 600-page Penguin edition of a Charles Dickens classic cost $1 whilst a 180-page Elmore Leonard (not a recent title) cost $3.95? The answer came back fast as a whip: "Elmore Leonard's not dead yet."
I have already warned readers of this noble organ that the next Dalziel and Pascoe novel from the quill of Reginald Hill was to be entitled The Death of Dalziel.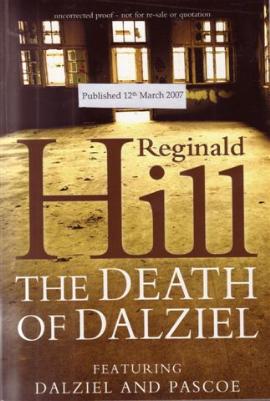 Could this, the twenty-first book featuring the dynamic duo to be published in March, really be the last – or are Reg and publishers HarperCollins simply teasing us? I received no clues in my Christmas card from Reg this year, merely the cryptic message: "Is it really the end of Fat Andy? With an end like his, who can tell?! All will be revealed…"
but those jolly nice people at Hedley-Case (sorry, HarperCollins) did send me an advance copy to help while away the winter nights out here in the Fens.
It is, as usual, an interesting read, as is anything Reginald Hill puts his name (or pen-name) to, and kicks off quite explosively as a web of terrorism, counter-terrorism, crazed vigilantes styling themselves after the Knights Templars, ex-SAS men and Islamic fundamentalists threatens to ensnare Peter Pascoe whilst his boss, Leviathan-like, lies in a coma for most of the book.
All the usual Hill touches are present and correct. The refusal to dumb-down, with unapologetic references to Leparello (Mozart), the battle of Otterburn (1388 and a lucky away win for the Scots), Marcus Aurelius (the Richard Harris role in Gladiator) and Fabius Cunctator (or Quintus Fabius Maximus Verrucosus if you remember your history of the 2nd Punic War). Women are lovingly described as "the Silurian Circe" or having a "Gorgon glare" or "Grendel's mother" and on one occasion as a "buxom leman" and doesn't every policeman's vocabulary extend to words like "encomiastic" and "peculation"? I think it should.
The familiar supporting cast is also on form. 'Cap' Marvel shows a suitably tender bedside manner for once; Ellie Pascoe continues to plough politically-correct furrows; the sole Pascoe child, Rosie, is irritating enough to be worthy of a part in The Archers, and there's a pivotal role for the justifiably underrated Constable Hector. There's also a newcomer if the shape of Ffion the publisher's publicist who suffers for her work, but not quite enough.
But is it the end of Dalziel? I was reminded, quite inappropriately, of Tiny Tim on the last page of A Christmas Carol and will say no more on the subject.
A long time ago in a land far away (or that's what it seems like) I was one third of a Terrible Trio which regularly terrorised publishers' parties in Soho when not boosting the sales of claret in various wine bars around Lincoln's Inn. My other two Musketeers were the late, great Sarah Caudwell and that lonesome cow-poke, Walter Satterthwait.
I was delighted to receive a coy of Walter's latest book Dead Horse (handsomely published by Dennis McMillan of Tucson, Arizona) which is based on the true story of Raoul F. Whitfield, even though my first thought was 'Raoul who?'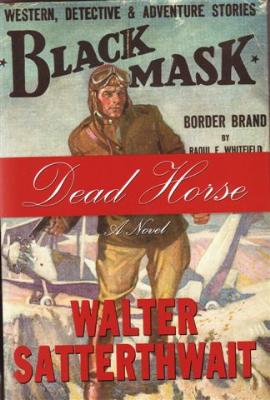 Whitfield (1896-1945) was a prolific contributor to the legendary Black Mask magazine, wrote in total over 300 stories and nine books and was a mate of Dashiell Hammett's. Little of substance seems to be known about him, though he married three times and two of his wives died in, shall we say, unusual circumstances. He more or less abandoned his writing career after marrying his second wife, a New York socialite, Emily Davies Vanderbilt and setting up a palatial home at the Dead Horse ranch in New Mexico, hence the title.
Dead Horse is a snappy little book about Whitfield the failed husband rather than Whitfield the writer, but it aroused my curiosity enough to look up Rauol in The Oxford Companion to Crime & Mystery Writing, a somewhat confused and repetitive encyclopaedia of the genre we all love.
Despite its title, this 1999 OUP volume is overwhelming biased towards American crime writing and so I was quite surprised to find that Whitfield only gets a scattering of references, one of which comes in the section Hard-Boiled Fiction. This entry, by the respected Rex Burns, is a broad-ranging essay which didn't tell me much about Raoul Whitfield, but includes a diverting little side bar on British 'hard-boiled' in the second half of the twentieth century.
Brits named (but not shamed) here include: Dick Francis, Dan Cavanaugh, Liza Cody, William McIlvanney, Gillian Slovo, Mike Phillips and, offering "a comedic version of the genre" – wait for it – Mike Ripley!
Now that hefty OUP tome has been sitting on a shelf for eight years, but until Walter Satterthwait wrote a book about Raoul Whitfield, I had no idea I was mentioned in it! Which just goes to prove the old adage that No day is wasted.
Pip!Pip!
The Ripster