Morse and the Missed Trick
I am looking forward to appearing at the Essex Book Festival in March with my old contubernalis ("me old mess-mate" for those without a decent education) Colin Dexter. And here we are pictured over a decade ago, discussing the finer points of Latin grammar.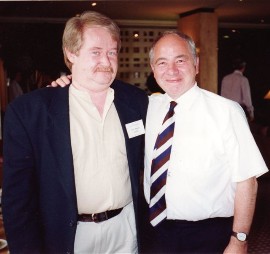 In a newspaper interview promoting the event (Chelmsford Civic Theatre, one night only), Colin revealed that copies of his first Inspector Morse novel, Last Book To Woodstock, (first edition hardbacks) were actually remaindered back in the 1970s. Indeed, Colin was offered the last 125 copies by his publisher Macmillan, for a token payment of £5 slipped to a van driver who was going to Oxford anyway, but turned down the offer on 'what would I do with more copies?' grounds.
Thirty years on, a first edition copy of the first Morse mystery is on sale in Blackwell's bookshop in Oxford, priced £1,500. You do the math, as our transatlantic cousins are so fond of saying.
Oddly, enough, Black Cat Books of Leicester are offering a first edition Last Bus To Woodstock for only £200, the difference being this one is signed by the author. Perhaps they're rarer.
The word on the street (assuming the street in question to be Sunset Boulevard) is that the film version of James Lee Burke's In The Electric Mist With Confederate Dead goes into production in April, with Tommy Lee Jones taking the role of that haunted 'noble mon' Cajun detective Dave Robicheaux.
The book, from 1993, has always been my favourite from the Robicheaux canon, which has veered somewhat towards the preachy, grumpy old git end of the spectrum of late. And if nothing else, the title will always win you points at Trivial Pursuit.
Surprisingly little of Burke's output has been filmed, though he was probably not well served by the 1996 attempt at Heaven's Prisoners starring Alec Baldwin and a pre-Desperate Housewives Teri Hatcher.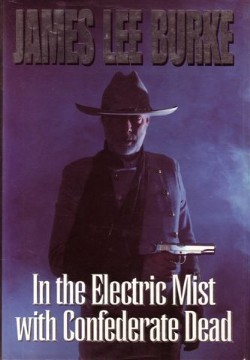 Unless my memory fails me, Heaven's Prisoners was the book which introduced the orphaned girl Alafair to Dave Robicheaux and his first wife. Well, the real Alafair, James Lee's daughter went to law school and ended up a District Attorney in Portland. She has more recently moved to New York where she now teaches rather than practices criminal law.
Being a lawyer and American, she has naturally taken to writing thrillers in her spare time. So common is this trait that I'm beginning to think it must be a condition of the bar exam in the USA. Anyhow, Alafair Burke's fourth novel comes out in June from Orion, entitled Dead Connection.
Word also reaches me from the colonies that wee Scottish firebrand Denise Mina's The Dead Hour is in the running for an Edgar Award for Best Novel at the April ceremony organised by the Mystery Writers of America.
The MWA have always honoured a wider number of categories of crime writing than its sister organisation here in the UK, being particularly astute in honouring screenwriting for both television and cinema. In this year's "Best Teleplay" category is Episode 1 of Life on Mars, which is a brave nomination indeed, for it presents a picture of British policemen who don't wear hats, know their place or have butlers! Thus do I not give much for its chances of winning.
One book which ought to have a good chance (though I'm usually kiss-of-death on things like this) is in the Best Fact Crime category, where James L. Swanson's Manhunt: the 12-Day Chase for Lincoln's Killer is an absolutely riveting account of John Wilkes Booth's assassination of Abraham Lincoln. This is historical true crime written as a thriller and well worth a read especially now that the paperback is out here from Portrait.
If American lawyers who turn their hand to writing mysteries have become commonplace, (and there are, frankly, too many to mention), British MPs who take to thriller writing (even though so many MPs are lawyers) are still rare enough to be worthy of note.
So let us therefore note worthily that the new thriller Trapped from Hodder by David McKeowen is in fact the second crime novel by the Labour MP for North Swindon Michael Wills.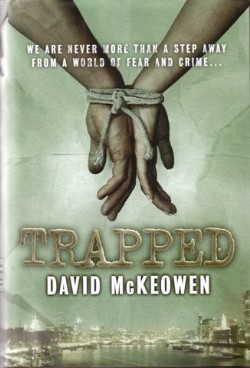 There is no great secret behind the McKeowen pen-name. The Honourable Member for Swindon North is quite open about it, even registering a "book contract with Hodder Headline for two works of fiction" in the Register of Members' Interests.
One is tempted to suggest that much recent parliamentary legislation could equally be registered as "works of fiction".
Although Oxford has the higher fictional body-count, never forget that Cambridge has an equally unhealthy tradition of crime fiction, from Sherlock Holmes to Golden Age Margery Allingham, the archaeologist Glyn Daniel and P.D. James.
News has reached me (though not yet an invitation) of another criminous publishing party at Heffer's in Cambridge, rapidly becoming something of a shrine for mystery buffs out here in the wintry Fens. This will be to celebrate the publication of The Bad Quarto, from those lovely people at Hodder & Stoughton, by Jill Paton Walsh, which will be the fourth investigation led by college nurse and amateur sleuth Imogen Quy, whose day job is at the cheekily-named St Agatha's.
Jill Paton Walsh has many literary strings to her bow, apart from a respectable reputation as a crime writer. She has been short-listed for the
Booker Prize for one of her 'literary' or 'proper' novels, she had an earlier career as a children's author, and she has added two highly-praised novels to the Lord Peter Wimsey canon of Dorothy L. Sayers.
But for those of us who have dug the dirt on many a muddy archaeological excavation, the volume we treasure most is her wonderfully clear and uncluttered The Island Sunrise, a study of prehistoric Britain published by Andre Deutsch in 1975.
Those charming people at No Exit Press have done us all a service by reprinting film guru David Thomson's 1985 sort-of novel Suspects. It may or may not be a novel, I'm not sure, but it is a fabulous book about film noir, or to be more specific, the characters (major and minor) from films noir, each one given a 'back story' as I believe the expression goes
in tinsel town.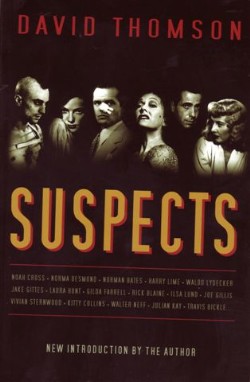 I was delighted, naturally, to see the career of the great Waldo Lydecker
(the journalistic mentor of this column) so honoured in the book, amidst some fascinating insights into the private lives of Jake Gittes, Roy Earle,
Harry Lime, Lars Thorwald, Norman Bates and Travis Bickle.
I admit I learned much I did not know about some of the greats of 'noir'.
I had no idea that Gore Vidal had been pencilled in as the official biographer of the notorious Noah Cross (1870-1972), or that Caspar Gutman and Joel Cairo became quite effective Bridge partners on the international circuit after that business with the Maltese Falcon. But I am still left wondering whether or not Rick Blaine ever came to terms with his latent homosexuality, though his final years, to 1949, when he lived with Louis Renault in Marrakech, were peaceful ones.
Steve Mosby's third thriller, The 50/50 Killer, comes out from Orion in April. Sadly, I have to report that Steve is suffering from writers' blog, a medical condition whereby writers are hypnotically drawn to churning out electronic reams of words on any subject which takes their fancy. In other words, anything other than the next book they are supposed to be writing.
In a recent rant, Steve took umbrage (on www.theleftroom.co.uk) with an article in The Guardian which claimed that "the majority of crime novels are written by women" and "the majority of crime readers are women".
Steve was quite right to query these bald statements, for it is a myth that most 'crime novels' (using a broad-church definition) are written by women, it's actually about a third at most in this country and probably a smaller proportion in the USA. It is however true that female writers are among the best-sellers, with Ruth Rendell, Minette Walters, P D James, Martina Cole. Kathy Reichs and Patricia Cornwell, not to mention the late Agatha, probably accounting for a majority of British sales in the genre.
As far as I can work out, it was ever thus. In the so-called 'Golden Age' in the 1930s, women crime writers were a distinct minority in terms of titles published, but invariably it is Agatha, Margery, Dorothy and Ngaio who are remembered as dominating the period and mere males such as Anthony Berkeley and Philip MacDonald (both innovative and influential) languish, mostly forgotten.
Whether the second statement is true, that crime readers are mostly women, I just don't know, but it sounds credible despite the relatively-recent trend to techno-thrillers for which Tom Clancy has a lot to answer. One thing is for certain in my experience, is the fact that crime writers are usually pretty bad crime readers.
To defend my case, I call Steve Mosby to the witness stand, for in (on?) an earlier blog, he cheerfully admits to never having read a book by: Agatha Christie, Ross Macdonald, Hammett, Chandler, John D. MacDonald, Ed McBain, Ruth Rendell, Patricia Cornwell, Walter Mosley, John Harvey or Ian Rankin.
I wonder how many of those authors still alive have ever read a Steve Mosby? I know I haven't.
Quite a lot of people who don't normally read any sort of book have now heard of my old and distinguished friend Minette Walters thanks to her contribution Chickenfeed to the Quick Reads scheme launched last year.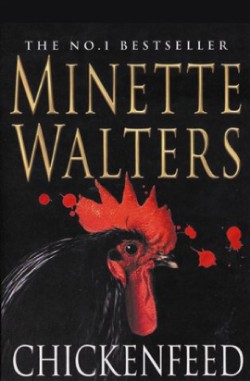 Aimed at adult learners who have difficulty, or an inbuilt reluctance towards, reading the 24 Quick Reads published in 2006 aimed to provide short, clear and simply-told stories of novella length and Minette's investigation of the famous chicken farm murders at Crowborough in 1924 was voted the most popular by readers.
Chickenfeed will be re-issued in 2007 to mark World Book Day, along with new titles in the very worthy Quick Reads initiative.
Which made me think that I really ought to try and uncover the title of the next Minette Walters novel, out later this year. Minette closely guards her titles until the last possible moment and uncovering the secret calls for desperate measures.
It was only after I had held a gun to the head of her pet Schnauser that
literary agent (and supreme dog lover) Jane Gregory broke under pressure and confessed that the new book was to be called The Chameleon's Shadow.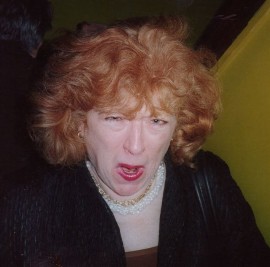 Of course I suppose I could have looked on Minette's official website, but getting a picture like this was much more fun.
Incidentally, in the Picture Gallery on www.minettewalters.co.uk there is a fine black and white photograph taken at the award of the Gold Dagger for Minette's Scold's Bridle which features the author, her husband Alec,
Colin Dexter, TV producer Chris Burt and myself. Just thought I'd mention that.
In a different life I used to work in the British brewing industry. That was when Britain had a brewing industry, of course, and one of the most disturbing trends of the 1980s was what was known as "Me-too marketing". Very simply, if one company developed a 'lite' beer or a low-alcohol beer, or an Irish-themed pub, or an alcopop, then other companies scrambled to develop their own copycat versions.
I've been getting a similar sneaking feeling of "Me too" about publishing for some while now. First, there was the indecent haste with which UK publishers have attempted to find their 'own brand' Henning Mankell, resulting in publishing deals for almost any writer with a Viking DNA who had a previously un-translated manuscript in a bottom drawer.
And very recently I received, in the same post, three books for review; the new Duncan Falconer (promoted as the new AndyMcNab), the new Mark Gimenez (promoted, as so many others have been as the new John Grisham) and the latest by Hampshire author June Hampson, who, I am assured by the publisher, is "popularly hailed as the new Martina Cole."
As far as I was aware, Mr McNab, Mr Grisham and Ms Cole are still alive and well and not thinking of retirement.
Thinking of my brewing days, as I often do on winter evenings sitting in the inglenook of the Snug of The Queen's Thigh here in Fenchurch St Paul, I remember with great fondness serving on the editorial committee of the official economic history of the industry under the chairmanship of Samuel Whitbread, the fifth member of that distinguished brewing family to bear that name.
Sam Whitbread (the Fifth) always took an active interest in the famous Whitbread Prize, a literary award worth, if I remember correctly, more than the Booker. I wonder how he feels about the name change from Whitbread Prize to Costa (as in coffee) Prize?
I have no doubt, however, that he would approve of this year's prize going to the most excellent The Tenderness of Wolves by debut novelist
Stef Penney.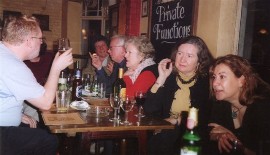 Members of the London Chapter of the CWA watch with bated breath as visiting speaker Mr Nicholas Stone (not pictured) demonstrates the new extreme sport of Turbo Macrame. Miss Cooper and Miss Henderson proposed the vote of thanks and Miss Wilson led the traditional singing of "Jerusalem" to close the meeting. Members were delighted with the surprise visit of national president Ms Richardson, who made numerous points and a joke.
Stranger then (unpublished) fiction
Apart from the odd volume on Jack the Ripper (such as Don Rumbelow's The Complete Jack the Ripper and The Lodger by Stewart Evans and Paul Gainey), I've never really had much time for 'true crime'. Frankly, real crime scares me and so does reading about it.
A few years ago, though, I did have an idea for a trilogy of police procedural crime novels following the hunt, over all three books, for a serial killer in, of all places, Suffolk. What attracted me to the beautiful county of Suffolk, which is truly Constable country, was its reputation for having a small police force, a very low crime rate and hardly any murders. Until recently, of course.
My plot line involved a killer who left his victim's bodies alongside the A12 road and one book in the trilogy would follow a large red herring into the red light district of Ipswich. I also planned to incorporate the latest police methods, particularly use of the HOLMES 2 computer system. Spooked by the similarities with the tragic deaths of five young women in Suffolk in recent months, I am in many ways relieved that not one of the various publishers I approached was remotely interested my idea.
I do remain grateful though, for the time and patience put into briefing me on police procedure and the use of HOLMES 2 by Detective Chief Inspector Stewart Gull of the Suffolk Constabulary. The very same DCI Gull who led the hunt for the killer of the Ipswich women.
I was saddened to hear of the untimely death of that talented and modest actor Ian Richardson, to whom I once had the honour of presenting a Sherlock Award.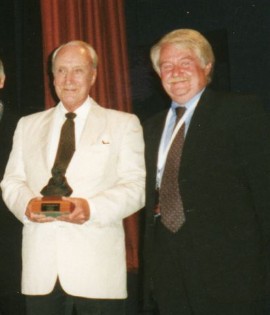 I found Ian to be an absolute charmer and he was genuinely thrilled to win his award for his portrayal of Dr Joseph Bell, the Edinburgh tutor of Arthur Conan Doyle when he studied medicine. He also took a certain pride to being the only actor to play both Sherlock Holmes and Dr Bell, the inspiration for Holmes.
He will be mostly remembered for playing Francis Urquhart in House of Cards though he must have got mightily sick of strangers coming up to him and saying: "You may say that, but I couldn't possibly comment." The more discerning among us, of course, will remember him for television highlights such as his brilliant portrayal of Bill Haydon in Tinker, Tailor, Soldier, Spy and as the straight-to-camera judge in Chancery in Bleak House. When he died he was about to grace Midsommer Murders with a guest appearance.
American author Don Winslow is most well-known for his 1999 novel California Fire And Life, which more people have heard of than actually read (to their loss). On 1st March 2007, those lovely people at Heinemann
published his new West Coast mob/hit man thriller The Winter of Frankie Machine, which is really rather good.
The only (slight) problem is that the book's imprint page carries the date
2006, owing, I suspect, to the fact that an 'export' or 'airport' edition was printed last year. Which rather begs the question for collectors of First Editions as to which actually was the first. Last year's airports-only one or the one 'officially' published in the UK in 2007. (Or indeed, the version first published in the US last year.)
A bit of a conundrum, but to be honest I'm not really interested in the answer and I only mention the fact to draw attention to a very good but seriously over-looked writer and to let off steam about 'airport' editions in general which are the bane of the reviewer's life.
Back in 1999, I discovered that Macmillan were to publish Havana Bay by Martin Cruz Smith, his first Arkady Renko novel for seven years and quite an event for fans of Gorky Park. The book was due out, I think, in the September and because of newspaper deadlines and an impending holiday in France, I asked if it was possible to get a proof copy in July, which is not an unreasonable request given publishing schedules.
I – and the Daily Telegraph - were told in no uncertain terms that no advance proofs were available or would be until the month of publication as the publisher's did not want any advance leaks of the plot.
Imagine my surprise then, to discover an 'airport' edition from those same publishers on sale on the Brittany Ferries catamaran I boarded in Poole harbour in Dorset in July.
A bound proof copy did reach me, about a week before the 'first edition' hardback came out three months later. By that time, of course, I had read the book (and very good it was too) and released my airport/cross Channel ferry edition into the wild from a beach near Perros-Guirec.
Dorothy L. Sayers once said that there were two basic reasons for a crime writer to produce more than one a book a year: a hyper-active thyroid gland or the sudden interest of the Inland Revenue.
I have no idea of the state of Michael Connelly's glands – and surely he cannot be worried by the ministrations of the IRS – but I get the sneaky feeling that he's writing novels faster than I can read them. The really worrying thing, however, is that they are all rather good. His next, The Overlook, published by Orion in June, pits his series hero Harry Bosch against international terrorism working hand-in-mailed-fist with Homeland Security.
Of course many writers are far more prolific than Michael Connelly. Most famously, John Creasey (who?) the founder of the Crime Writers' Association (what?) is said to have written over 600 novels and one version of the legend is that he received over 700 rejection slips before he had one published!
More recent examples (ie: still alive) which spring to mind are Americans Lawrence Block (well over 50 crime novels) and Donald Westlake (with over 85 by my count).
This brings me neatly to the newly-published Ask the Parrot from Quercus, the latest 'Parker' adventure by Westlake writing as Richard Stark. Although it is impossible to read a Parker book without seeing Lee Marvin in the role (as he famously was, albeit called Walker, in Point Blank), Parrot is right up there with the best of the series.
Parker is a professional bank robber, though not a successful one, and a hard-as-nails survivor and this latest tale finds him on the run (as usual) and mixed up with the people he fears most – amateurs. This is excellent tough stuff and there's an interesting sidelight on how everyone in the Land of the Free is totally paranoid about having the right sort of identity documents at all times, a situation the more easy-going British would never tolerate.
Would we? Watch this space.
No trees hurt in the process
James McGee's second Bow Street Runner thriller, Resurrectionist is the first – or at least the first I've seen – crime novel to carry the 'Mixed Sources' stamp indicating that the wood pulp used came from well-managed forests.

So kudos to publishers HarperCollins and other publishers who are known to be doing the same. Can we now say that No trees were hurt in the production of this book?
It would be nice to think we could, though it would rob me of one of my better lines as a reviewer, when I dismissed one particularly sub-standard thriller by asking why a tree had to die for that.
Lady, Don't Fall Backwards
It's always nice to see new entrants to the whacky world of crime-writing showing due respect for the historic traditions of the genre. For his debut novel, The Long Big Kiss Goodbye, Scott Montgomery has gone full pelt for the type of crime novel which would almost certainly have attracted the attentions of the Vice Squad back in the early 1950s.
Sott Montgomery is, of course, far too young to remember the golden era of Hank Janson, Ben Sarto, 'Griff' and Dail Amber, in fact his parents probably are as well. But his publishers, those extremely nice chaps at Telos Books, have ensured that his first book certainly looks the part.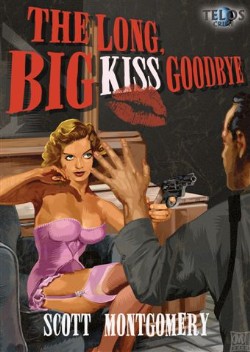 First-time author Scott is a Scot, now working in Dundee for the legendary D.C. Thomson empire of comics. He was a former sub-editor on The Dandy and currently the assistant editor of Commando comic books, which those of us brought up on War Picture Library books, always regarded as something of the dangerous new kid on the block.
This new kid, though, seems aware of his heritage and The Long Big Kiss will take its proud place among other pulp classics such as Some Look Better Dead, When Dames Get Tough, Miss Otis Takes the Rap and Lady, Don't Fall Backwards.
There was much excitement here in Fenchurch St Paul when word spread that I was to travel to London to attend a party at the invitation of publishers HarperCollins. As this was the first HarperCollins party I had been invited to for well over a decade, naturally most of the villagers turned out on a chilly February night to see me off from Darsham Halt, although I believe they really just like waving to the train as it steams by.
The party was to celebrate the publication of that quite enchanting new mystery novel The Savage Garden by the suave and ruggedly handsome Mark Mills who was accompanied (to the dismay of several swooning ladies) by his charming wife. The venue was a select private members' club in the heart (or at least liver) of Mayfair, which like most London clubs (at least in my experience) was dimly lit in order to save on light pollution and crowded enough to avoid recourse to the central heating system. It was nice to see them doing their bit for global warming.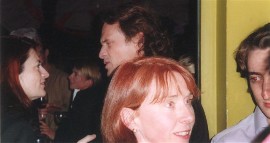 Although the main business of the evening was to celebrate Mr Mills' excellent novel, I could not help, such was the crush, but overhear the conversations of several strangers, all apparently on the same subject. Now my grandmother used to say: Them that keeps one ear round t'corner never hears the tram coming up behind them. But then, she was quite mad.
The snippets of conversation I overheard were incomprehensible at first, but I realised that many of the guests at the party (all literary types) were talking about some sort of impending theatrical production and I am sure I heard the words "publishers' pantomime" quite clearly, although it was crowded and very hot in there and the wine was flowing as if from a leaky Roman fountain.
Quite distinctly I heard that those noble ladies of crime writing Natasha Cooper and Laura Wilson had been "pencilled in" for roles as Singing Nuns! And, I definitely heard several people talking about a role for another star of HarperCollins, Stephen Booth as, believe it or not, a lonely goatherd!
By this time, of course, my head was positively spinning and it was not until the Brougham had met me at Darsham Halt to carry me home that I put the pieces of the puzzle together. Singing nuns…lonely goatherds… a story-line which would appeal to publishers (and thus contain Nazis)… it was obvious. Someone somewhere was about to stage The Sound of Music.
I wonder if tickets are still available?
Pip! Pip!
The Ripster