When a man is tired of the London Book Fair he is tired of life, as one of my old professors used to say. How true, how true, but it is a tiring event. The distances which have to be walked inside the cavernous Earl's Court to visit all the refreshment rooms is simply quite exhausting, but a hard day tramping from bar to bar does bring its rewards.
Some publishing houses do, of course, tend make a show of these things by staging large exhibition stands with brightly coloured signs, flashing lights, coffee tables, comfy chairs, computers (which I was told were actually linked to the interweb), helpful sales staff, bowls of sweetmeats for visitors and lots and lots of books on display.
But I regard this as rather glitzy. I much prefer the publishing companies who (obviously determined not to subtract from the funds available as royalties to hard-pressed authors) forgo such trappings and rent – at a reasonable hourly rate – a fold-down table and two garden chairs and then make sure that this temporary space is cluttered with neither staff nor, heaven forfend, actual books which would only gather unsightly dust. Such sanctuaries are rare but provide soothing resting places for visitors. Oases of peace where one can get away from all that sordid commercialism.
But I did not travel all that way to enjoy myself and so it is back on the refreshment room circuit where I meet to my delight, fellow patrons of the Fair: Miss Lucy Ramsey, of Quercus, Mr Otto Penzler, freshly arrived from the colonies and Miss Thalia Proctor, of Little,Brown.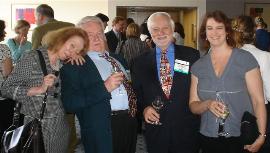 Mr Penzler is as affable as ever, praising colonial writers such as Thomas Cook and Richard Stark, who should be better known over here. One can hardly disagree with such selfless enthusiasm and I marvel at Otto's modesty when he fails to mention either of the anthologies he has edited which are about to burst on the British reading public. To spare his blushes, I shall mention them: Dangerous Women (Arrow, June) and Pulp Fiction: The Villains (Quercus, July).
But before I can exchange more than a snippet of trans-Atlantic gossip, the latest craze which seems to be sweeping publishing raises its obtrusive head once again as people begin to produce microphones and spontaneously burst publicly into song. This strange outbreak of karaoke singing sounds, I know, simply incredible. Suspecting I would be disbelieved I produced my trusty Kodak Instamatic (though it is quite difficult to get the films for it these days) to obtain photographic proof.
The snaps have now come back from Mr Patel, who runs the Something For The Weekend chemist's shop here in Fenchurch St Mary and I can exclusively reveal two of the (really quite tuneful) songsters in full flow.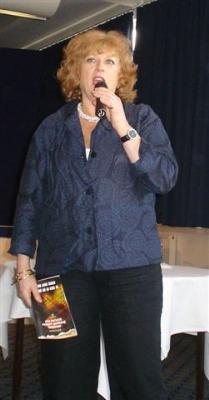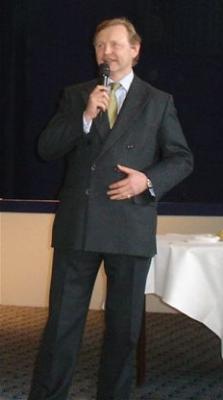 It is only when the applause has finally died away that I am informed that this impromptu concert is merely a taster for what is to come at this summer's Festival of Crime Writing and Community Singing to be held in the wonderful spa town of Harrogate, which I am reliably informed is somewhere north of Sainsbury's.
I doubt if I will be invited, for after fifty years of sucking on a pipe stuffed with Harding's Old Shag, my vocal chords are not what they once were and I can simply no longer carry a tune. I would, therefore, be surplus to requirements.
American thriller maestro David Morrell, the creator of Rambo, devotes 10 pages to acknowledging his sources at the end of his latest, Scavenger from those wonderful people at Headline.
In an 'About the Author' section he also describes his famous first novel from 1972, First Blood (which gave us John Rambo, for which the Free World is truly grateful) as that 'father' of all modern action novels.
Morrell was for many years a professor teaching English at the University of Iowa. I wonder if he was ever tempted to set his students the question: 'First Blood' – father of all modern action novels; discuss?
Close behind in Oscar-acceptance-speech stakes for acknowledgements is thriller writer Peter James in his latest Not Dead Enough from Macmillan. He lists no fewer than 79 named people, including 26 members of the Sussex police from the Chief Constable downwards.
Then there are 7 Munich police officers credited and also "the Greatest Living German Actor" who seems to have been Peter's chauffeur, followed by 8 assorted pathologists and coroners and, spookily, three "wonderful friends at Brighton mortuary."
At least 15 people and named and thanked at his publishers Macmillan, and eight others included his PR agency people, not to mention a "fabulous book agent" and a film agent, followed by six at his German publishers and "the greatest living German editor". Mr James obviously knows his fair share of greatest Germans.
Finally, his wife gets a mention along with his "faithful hounds" Bertie, Sooty and Phoebe.
The book is actually dedicated to Bertie, Sooty and Phoebe, obviously a trio of gifted canines. It is a cause of great sadness that the Akitas which we breed here at Ripster Hall have never shown the remotest interest in crime fiction.
Is this the way to Aberystwyth?
Malcolm Pryce, the author of Don't Cry For Me Aberystwyth, lives in Thailand because, one suspects, a contract has been put out him by the Druid Mafia which runs organised crime in Wales.
His series hero, Louie Knight, is the best (and only) private eye in Aberystwyth and in Don't Cry… from Bloomsbury, takes on possibly his most bizarre case – which is saying something! Throw in an Israeli spy murdered whilst wearing a Father Christmas costume, Adolf Eichmann, Butch Cassidy and the Sundance Kid, the militant (Lampeter-trained) Soldiers For Jesus, a flea-bitten circus and various veterans of the terrible war between Wales and Patagonia, and you get some idea of why the Welsh Tourist Board haven't yet made Malcolm their Man of the Match.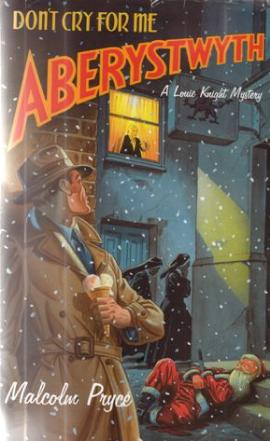 Strangely, when people have wanted to give Malcolm and award, it never happened. Some years ago, for his first novel, Aberystwyth Mon Amour, Malcolm was nominated for a Sherlock Award. His publishers were duly informed and promised to notify Malcolm out in Thailand. His publishers were then told he had won and promised to let him know. His publishers were then told of the award ceremony (at the National Film Theatre) and asked if someone could collect the award if Malcolm was still in Thailand. When the publishers did not confirm they would be attending, they were reminded of the event at least twice in the week before.
On the great day, of course, there was no Malcolm nor anyone from Bloomsbury and I had to accept (steal) the award on his behalf. Subsequently the scholarly Jon Wood of Orion offered to make sure it got through to Bloomsbury.
Some time afterwards Malcolm contacted me and we met on one of his visits back to the UK. He was somewhat down at heel over the whole affair as his publishers had not even told him he had been nominated, let alone won and this would have been his first award since his Cycling Proficiency Test. He confided to me that his father would have been utterly delighted to have come up to London to collect it on his behalf – and then presumably smuggle it, despite the danger, back across the Welsh border hidden in a consignment of tea-towels or Druids' robes.
Danny King is probably Slough's second most famous export (after David Brent) and his cheeky takes on crime writing in The Burglar Diaries, The Hitman Diaries and Milo's Run are well known.
With his latest novel, School for Scumbags, though, both he and his publishers, Serpent's Tail, have excelled themselves. Not just for the book, which I am sure will be up (or down) to the usual King standards, but for the fact that its publication is scheduled, quite specifically, for midnight on the 21st July.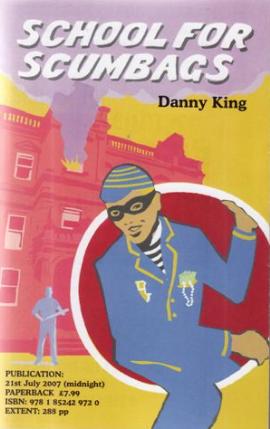 And if that time and date rings a bell, then you are probably one of the sad millions who have reserved their copy of Harry Potter and the Deathly Hallows which just happens to be published at the same time.
In a sense, I think it rather unfair that a writer as successful and talented as J.K. Rowling should be muscling in on the marketing ploys of a humble crime writer and I predict scenes of unruly behaviour in thousands of late-opening bookshops in July.
The super-selling James Patterson bandwagon keeps on rolling and by the time anyone reads this, I fully expect 6th Target, from Headline, by Mr Patterson and Maxine Paetro to be top of the bestseller list. Just why, though, was the title changed from The 6th Nanny?
I personally think this was a marketing mistake and will severely hamper the books chances. It is now only likely to sell in millions instead of squillions.
And, like London buses used to, there's another thriller following on behind (this time from HarperCollins in June) from the Patterson stable: The Blue Zone by Andrew Gross, who co-authored five bestsellers with the indefatigable Mr P.
On the cover, Andrew Gross is billed as the No.1 Bestelling Co-Author, which is something I've never seen before. The book also has the generous endorsement "Tense and chilling" from, not surprisingly, James Patterson.
And if you're still feeling short-changed, in August Headline will publish the third Patterson fantasy adventure for teenagers: Maximum Ride: Saving the World and Other Extreme Sports. And then in September, comes Double Cross, the latest in the Alex Cross series. And you'll just have time to finish that before, in November, this time with co-author Howard Roughan, Headline also publish You've Been Warned.
Does this man never sleep?
Alan Hunter, creator of the gentle Inspector George Gently, never lived to see his hero of more than 40 novels transfer to the small screen as he did over Easter with Martin Shaw in the lead.
Alan, a Norfolk man through and through and a WWII poet, turned to crime in 1955 (he died in 2005). For many years he convened the East Anglian Chapter of the Crime Writers Association (yes, there was such a thing and perhaps there is still) usually in a pub of his choice in the Wymondham area, though once we ventured into Suffolk and Walberswick before it became known as Hampstead-on-Sea.
At these lunches, Alan would always get there first and appropriate a suitably large table and the grandest fiddleback or captain's chair in the place. With a pint of ale in front of him and his pipe locked between his teeth he would then hold court although he never initiated conversations, simply responded to them. Among regular courtiers were Matthew Coady, for many years crime critic of The Guardian (in the days when they needed just the one) and the late Nancy Livingstone.
I remember him giving me one excellent piece of advice: start a new book every 1st September – "that way you keep your summers free". When I said: 'what if I don't have an idea for a book on 1st September?' he stared at me in disbelief and said: "Just start writing anyway."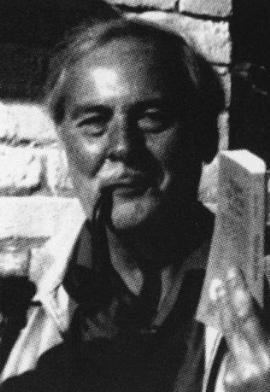 He also told me one of the saddest stories I've ever heard a writer relate. He had been approached by an American paperback publisher who wanted the entire Gently backlist, which I think even then stood at 40 titles, but copies of three books could not be found anywhere and Alan had realised he had given all his author copies away and no longer even had the typed manuscripts. Whether the paperback deal ever went through in America I don't know, but I did, in those pre-Abebooks years, dutifully scour all the second-hand bookshops and jumble sales in East Anglia for those missing 'Gentlies' (to no avail).
George Gently, puffing inscrutably on his log of a pipe, was often characterised as "the English Maigret" and I don't think the series ever got the recognition it deserved. There were, perhaps, too gentle, but Hunter had a wildfowler's eye for the human condition and his books set in and around the Norfolk Broads (and also in northern France around Honfleur) are worth remembering.
Odd then, that the television debut of George Gently, 52 years after his first appearance in print, has a distinctly North-Eastern flavour with a County Durham location and a quite specific setting in the year 1964 . Indeed the pilot film ended with Gently seemingly leaving Scotland Yard in order to join the Durham force and continue his crime-busting career (in the inevitable series to come), which seems an awfully long way from the Norfolk Broads. This couldn't have anything to do with the fact that the man who adapted it for television was Peter "Friends in the North" Flannery, could it? And dare one suggest that the north-east coast has lots of 1960s props left over from early series of Heartbeat?
My network of moles, snitches and paid informants all assure me that Jane Wood, the supreme crime fiction editrix at Orion for many years, is to defect to the new crime house on the block Quercus come the summer.
I once had the privilege of seeing Jane's finely-tuned editorial mind in action as she decided on whose round it was with a stunning efficiency.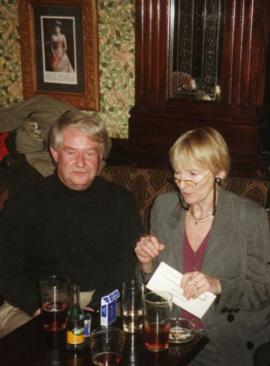 Oddly enough, one of the criticisms of relative newcomers Quercus is their concentration on American (and Australian) authors, with only a token number of British authors on their books – albeit one of them being the extremely successful debutante Stef Penney.
Exactly the same sort of sniping was levelled at Orion some years ago when their output seemed to be devoted to little known American writers such as Michael Connelly, Harlan Coben, Robert Crais and James Lee Burke(!). It was only when they took on a struggling Scottish writer called Ian Rankin (who alone became responsible for about 10% of the GDP of crime fiction) that the snipers stopped sniping.
Zen and the art of Dibdin
I still cannot quite believe that my old and distinguished friend Michael Dibdin has died at the paltry age of 60, but am gratified that the national press has been fulsome in its tributes to him and his artistry.
I first met Michael in 1988 when he was collecting the CWA Gold Dagger for his first Italian thriller starring Aurelio Zen, Ratking, and I was waiting in the same antechamber to be told that my debut novel, Just Another Angel, had won neither of the two awards it was in for. In 1990 I reviewed his second Zen novel, Vendetta, for the Daily Telegraph and we met on the sidelines of that year's London Bouchercon. There followed many a convivial dinner, usually in restaurants in Soho (Italian, of course), or the taking of high tea in the Groucho Club, and even a holiday in the Cotswolds with his new American wife Kathrine, herself a mystery writer as K.K. Beck.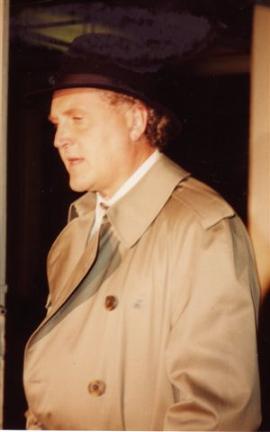 Sadly, I missed him on his last visit to London from Seattle where he had lived for the last ten years, but he did once tell me, in glorious detail, how he had been in his local 7/11 shop late one evening, in the queue for the check-out, fuming because a customer up ahead was searching leisurely through his clothing for a money-off coupon which allowed him 25 cents off the price of a tub of ice-cream which probably cost about two dollars. The man was determined to find the missing coupon, despite delaying all the customers behind him. He eventually did so, claiming his 25c discount with great glee. The man was Bill Gates, probably the richest man in the world and, as Michael observed laconically, "now we know why".
In a generous homage in the Telegraph, Jasper Rees recalled a discussion with him on what was thought to be the appropriate length for a series of crime novels, something I had always been told by those supposedly 'in the know' was ideally eight.
'Some say seven (books), some 10,' Michael had told Rees. 'I think if it's a serious series, if you're really trying to write books rather than churning out a formula, then 10 is there or thereabouts.'
Happily, he did not heed his own advice and the 11th Zen novel, End Games, will be published posthumously in July. Both Zen and his creator will be missed.
Laura Lippman's latest stand-alone novel to be published here in June by Orion was to have had the Chandleresque title Little Sister.
However, rave reviews and sales in her native America have convinced Laura's publishers that they should revert to the title of the American edition, What the Dead Know but fans (and there are many over here now) can rest assured that the book is still on schedule for UK publication.
Now to me, and it seems the American mystery-reading population, What the Dead Know sounds a perfectly good title and one wonders why it was thought necessary to change it to Little Sister for the UK market. Perhaps we should get Philip Marlowe to investigate.
[And for that growing number of British crime writers who take a bizarre pride in saying that they "have never read anything by…", I would point out that Raymond Chandler once wrote a book…oh, never mind, you are beyond sympathy.]
Sad it is to report the death of another fine crime writer, Jill McGown, who finally lost a brave battle with cancer, aged 59.
Jill, a Scot who had lived in Corby for many years, always maintained that she taken to crime writing after being made redundant by British Steel. She also maintained she had been taught Latin as a schoolgirl by a certain Colin Dexter.
I knew her best perhaps ten years ago when she and I used to bump into each other at parties thrown by her publishers, Macmillan, and I remember reviewing several of her books, which were impressive and deserved to be better known.
Her main series characters, detectives Lloyd and Hill, had a brief outing on television in 2001 starring Philip Glenister (now better known for Life on Mars) and Michelle Collins (the blonde one from EastEnders).
Gyles Brandreth, the former MP and Thatcher acolyte, has turned his hand to the crime novel in the forthcoming Oscar Wilde and the Candlelight Murders from those lovely people at John Murray, although the book was originally trailed as simply The Oscar Wilde Murders.
It what looks to be the first of a series, Brandreth creates a detective duo of Oscar Wilde and Arthur Conan Doyle to investigate the murder of a young rent boy.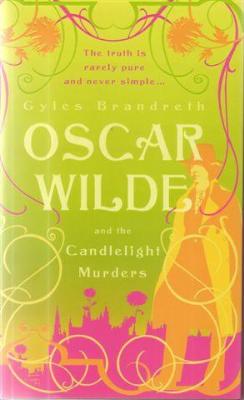 The publisher's press release states: The series features celebrated poet, wit, playwright and raconteur Oscar Wilde in a new role; as detective. Well, not exactly 'new' perhaps as Dear Oscar featured prominently as a detective, albeit a reluctant one, in Walter Satterthwait's most excellent book Wilde West in 1991 and there, out in the wild west of Colorado on a lecture tour, Oscar had as his 'Watson' no less a character than Doc Holliday! (Satterthwait has also used Harry Houdini as a detective, with Conan Doyle as his 'Watson'.)
Still, as Wilde himself once said (and is quoted by Brandreth in his Acknowledgements): I suppose publishers are untrustworthy. They certainly always look it.
Medieval Mystery Man Mike (That's enough 'M's' –Ed) Jecks has recklessly enrolled for the London-to-Brighton bicycle ride (it's like the famous London-Brighton vintage car rally, only quicker) on 17th June, claiming that he needs to get fit.
I am sure there must be gentler ways to fitness other than cycling, but then I have always had an irrational distrust of any sport which involves so much Spandex. However, fair play to Mr Jecks, who aims to raise funds for the British Heart Foundation and if anyone wishes to sponsor him, they can do so easily, so I'm told, by simply going to www.bhf.org.uk/sponsor/templar.
Having said all that, I do know that Mr Jecks is to make a guest appearance at Beaconsfield Library soon.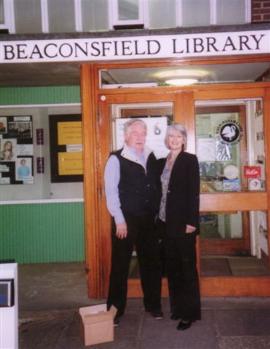 If he has half as busy a time as I did last year when I was feted and entertained by some of the finest hostesses within Buckinghamshire Libraries, he will probably find that exercise enough. After an evening of lavish hospitality in the cosmopolitan fleshpots of Beaconsfield, I for one had trouble putting on my bicycle clips the next day.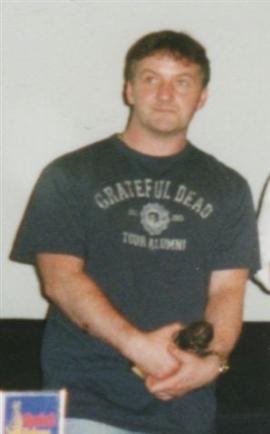 My good friend that delightful Irish imp John Connolly has come up with an intriguing way of promoting his new novel The Unquiet, which is published by those charming people at Hodder & Stoughton.
Whereas many of us scribblers would be happy with a promotional bookmark or a commemorative beer-mat, John has produced a soundtrack to his new Charlie Parker novel which apparently supplies the music to reflect the moods and character of the aforementioned hero. This soundtrack, entitled Into The Dark, features a collection of songs and melodies and comes free with the book, or at least a limited edition of them issued to the more influential critics and reviewers such as myself.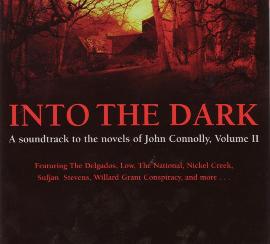 I was anxious to see what sort of music reflected the mood of my friend John as he was writing his latest bestseller (for it surely will be). Some mid-period Val Doonican perhaps, or a medley of Foster and Allen's greatest hit? But no. To my surprise and bemusement, the complimentary disc features musicians and vocalists unknown to me, with such names as Nickel Creek, The Czars and The Delgados.
I suspect these must be modern beat combos whose recordings have not yet been featured on the Light Programme and I would have asked John about them at his launch party at an exclusive London Restaurant if only I had been invited.
I was, however, determined to hear John's soundtrack, but the disc provided is like no other in my collection. For a start it is but three or four inches in diameter and is positively dwarfed by my Fats Waller and Duke Ellington collections. It is also made of some silver metal and is not black vinyl at all. Furthermore there is absolutely no indication as to what speed it should be played at: 33 or 78 r.p.m.?
But I will persevere. I have sent my factotum, Waldo, into the village to purchase some new needles for the gramophone and once he returns I will have him wind the handle at various speeds so that we may experiment.
For that intellectual and proudly eclectic magazine CADS, I contribute an occasional column under the title Bargain Hunt where I highlight crime novels which I have discovered anywhere except in bookshops. In other words these are the fruits of trawling jumble sales and charity shops.
In this context I have already featured the excellent thriller Night of Glass written by my good friend Philip Purser, for many years a distinguished TV critic on the Sunday Telegraph and the husband of crime writer Ann.
I have recently come across an early thriller of Philip's, The Twentymen from 1967, about a political conspiracy centred on BBC Television Centre. It is, of course, as well-written as the rest of Philip's regrettably small output of fiction and contains many wonderfully throw-away gags about the BBC being a hotbed of socialism: "The BBC is distrusted by all men of goodwill, regardless of colour, race or creed."
There is also a wonderful passage reflecting on the pressures of getting serious with the opposite sex:
In the courtships of my younger days an invitation for the weekend [with a girl's parents] marked a certain point along the road: not exactly a point of no return but certainly the notification that you were moving into a forward area, that it was time to get into single file and douse cigarettes. It would have to come sooner or later; it might as well come now.
Is that not a classy bit of writing? And how many of today's "thriller-meisters" could conjure up a snippet of prose as elegant as that?
But I come not merely to praise Purser, but to point out that as he was writing The Twentymen - about a political coup in Britain in the swinging sixties – the late Peter Van Greenaway was writing his novel about a military coup d'etat in Britain in the swinging sixties. Both novels highlighting (though not endorsing) the distrust of a Labour government which had seemingly lost 'control' of the trades unions and both being wonderful social documents reflecting the years in which they were published, 1967 and 1968.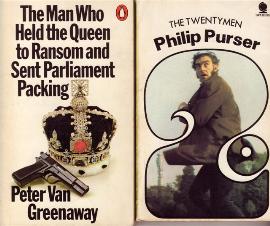 Peter Van Greenaway, a disgracefully overlooked writer, is best remembered for his thriller Judas! about the lost Gospel according to Judas Iscariot (Lord Archer, please note), but his 1968 military coup novel should make it into every reference book if only for it's wonderful title: The Man Who Held the Queen to Ransom and Sent Parliament Packing.
If you can find either of these books – ideally both – read them, they are both excellent. If you want to read about people who actively campaign for (and go on at great length about) books which should not have been forgotten, you should subscribe to CADS magazine by contacting the editor Geoff Bradley on Geoffcads@aol.com.
You may be surprised to discover how many of us there are out there, internationally. And our numbers are growing…. Soon we will be ready to strike…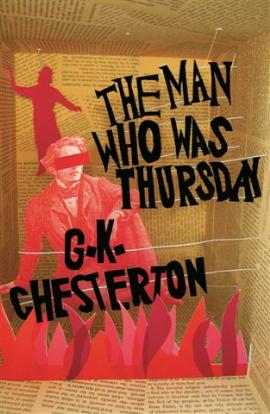 And we all take heart from the news that Headline Review are to reissue (in July) one of the classic conspiracy theory stories, G.K. Chesterton's The Man Who Was Thursday from 1908.
Surprise! You're out of print.
How does an author find out when one of his backlist novels goes out of print?
When book dealers advertise his £16.99 hardback book on the internet with a starting price of £207, that's how; or at least how I did.
So if anyone out there actually does have a copy of Angel on the Inside
(Constable, 2003), my advice would be to hang on to it. Especially if it's an unsigned copy – they're rarer.
That utterly outstanding American magazine Deadly Pleasures not only has the good taste to syndicate this column to the colonies, but also reviews more crime and mystery thrillers per square inch than any publication I've ever seen.
Whenever the postman struggles up the drive of Ripster Hall to deliver my copy, I immediately cancel all my engagements for the day, broach a cask of stock ale and settle down in from of the scullery fireplace with instructions not to be disturbed. As always, I am fully rewarded if only by discovering new authors and new titles which sadly will probably not be available on this side of the Atlantic.
From the current issue, two in particular caught my eye for their sheer joie de vivre. Though I have no idea of their content, I would certainly give shelf-room based on their titles alone: Brigadoom (by Susan Goodwill) and the wonderful Night of the Living Deb (by Susan McBride).
I also, to my embarrassment, discover that the latest Deadly Pleasures (did I mention that the magazine was called Deadly Pleasures?) contains a glowing tribute by author and anthology editor Martin Edwards to: me! I feel duty-bound to quote some of it:
"Most detective series of a comic or light-hearted nature have a short shelf life. It's difficult to sustain reader engagement for too long if murder isn't taken seriously. So those writers – examples include Simon Brett and, in the past, Colin Watson and Joyce Porter – who manage to keep an amusing series fresh for years deserve to have their craft recognised. Certainly this is true of Mike Ripley."
Good heavens, what an honour to be cited in the same breath as Simon Brett, Colin Watson and Joyce Porter. Yet I would have thought that as Martin Edwards is a solicitor (and a solicitor in Liverpool and therefore never unemployed), he ought to know that even if Colin Watson and Joyce Porter are dead, Simon Brett is alive and very well and could just sue!
I intend to spend much of the summer on the banks of the river Cam (or Granta as it is known here in the Fens) in that fine city of Cambridge, which holds so many fond memories for me.
Many years ago I was taught Russian history there by a penniless lecturer and struggling novelist by the name of Tom Sharpe. I understand he went on to do quite well for himself. It was in Cambridge that I cut my journalistic milk-teeth as jazz critic for the newspaper Varsity, then under the editorship of a bearded left-winger by the name of Charles Clarke, though I have no idea what became of him.
I hope to be present, in July, at the annual Bodies In The Bookshop party hosted by that fine bookshop, Heffer's in Trinity Street, though my invitation must be delayed in the post. Then in August, I am to be one of the speakers, along with Harry Keating and Catherine Aird, at the Dorothy L Sayers Convention to be held in Girton College, an institution which I am told now admits female undergraduates. My, how Cambridge has changed since my youth!
I intend to fill any spare moments of leisure I may have, concealed in the reeds looking out towards the Rectory at Granchester, with my punt-gun primed and cocked. As hunting waterfowl is a fairly hit-and-miss affair, I will naturally take a few good books with me.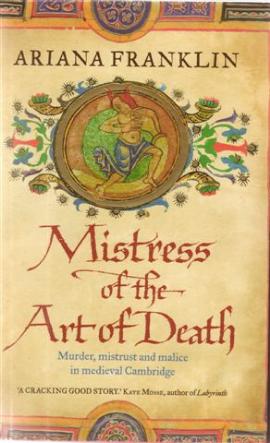 One of them, most appropriately, is Ariana Franklin's Mistress of the Art of Death, a quite splendid historical mystery set in 12th century Cambridge (or Grantebridge as it was then known). Not only is this book finely written, but also lavishly published by those charming people at Bantam Press and the endpapers are a map of Cambridge as it was around 1170 A.D.
How strange to see the city as it was then without those famous landmarks to which tourists now flock in their millions: The Panton Arms, the legendary public conveniences on Parker's Piece and that haven for retired gentlefolk, the Garden House Hotel. Oh, and there was no university then, either.
This is I believe, Ariana Franklin's first historical mystery, though she is no stranger to the mysteries of history, having been a researcher for Dr David Starkey. Many readers will no doubt be anxious to see a movie version of Mistress of the Art of Death, though the author, who is married to that film critic par excellence Barry Norman, might have mixed feelings about that.
My noble friend Prince Ali Karim is beginning to adopt a higher public profile of late.
Normally discrete and diplomatic in the extreme, Prince Ali has never made any ostentatious displays of his wealth or royal birth right, but of late he has, worryingly, begun to greet fellow Masons with very public displays of our Lodge's handshake which is supposed to be kept secret.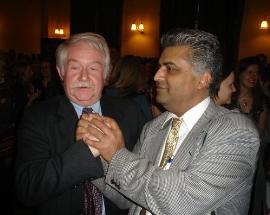 If this were not in itself a disciplinary offence (which will surely result in him appearing before the Court of Protocol down at The Square and Compasses before the next quarter moon), worse news is to follow.
Ignoring all our rules of secrecy, Prince Ali has now allowed his private life to be featured in a book ! This exposé, posing as a novel published by the No Exit Press is entitled Gangsters Wives and purports to have been written by one 'Lee Martin'.
Now I'm not sure who this mysterious Lee Martin is, although I did enjoy his performance some years ago in the humorous cowboy film Cat Ballou, but his 'novel' leaves little to the imagination and describes the – shall we say – bedroom antics of Prince Ali, when he served as a special constable in the Metropolitan Police, in graphic detail. In fact the whole book is stuffed (and crammed) with graphic detail and naughty goings-on.
It is not the sort of book which I will allow any of the servants here at Ripster Hall to read.
Pip!Pip!
The Ripster