It was a rare treat to visit the capital to attend a wonderful dinner of crime reviewers hosted by those charming and generous people at HarperCollins.
Many reviewers, especially those who live in London, are used to such lavish hospitality of course. Some have indeed returned their Sainsbury Nectar cards as they no longer need to shop for food, but for us country bumpkins, the opportunity to sample the finest wines and the haughtiest of haut cuisine was to be savoured.
This event, glamorous and glittering as it was, should not be confused with the legendary (some say mythical) annual reviewers' dinner where we critics get together to divide equally all the bribes we have received and then decide which crime fiction books will get reviewed that year. That event takes place under conditions of maximum security second only to a G8 meeting, on the Greek island of Skyros every December.
This London dinner was a far more convivial affair, where the conversation naturally turned to the latest publication by one of the guests, Barry Forshaw's Rough Guide to Crime Fiction; although only once it had been verified that the four crime novelists sitting around the banqueting table were actually in it.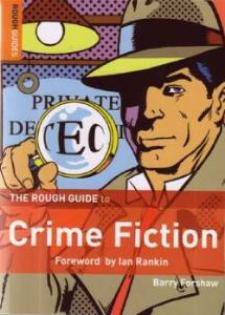 As with any guide, directory, encyclopaedia or simple list, it is always far too easy to score cheap points by pointing out who has been excluded rather than included. So let's get on with it.
There may very well be good reasons for not mentioning the Dalziel and Pascoe books of Reginald Hill, or the Inspector Frost novels of Rodney Winfield, or indeed the massive canon of (the equally massive) Nero Wolfe stories spanning 40 years by Rex Stout, but I cannot think what those reasons could possibly be. Nor can I explain the seemingly deliberate ignoring of the comic crime sub-genre, and thus the absence of such as Michael Innes (who deserves a mention if only for his classic Lament For A Maker), Joyce Porter, Colin Watson, Sarah Caudwell, Douglas Lindsey, Malcolm Pryce, Jasper Fforde and Colin Bateman.
In the Historical Crime section, I would have thought that Paul Doherty (who has written more books set in the 14th century than were written in the 14th century) deserved at least a footnote. And to balance the overall male dominance, there should surely have been some mention of Sarah Dunant (who gave us a sensitive, intelligent and British private eye in Hannah Wolfe) and Denise Danks, the first crime writer to tackle the impact of the information technology revolution.
But such carping did not last long for, as I have said, the four authors present at the dinner were, by pure serendipity I am sure, all included. The table talk turned to an outpouring of support for Barry Forshaw who has taken the courageous decision to appear at the forthcoming Harrogate Festival of Crime Writing and Karaoke and speak publicly about his rough guide to an audience which will almost certainly contain writers he has been forced to omit.
Among them, no doubt, will be several members of the new school of rather violent, uncompromising crime writing coming from Scotland which has been rather quaintly called Tartan Noir although, I hasten to add, not by me. I believe the first time this all-too-convenient label was used was in describing the works of young Ian Rankin and was attributed to a Mr James Ellroy, with whom I am certainly not going to quarrel.
For anyone who has missed the recent Scottish invasion, I can do no more than suggest a sampler, ideally provided by Polygon Books, of the latest titles from Ray Banks and Allan Guthrie.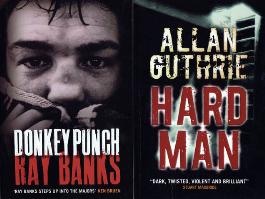 If you like them, please remember to tell people (especially hard-looking Scottish writers) that you read about them here first. Sadly, you won't find them in the Rough Guide.
No, this is not my forecast to describe Barry Forshaw's coming appearance in front of a live audience of crime writers, but rather the title of the new novel by the man often referred to as "the Ulster Carl Hiaasen", Colin Bateman.
I have always felt that a more accurate tag, if one has to have these things, would be "the Ulster Tom Sharpe", but what do I know? I do know that it was over ten years ago (26th April 1996 to be precise) that I was asked by that esteemed organ of the book trade press, Publishing News, to do a round-up of the mystery scene that year. My unashamed tip for the future and my vote for the funniest crime novel of the year went to a fresh-faced Colin Bateman who had then just published his third novel Of Wee Sweetie Mice and Men.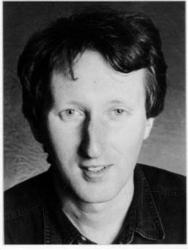 More than a decade later, I got the chance to meet Colin for the first time courtesy of an invitation to dinner with those delectable people at Headline, who are publishing I Predict A Riot. Or rather, I got the chance to meet 'Bateman' for thanks to some jolly clever (far cleverer than wot I am) chaps in marketing, his books are to be 'branded' simply Bateman. I suppose we must therefore refer to him as 'the writer previously known as Colin'.
To be honest, if he doesn't mind, why should I? I was not about to quibble and put at risk my second free hot meal (with real cutlery) in a week, and splendid the victuals were. I even got a chance to talk to The Writer Previously Known As Colin about his new book, which, incidentally is very funny, contains a poisoned carrot cake, projectile vomiting, redundant IRA men training guerrillas in Colombia and, uniquely I think, a joke about David Trimble. Be honest, there aren't many of them.
The book is also extremely long (500+ pages), includes a cartoon strip and has all the rude words asterisked out like t**s. On raising these points, TWPKAC informed me that the book had been written originally in serial form for a family newspaper in Ulster, hence the self-censorship, which he had eventually grown fond of. And writing in Dickensian mode obviously produces books of Dickensian length. The cartoon strip, he says just "seemed like a good idea at the time".
A thoroughly good time was had by all, even when Mr Barry Forshaw appeared as a surprise guest and managed to get in a pre-emptive apology to TWPKAC for him "not having made the cut" into his Rough Guide.
With excellent manners and good grace, Bateman (as we must call him) pretended to feign total ignorance of Mr Forshaw's magnum opus and remarked that if he wasn't worthy of inclusion, well, that was just a f******g shame, wasn't it?
It was a treat and an honour to be asked to launch the 2007 Essex Book Festival with no less a living legend than Baroness (P.D.) James and to mark the event, we were photographed (along with 75% of the writing group Four Fathers) in the Dorothy L. Sayers Centre in Witham in Essex.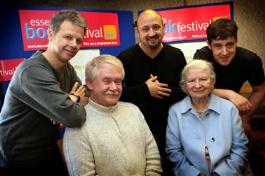 Baroness James informed me that she was hard at work on another Adam Dalgliesh book and even hinted that she had plans for the one after that. In response to questions from the crowd which had assembled to greet her, she said that she had absolutely no plans to kill off or retire her hero.
"He'll go when I go," she said firmly, with a twinkle in her eye.
More good news for crime buffs comes via the writing rooms of the House of Lords (if indeed there are such things). Baroness (Ruth) Rendell's new Chief Inspector Wexford novel, Not In The Flesh, is to be published by those wonderful people at Hutchinson in August.
I had intended to apply for a research grant (University of Juan-les-Pins, Department of Advanced Idleness) to justify my theory that crime writing not only broadens the mind, but extends it well beyond normally accepted retirement age. Now it seems that my research project will be still-born, for my case seems to have been proved.
Having passed their eightieth birthdays, three more of my favourite mystery writers, in addition to Baroness James, have new books on the stocks.
One of my schoolboy heroes was none other than John Gardner, whose Boysie Oakes series in the Sixties, starting with The Liquidator, seemed to be the perfect antidote to anyone tempted to take James Bond too seriously.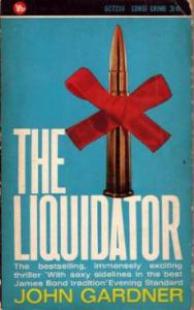 In recent years Mr Gardner has created a smashing World War II detective duo (Suzie Mountford and Tommy Livermore) and in No Human Enemy from those utterly super people at Allison & Busby in August, he brings their adventures (and their love affair) up to 1944. This book (indeed the whole series) is worth checking out, for Gardner has a totally authentic grasp of period dialogue.
Another Old Master (and I mean that most sincerely) is Dick Francis who, let's face it, long ago acquired National Treasure status. In September, those potentially wonderful people at Michael Joseph will publish Dead Heat, a new novel (about horse racing, perhaps?) by Dick co-authored with his son Felix.
And word has reached my ears that my distinguished colleague H. R. F. (Harry) Keating's next book will in fact be his legendary Inspector Ghote's first case.
I will be appearing at Girton College, Cambridge in the summer with Harry, addressing the Dorothy L. Sayers' Society, along with my good friends Catherine Aird, MBE, who also has a new novel, Losing Ground, out from Allison & Busby in September; and American mystery queen Margaret Maron.
Catherine and Margaret, of course, are mere slips of girls compared to us old codgers.
After a televised author interview at the recent Hay on Wye festival (which I believe to be somewhere in the Welsh Marches), an imposing, nay formidable, blonde lady interviewer, whose name was Frostrupp or similar, could hardly contain herself. Squirming in her chair, perspiring (although I know that real ladies only 'glow') and panting, her voice suddenly dropped to the lower octaves popularised by the late, great Barry White.
"Thank you to my guest," she breathed, "truly the Peter Pan of crime, Ian Rankin."
The telecast from Hay ended there abruptly but I understand that Mr Rankin left the studio at pace heading for the second star on the right and then straight on until morning, as fast as he could.
It is always a cause for celebration to see old friends back in print and I will be raising a glass of malt whisky (her native tipple) to salute Carol Anne Davis, whose suspenseful and distinctly spooky thrillers Sob Story and Shrouded and now being reissued by those adorable people at Snowbooks Ltd.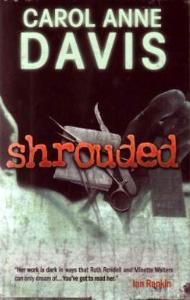 Carol is perhaps best known for her true crime books Women Who Kill and Children Who Kill (which I am assured are not Self-Help titles) but she can turn a mean hand to psychological thrillers with high ratings on the creepiness scale, covering subjects such as male rape, neighbours from hell and the disturbed sort of man like Douglas who prefers his girlfriends quiet and docile, as in Shrouded. And by quiet and docile, I mean really quiet and very docile, which is why Douglas works in a mortuary…
I will raise a half-pint of Stella Artois in honour of the late Derek Raymond, for that was his tipple of choice when I knew him (though he rarely stopped at just the one), to celebrate the reissue of The Devil's Home On Leave from those wonderfully courageous people at Serpent's Tail.
I say 'courageous' not just for their championing of Derek's bleak and bloody crime novels (he is often called the Godfather, or sometimes the Grandfather, of British noir) but because they have taken the more risky, but admirable, step of reissuing, from 1962, one of Derek's 'London novels', The Crust on Its Uppers, which these days would probably serve as a set text on a social history course.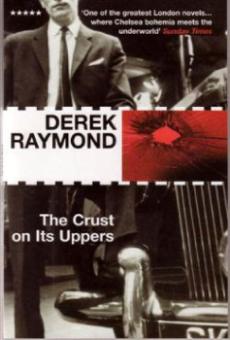 Before he turned to crime fiction proper in the 1980s, Derek had a career (of sorts) as a 'straight' novelist and one of my favourites, The Tenants of Dirt Street (published under the name Robin Cook, although in fact his real name was Robert William Arthur Cook) received a glowing review in The Sunday Times from none other than Julian Symons.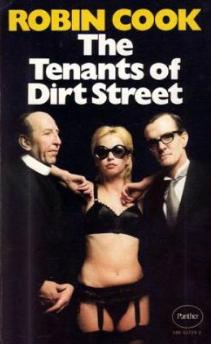 His crime novels featuring a nameless policeman from 'the department of unexplained deaths' were written under the name Derek Raymond to avoid confusion with the medical-thrillers of American bestseller Robin (Coma) Cook and so he became, as Mark Timlin famously said, the only man to voluntarily change his name to Derek.
I remember the furore when his most notorious novel, I Was Dora Suarez, came out in 1990 and I was asked to review it for the Daily Telegraph, though I was far from complimentary. In fact I hated it for its cruelty and gruesomeness, even though I could not deny there was a savage power behind the writing. Robert/Robin/Derek did not hold that review against me and inscribed a fond dedication in my copy on the night he agreed to join the legendary Fresh Blood group, albeit almost 30 years after writing his first novel!
At least I think he agreed to join us. We were in The French Pub on Dean Street in Soho, which Robin always referred to as "GHQ" and I seem to remember it being very hot and crowded in there and that after a hard day in the office, I was really rather tired…
This will be a big year for Agatha Christie – but then, as she still sells four million books each one, when isn't?
In September, an authorised biography (the first?) by Laura Thompson appears from Headline, but those spiffing people at HarperCollins have not been idle. They have a duty not be, for the legendary Collins Crime Club (of which I am a reluctant alumni) was said to have been created back in 1930 to cope with the demand for detective stories inspired by the Great Dame herself.
In a bold experiment, they have moved into what I am told I must not call comics, but rather 'comic strip editions' of eight of Agatha's novels, the first three to hit the bookshops being Murder on the Orient Express, Death On The Nile and Murder On The Links.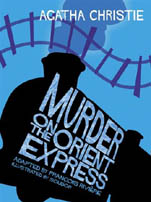 The idea seems to be to appeal to the fans of the graphic novel and of course the fanatical followers of TinTin. The publishers may be on to something here, for the legion of TinTin fans will certainly grow now the news has been announced that the comic book hero's adventures are to be filmed by the awesome partnership of Peter Jackson and Steven Spielberg
Can Agatha's adventures of Poriot really compete with Herge's adventures of TinTin? I don't know, but I have just given you a sentence which contains two famous Belgians. That must be worth something.
The Ripster family solicitor (or consigliore as he insists on styling himself), Sir Bufton Tufton, QC and his clerk Kevin, have advised me that an apology is in order for my remarks last time concerning American thrillmeister, James Patterson.
Quite unintentionally, I implied that Mr Patterson had no less than four new novels being published in the UK between now and Christmas. I now realise my error and am deeply sorry for any unintentional distress I have caused. It is, of course, at least five new titles, for I had quite forgotten The Quickie by James Patterson and Michael Ledwidge, published by those absolutely fabulous people at Headline any day now.
I must also offer my apologies to Sir Bufton himself, in that I may have previously implied that his legal charges for letters are "£75 a go". This does give entirely the wrong impression, for all his communications, especially those handwritten with quill and ink on Tulkinghorn Bond parchment (is there any finer?), are in fact charged at £75 per letter. Thus "Dear Duke Ripster" (for example) alone costs £1,125 before one gets to the meat of things.
Still, one has to pay for quality, doesn't one?
That evergreen publisher Robert Hale provides a fitting memorial to the much-loved crime writer Michael Gilbert, who died last year aged 93, in the form of an anthology of twenty-seven previously uncollected short stories under the title Even Murderers Take Holidays and Other Mysteries.
Michael Gilbert was a highly respected crime writer who was first published in the aftermath of World War II – during which he spent time as a POW in Italy, an experience he drew on for Death In Captivity, which was filmed as Danger Within and starred just about every British character actor alive in 1959.
He was one of those rare beasts: a crime writer about whom absolutely no one seemed to have a bad word to say. On the one brief occasion when I met him – we had a hotel breakfast together during some mystery convention somewhere – he was well into his eighties, but spry and fit and had done the Times crossword before I had managed to get the top off my boiled egg.
If the names Petrella, Hazelrigg, Calder and Behrens mean anything to you (and they do to a lot of loyal fans), then this is a must-have summer read and also a fitting swansong to a charming and erudite man.
And kudos to Robert Hale publishers also for another collection of stories entitled Fifty Years of Crime and Suspense which picks the best from fifty years of contributions to Alfred Hitchcock's Mystery Magazine in a fine, meaty volume edited by the editor-in-chief of AHMM, Linda Landrigan.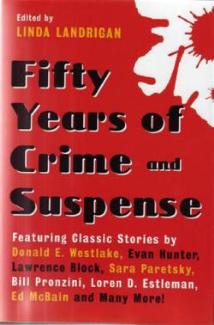 There are stories by Jim Thompson, Evan Hunter (Ed McBain) and Donald E.Westlake from the early days of the magazine, and indeed Ed McBain's last story for AHMM from 2003. The anthology also contains a story highlighting one of Charles Willeford's pet obsessions (pun totally intended) and his gift for oddball titles: A Genuine Alectryomancer.
We've seen Chinese detectives (and Mongolian, Tibetan and Korean for that matter) in crime novels before, but invariably written by British (such as Christopher West) or American authors, or in the case of the famous Judge Dee stories, a Dutch diplomat (Robert van Gulik).
Recently though, the real thing has been available in the form of the Inspector Chen novels by Qui Xialong, usually set in his native Shanghai.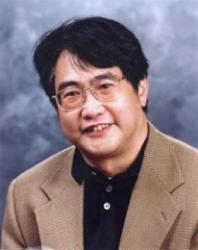 I mention this because not only are those wonderful people at Sceptre publishing his latest novel, When Red Is Black, in June, but because Qui Xiaolong is making his first-ever trip to England to promote it.
A noted poet and translator (of T.S. Eliot among others) in China, Qui Xiaolong was on an academic visit to the USA when Tiananmen Square happened and he was forced to seek asylum and now lives in St Louis.
It was through one of the many interweb columns (I believe they are called blags) written by my friend Prince Ali Karim in the few spare moments he has when not counting his oil wells, that I discovered (belatedly) that multi-award-winning short-story writer Jerry Sykes had written a full length novel.
Titled Lose This Skin, it was published in February by "Five Star", a publishing house I have to admit to not having heard of. A quick mouse-click on to Amazon.com (though why all books now come from Brazil baffles me) assures me that this is the case and indeed there is a review of Jerry Sykes' new book.
And fulsome in its praise it is too, a veritable five star review you might say. And the author of this critique of Mr Sykes' debut novel? Why, none other than a Mr M.L. Sykes, of Holmfirth, which I believe is in the North.
I wonder if they are by any chance related?
I have recently discovered two authors previously unknown (to me) both of whom are published by imprints similarly unknown (to me).
Absent Light by Eve Isherwood is published by Accent Press, which I believe is based in Wales, though the book is a very credible first mystery set in the West Midlands, the heroine being a former Scene Of Crimes Officer who has "ratted" on the dubious activities of her fellow police officers. The novel has much to commend it, not the least being the portrayal of the lead character, who is not averse to blundering in where angels would think twice.
In For The Kill is the third "Marine Mystery" by Pauline Rowson and published by Fathom, which is an imprint of Rowmark Publishing Ltd., of which Pauline Rowson is a director. (If you are going to self-publish, you might as well do it right!) Ms Rowson has obviously found herself a nice little berth on the south coast, around Hampshire and the Isle of Wight) by writing crime novels aimed directly at the messing-about-in-boats brigade, hence the branding of "marine mystery". There is absolutely nothing wrong with that, it's a great bit of marketing and the books are competent enough crime novels and professionally enough written so that the reader does not have to have spent seven years before the mast to enjoy them.
But – and you just knew there was a but coming, didn't you? – both these novels insist on going out of their way to annoy me. It has nothing to do with their plotting or characterisation or the fluency of their prose, it is their inclusion of supposedly verbatim extracts from newspapers: in the one case a weekly paper from the Isle of Wight, in the other, no less a venerable organ than The Birmingham Post.
It is not an uncommon failing in many crime novels. A writer who can manage a novel automatically thinks they can write as a newspaper reporter does. Few can (thank God!) but still they insist on trying. They write newspaper reports highlighting what is relevant to their plot, and not in a newspaper style which is governed by house style, legal reporting restrictions and the whims of grumpy sub-editors. To anyone who has worked as a journalist, these cod reports supposedly taken from reality stand out like sore thumbs. And some far better-known crime writers have been guilty of this is the past.
The answer is easy enough. Don't pretend to be a newspaper reporter, or report the news item in another way if it's vital to the plot, OR, if all else fails, actually buy a copy of the newspaper you are parodying and read how real reporters have to do it.
[If in doubt stick to the golden rule that if your story runs to four paragraphs, everything relevant should be in the first paragraph in case a lucrative advert comes in and the last three paragraphs of your priceless prose have to be sacrificed.]
Long established specialists in the library market, publisher Severn House are launching a new trade paperback list this summer, concentrating on crime, thrillers, horror and romantic fiction.
Devotees of the Murder One emporium on the Charing Cross Road will already have seen some early examples, but the list is officially rolled out with titles from such names as Simon Clark (author of the cheekily-titled The Night of the Triffids), Emerson Cole, Sarah Harrison and, leading the crime pack, Sally Spencer with Sins of the Fathers one of her utterly reliable Chief Inspector Woodend novels.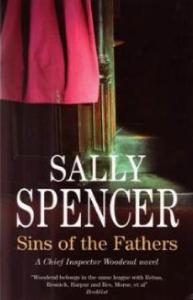 It may be of some slight interest to collectors of ephemera and cultural curiosities that in September, Severn House will be publishing a paperback version of my own modest work The Legend of Hereward which re-tells the story (once taught to every British schoolchild) of Hereward the Wake, the 11th-century hero of the Fenlands who just happened to be (in my version) a psychopathic, drug-taking arsonist. Should the movie rights ever be sold, Alan Rickman is already pencilled in for the role of William the Conqueror.
In the press release which accompanies his new book Last Light, from those thoroughly decent chaps and chapesses at Orion, author Alex Scarrow reveals that he, his wife and son live "a nomadic existence in Norwich".
I assumed this was no more than a neat turn of phrase, but my factotum Waldo insists that, over the opening credits of the local television news magazine Look East, he has indeed seen a number of writers on horseback herding flocks of yaks and goats through Norwich market place, whilst their wives and children erect gaily-coloured tents outside each of which is a small folding table on which is placed the family Remington, an artefact which has been proudly handed down through the generations.
On reflection, however, I suspect that Waldo has been at the absinth again, now he has discovered Tesco do an own-brand version.
Those lovely people at Random House are reissuing 'classic' novels, in pairs, on a themed roll-out under the very aptly-named imprint Vintage.
The first pair of Vintage Crime Classics, out in August, certainly live up to their billing, for they are: Fyodor Dostoevsky's Crime and Punishment and Patricia Highsmith's Ripley's Game.
There has been, of late, a revival of interest in The Talented Miss Highsmith who lived for time out here in the wild Fenlands, and recently, Bloomsbury have reissued her short story collection Eleven.
Talking of connections with the East Anglian wetlands, one cannot help but mention the famous Greene family and its roots in that fine town of Bury St Edmunds. Graham Greene was, I believe, an author of popular fiction and his younger brother Hugh went on to be something in the BBC, but while those two black sheep are long-forgotten, the family name lives on as Greene King, the brewers of that fine beverage, Abbot Ale.
Back in 1957 the two brothers jointly edited an excellent volume entitled The Spy's Bedside Book, which the good Lady Ripster took quite literally and to this day keeps a copy by her bedside on which to balance her nightly schooner of port wine.
I am overjoyed to hear that those charming people at Hutchinson (from the same loving family at Random House) are to reissue the Graham and Hugh Greene book in November. It is a truly delightful miscellany of spies in literature with extracts from John Buchan, William Le Queux, Ian Fleming (and his younger, smarter brother Peter) and, of course, the author of Scouting For Boys, Sir Robert Baden-Powell.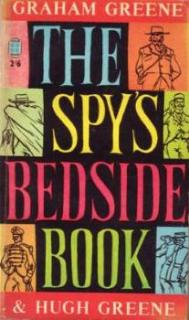 I do hope Hutchinson retains the original Graham Greene Introduction, which is surely the only known occasion where the literary merits of T.E. Lawrence and Dennis Wheatley are compared and contrasted in the same paragraph!
My edition also has a lovely end-piece from Hugh Greene in the form of an advertisement offering trade discount from the publisher on any copies of the book ordered by a foreign embassy or legation, not for resale but solely for use by their secret services.
You ain't from around here, pardner
For those charming and generous people at HarperCollins it must be a constant worry as how best to promote an author such as Thomas Eidson to what it sometimes optimistically called "The Trade" – or booksellers to mere mortals such as you and I.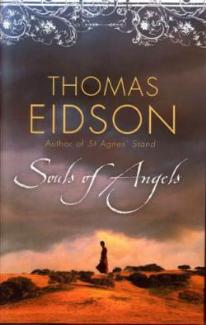 The problem is that although Eidson is widely acknowledged to be a fine writer (St Agnes' Stand and The Last Ride), he sets his novels in what one can only call "the wild West" and – darling – nobody, absolutely nobody reads 'westerns these days' do they?
Well actually, here's a news flash for all the beatniks behind the counters at Otterstones: we do if it is a bloody good, well crafted, intelligent mystery which just happen to be set in the Los Angeles of 1882 as is Eidson's latest, Souls of Angels. (Great title, Thomas. Ever thought of a series?)
Whilst perhaps not Eidson's best, this is a very good book with a nun for a heroine defending her estranged (and quite bonkers) father from a murder charge and a looming death sentence. But I fear for it, for I suspect it will not even blip on the radar of this year's Crime Writers' Association awards – because it is a 'Western'.
The same fate befell Scott Phillips' wonderful Cottonwood (from those very pleasant people at Picador) a couple of years ago and I remember despairing at the time. No doubt I would have ranted and torn out my hair (the one area in which the Ripsters, unlike some critics, are truly well-endowed) back in 1969 when the prize-giving establishment totally failed to recognise one of the best written chase/revenge/quest thrillers ever: Charles Portis' True Grit.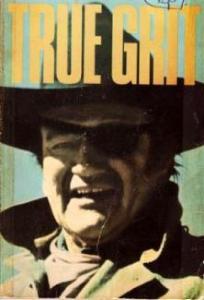 I am reminded of this fact by an American writer, Bob Morris, whom I do not know and hold no negatives or incriminating evidence on, but he has reminded me courtesy of that wonderful website www.therapsheet.blogspot.com (which is known in England as the Prince Ali Karim/Tom Cain love tryst site) that True Grit was not only (what do I mean "only"?) a terrific Western but a damn good crime novel as well.
I cannot speak for Mr Morris, a man of undeniable taste and judgement, but I think I speak for all true fans of the Portis novel when I say that if you disagree, then you'd better fill your hands you sons of bitches!
The esteemed editor of SHOTS, Michael 'Doc' Stotter, Esq., has been awarded the singular honour of chairing a 'panel' at something called 'Thrillfest' in New York in July, where he will be appearing in the company of my old friend and poker coach Justin 'Ticonderoga Slim' Scott.
It appears the subject of the panel discussion is "Strangers in Paradise: the tropical dangers of toting guns and sunblock" and it should be a rewarding philosophical discussion, for guns and sunblock are both subjects of which the well-educated Englishman has considerable knowledge.
I myself will not be attending, for six-week sea journeys and all that salt pork are too much for me these days, but I wish Mr Stotter all the best in his ambassadorial role to the colonies and have offered him the benefit of my long experience.
I have, for example, advised him to fill the poacher's pockets of his anorak with as many pairs of nylon stockings as possible and as many bars of Cadbury's fruit and nut as he can carry. I have always found these gifts go down well with the friendly young ladies lining the docks at Ellis Island.
Although America produces fine tobacco, I am given to understand that smoking is now frowned upon in public buildings there. It is always best therefore to publicise one's intentions of going out into the open air for a smoke by clearly and slowly announcing to one's audience "I'm just nipping outside to light up a fag," thus avoiding unnecessary confusion.
Most valuable of all, however, is my advice to Mr Stotter to remember to address all members of the US Customs and Immigration authorities in a clear, loud voice almost as if barking orders across a parade ground. This may sound a trifle harsh, even impolite, but I can assure him that they have an inbuilt respect for authority and respond quickly and cheerfully to commands rather than requests.
Pip! Pip!
The Ripster.