July saw the annual reunion of graduates of the college of St Heffers in Cambridge, one of the favourite events in my increasingly sparse social calendar.
One of the particular delights of the St Heffers do (which has to be called "Bodies in the Bookshop" for tax purposes), apart from meeting old friends and making new ones as well as the opportunity to mingle with what I am told is known as the 'general public', is to obtain a copy of the college's latest prospectus.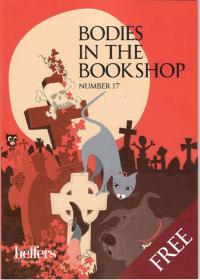 This is an invaluable document, for it lists the college alumni along with their most recent and/or famous works. Being the only university college dedicated entirely to crime fiction (the experimental Department of Thriller Writing at Archer College, Oxford, having failed miserably some years ago), the works listed form a veritable consumer guide to excellent crime writing. One might even call the prospectus The Smooth Guide To Crime Fiction, but one must not be churlish.
In this year's edition (the 17th), no less than 727 fine writers are listed with their current work in print. In some cases, these are titles which are now back in print after unexplained and unforgivable interruptions and there was much joy in the cloisters of the college as the alumni welcomed the reappearance in print of many an old favourite.
We were all delighted to once again see works by John Bingham (who cemented the college's links with MI5 in the 1950s), Edmund Crispin, Sheila Radley and especially the wonderful Landscape With Dead Dons (unfortunately set in Oxford) by Robert Robinson.
To get a true Cambridge feel, though, one has to turn to Janet Neel's Death Among the Dons (reissued by Back-In-Print Books) and Ruth Dudley Edwards' Matricide at St Martha's (reissued by the Poisoned Pen Press). It is particularly wonderful to see these fabulous books back in print as St Heffers' college lies between St Martha's and Gladstone College, as anyone even vaguely acquainted with Cambridge would know.
Few, however, unless they were graduates, would know the location of the college's private and rather secretive dining rooms situated deep in Cambridge's Chinatown. It is there that a select few take dinner with the Master of St Heffers, Professor Richard Reynolds, seen here being mobbed by grateful students.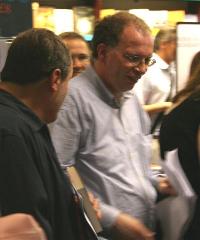 There are various traditions associated with this dinner. This year it fell to Professor Paul Doherty to try to claim the privilege of Catholic Unemancipation, by which ancient custom, all Catholics within the college grounds on a Tuesday after Lammastide are entitled to free bread and ale.
And it was delightful to welcome new members to the High Table, particularly the undergraduates Alex Scarrow (author of that recent ripping yarn Last Light) and Ariana Franklin, whose historical novel Mistress of the Art of Death is surely a front-runner for the Ellis Peters Award.
In fact there was quite an historical theme to the whole St Heffers' event this year. Not only did Simon (Eagle in the Sand) Scarrow appear complete with crested centurion helmet, but my own paltry historical effort The Legend of Hereward actually sold out – both copies going quickly in the fund-raising book sale which always accompanies this event. And at dinner, I found myself seated opposite the impressive trio of Ariana Franklin, Dr Deryn Lake and the aforementioned Professor Doherty.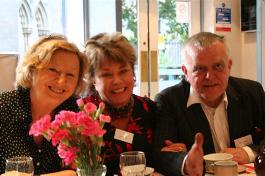 At one point, as the wine flowed, the official St Heffers' photographer, Wing-Commander T.P. Coles, DFC, managed to capture a nicely informal moment between Professor and Mrs Doherty and the husband of Ariana Franklin, whom I believe to be called Barry and who is, I suspect, something of a motion picture enthusiast.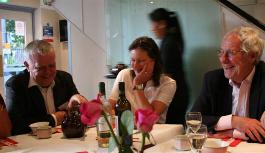 Whilst it was a positive pleasure to meet such distinguished authors as Jill Paton Walsh and handsome Italian Gianrico Carofiglio, it was sad to note the absence of some familiar faces at the St Heffers' bash.
Some arrived fashionably late, like the talented soprano Laura Wilson, who had just enough time to ignore me completely, before rushing elsewhere, no doubt to some pressing operatic engagement. Some did not appear at all, although they were expected, such as novelist Stephen Booth, though I understand him to be in high demand as an after-dinner speaker on the college circuit.
I particularly missed the opportunity to chat with the talented Mr John Lawton this year. John has spent many years perfecting a reputation as something of a curmudgeon and part of this adopted persona is to react loudly (and often violently) should anyone address him as a "crime writer". Naturally, the older boys and girls of St Heffers always encourage new undergraduates to go up to John and greet him with the words "Are you not John Lawton, the famous crime writer?" as he secretly loves to be teased.
I had not known that John had a new book out this summer, for his publishers, Weidenfeld and Nicholson, had managed to keep the fact quite secret until a copy thumped through the letter box here at Ripster Hall.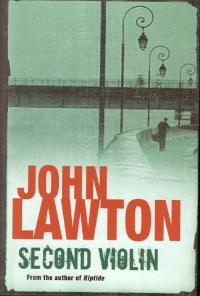 Second Violin is the sixth of John's "Troy" novels which have the distinction of being of the highest quality and written chronologically backwards and so by now much of the action takes place in the years 1938-40. I note that the novel carries a review by the leading crime fiction critic of this century, which sates: John Lawton has created, in Freddie Troy, one of the most intriguing detectives in modern crime fiction…Lawton's writing is hypnotic…he deserves to be ranked with the best.
Quite honestly, I could not have put it better myself.
No Daggers, please – we're British
I was unable to attend the jamboree dinner to mark the Crime Writers' Association's annual Dagger awards in old London town for legal reasons (I was not invited), but I hear the evening did not go quite to plan for those plucky underdogs, the British.
All the major awards, it seems, have gone to writers from abroad. Admittedly two of them were colonials (American and Australian), but one, I was told in hushed tones, was actually French!
Pedants may point out that the Dagger in the Library was won by a Scottish person, Stuart MacBride, but I take that as cold comfort, for British crime writing seems in danger of becoming a minority sport.
According to my own personal database (where new titles are meticulously entered into a ledger by my factotum Waldo), it would appear that to date, some 529 new titles (books published in the UK for the first time) are scheduled for 2007. Of these, 264 are by British authors, but 265 are not. Of course, Waldo's ledger will have more entries by the end of the year but the trend is ominous and 2007 could just be the year in which British writers form less than 50% of the gross crime fiction output.
Perhaps it was a bold decision by the judges of the Daggers to accept the situation, for even their shortlist of six contained only one author who actually lived in Britain. I cannot criticise them too much (though I probably will), for had I been asked (I was not), my own personal shortlist for what used to be called the Gold Dagger would have most certainly included Australian Peter Temple (the actual winner), American Joseph Wambaugh for the outstanding Hollywood Station and Scot Ian Rankin for The Naming of the Dead, which I consider to be his finest book for several years.
Still, I understand the awards evening did have its lighter moments and I am reliably informed that Madame Vargas' acceptance speech, once translated, will be used as a training exercise in the rehearsals for next year's televised Oscar ceremonies in Hollywood.
That's enough crucifixion, thank you
Now I hate to be a spoilsport, but by Midsummer Day this year I had already read three crime novels involving crucifixion. (Ken Bruen, Allan Guthrie and Frenchman Arnaud Delalande, you know who you are.)
Now I can understand the gruesome appeal of this method of execution, widely attribute to the Roman Empire, although they borrowed the technique from the Greeks, who had in turn stolen the idea from the Persians. But enough is enough. Can't we just look on the bright side of life for once?
Last time out, I delighted in the news that my old and distinguished friend Carol Anne Davis' early novels were back in print courtesy of that small but perfectly formed publisher, Snowbooks. It quite slipped my drink-befuddled mind to mention that Carol is also a leading light in a thriving true crime blogspot on the jolly old interweb and can be read, along with other notable contributors to that particular genre, on www.incoldblogger.blogspot.com
Fancy a quickie, Minette?
I never thought I would stoop low enough to associate the well-worn (and admittedly time-saving) phrase "Fancy a quickie?" with the name of my old friend Minette Walters and yet that exact combination of words has recently been bandied about in the fair city of Coventry, which I believe is somewhere west of Peterborough.
There is, sadly, a logical explanation, for the good folk of Coventry have recently been voting for their favourite books (in a number of categories) in an initiative called the Coventry Inspiration Book Awards, run by the city's most excellent library services. There was indeed a category known (with the bare-faced cheekiness one always associates with Lady Godiva's home town) as the Fancy A Quickie award, which Minette won for her novella Chickenfeed after all other nominations had been voted off, Big Brother-style.
Interestingly, in the crime novel category (Killer Reads), the authors voted out of contention included: Conan Doyle, P.D. James, Agatha Christie (twice), Patricia Highsmith, Ian Rankin, John Grisham, Val McDermid and Jake Arnott. Which left just the winner. Step forward Fay Weldon, author of that classic crime novel (at least in Coventry) The Life and Loves of a She-Devil.
A damsel in distress called Velma in need of a tough private eye to protect her? Ring any bells?
Like me, you instantly thought of the femme fatale in the new novel by Raymond Haigh Kiss and Tell published by those venerable people at Robert Hale, where the aforesaid Velma seeks the help of Paul Lomax, the finest P.I. in..er…Doncaster.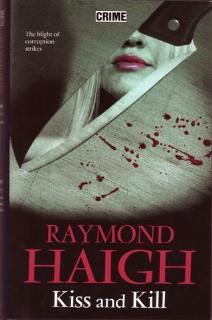 A few of the older generation may well have mistakenly called to mind Raymond Chandler's Farewell, My Lovely which also featured a woman called Velma and a private eye whose name escapes me for the moment. True aficionados of the genre will already know that the short story Try The Girl formed the basis of that novel, but there the lady in question was named Beulah.
Velma obviously proved the more popular name and I cannot recall ever having met a single Beulah on the mean streets of South Yorkshire.
But speaking of private eyes got me to thinking about female private detectives, of which we once seemed to have a monstrous regiment (or at least a pretty feisty platoon).
I am naturally delighted to see that Cath Staincliffe's wonderfully human (and humane) Manchester-based heroine Sal Kilkenny is still in business, taking on a new case in Missing published by those charming people at Allison & Busby.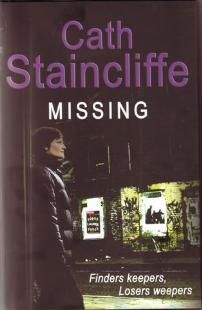 Liz Evans' rather comical (intentionally so) private eye Grace Smith is still going strong after ten years, as is Christine Green's ex-nurse turned investigator Kate Kinsella. But after that, I start to scratch my head.
Whatever happened to Cordelia Gray (P.D. James), Anna Lee (Liza Cody), Kate Brannigan (Val McDermid) and Hannah Wolfe (Sarah Dunant)? Can the Association of British Investigators, not to mention British crime writing, really afford to lose such talented sleuths?
It seems to be the season for crime writers to change publishers.
Stella Rimington has defected, along with her editor, from Hutchinson to Quercus for a two book deal starting in 2008. And Peter Robinson (ex-Yorkshire, now Canada), after being published in the UK by Penguin, Constable and Macmillan, now joins Hodder & Stoughton for the new Chief Inspector Banks book, Friend of the Devil.
But the biggest move is said to be that of James Patterson who has been lured away from Headline in a rumoured multi-million-pound deal. The sums involved are said to be equivalent to the purchase of a modestly-talented soccer player. David Beckham, say.
The long-serving and no doubt long-suffering Chairman of the CWA Dagger judges, Geoff Bradley, now has time to relax and complete his re-reading of the entire Freeman Wills Crofts canon now he has resigned after seven (or possibly more) years in the job.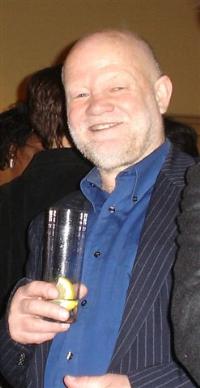 As the non-voting Chairman of (as was) the Gold and Silver Dagger judging panels, Geoff had the unenviable task of marshalling over 200 entries most years, making sure that publishers got copies to judges and then (the difficult part) making sure the judges read them.
I served for three years as a Dagger Judge under Geoff's chairmanship and found him to be never less than scrupulously fair and irritatingly honest. His encyclopaedic knowledge of the mystery genre, not to mention his devotion to fine malt whisky and the music of the divine Sarah Vaughan, endeared him to many and he will be sorely missed.
But I must remember that this is not an obituary. Geoff is not only alive and well, but hard at work editing the next issue of CADS (Crime and Detective Stories), one of the longest-running fanzines in the country. Relieved of his CWA responsibilities (for which he surely deserves recognition), he can now spend more time with his extensive collection of crime novels, sample even more obscure malt whiskies and look forward to the new season as a Norwich City supporter.
Oh well, two out three isn't bad, I suppose.
It is welcome news indeed to see that Russell James' 1989 debut novel Underground is back in print, albeit in America, published with add-on stories by Stark House Press in October.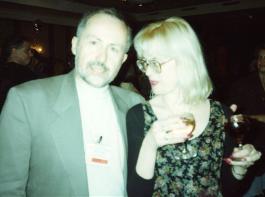 Seen here in younger days in with New York Diva and performance artist Eva Schegulla, Russell is often referred to as the "Godfather of British noir" and his early books were described by the late, great Philip Oakes in the Literary Review as: "Britain in the Eighties seen as if through a gun-sight."
One of the original members of the notorious Fresh Blood group, Russell went on to become Chairman of the Crime Writers' Association, though that should not be held against him.
I admit that I have been slow to appreciate the awesome power of The Amazon, that Brazilian interweb company which seems to supply all the books in the world these days, and I have only recently become aware of the army of critics Amazon employs (no doubt at vast expense) who provide on-line reviews for selected titles.
I have to say straight away, that these critics display remarkable judgement and excellent taste to a man, or rather woman, for a certain lady has, for some time now, been following the career of the fictional hero Roy Angel in a series of mildly amusing comic thrillers written by …er…me.
The lady in question, who exhibits wisdom and a generosity of spirit which defies her tender years, goes under the professional name of "honestfi" which I believe to be a corruption of "Honest Fiona". She exhibits a fine sense of humour despite residing in North Wales and shows total dedication to duty, even producing an Amazon Top Ten Mike Ripley Books, which is flattering to say the least and which three out of three readers found useful.
Her favourite title is my 1997 opus for the Do-Not Press, That Angel Look which Honestsfi says has "Great plot, introducing Amy, and brilliant observations of the female species."
Reading such praise, whilst trying to conceal scarlet blushes, makes me despair that because of the rules of the interweb, I know absolutely nothing about this generous and intelligent critic (by the way, Fiona, Happy 37th Birthday on 21st August!) and so am unable to thank her in the traditional way with the ritual brown envelope stuffed with currency.
The only personal information Honest Fiona is allowed to divulge is under the heading Qualifications where she claims she is: A discerning fan – not a stalker.
Which is a pity as I haven't enjoyed a good stalking for years.
I notice that among the summer titles offered by publisher Crème De La Crime include works by (Linda) Regan and (Maureen) Carter. Could it be that the commissioning editor at CDLC is a devotee of The Sweeney?
Julian Clary, the comedian with more camp than a Roman legion on campaign, is not the first professional comic to turn a hand to crime writing, though with Murder Most Fab (Ebury Press) he is probably the latest.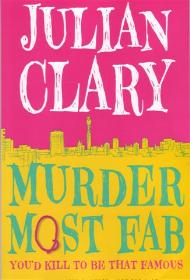 Hugh Laurie, better known to Brits as one half of Fry and Laurie (or Jeeves and Wooster) and to Americans as the limping, laconic Dr House,
wrote The Gun Seller a few years ago whilst Mark (League of Gentlemen) Gatiss has established a series character in Lucifer Box, most recently in The Devil in Amber. I seem to remember David Baddiel having a go, as has Irish comedy actress Pauline McLynn (better known as the iconic Mrs Doyle in the immortal 'Father Ted' series.
And who could forget Ben Elton's Popcorn which walked off with the 1996 Gold Dagger as best crime novel, to the surprise of many innocent on-lookers and, possibly, Mr Elton himself ?
Berlin should be the perfect city for a convention of crime writers for its role in countless thrillers down the years in unequalled. As, I believe, it will be, for my spies report that a meeting of the AIEP is to take place there.
Known in English as the International Association of Crime Writers, the AIEP (Asociacion International De Escritores Policiacos) is currently headed by Belgian crime writer Piet Teigeler.
For those who do not speak or read Flemish, Mr Tiegeler will remain something of a shadowy figure of mystery, which sounds very appropriate for a rendezvous in Berlin. As my knowledge of European languages does not extend beyond Latin and Greek, I cannot honestly say I have read any of his nine novels, but I have discovered that some years ago he wrote under the name of Woody Dubois.
I am told it is always useful to have an alias when in Berlin. On the advice of a friend, I once used the pen-name Quiller in order to travel there incognito and found it a most interesting city.
I was recently quizzed by a researcher on the early days of the Fresh Blood movement back in the last century. Our discussions naturally turned (it being a slow news day) to the possibility of bringing the concept into the 21st century and we began to play the game of suggesting suitable authors to be invited to a fantasy Fresh Blood 4.
Immediately we found ourselves agreeing on a number of new writers from the Celtic fringes: Scottish tearaways Stuart MacBride, Allan Guthrie and Ray Banks, and Irishman Declan Hughes. But I also flagged up Birmingham writer Mick Scully who has a wonderful collection of interlinked stories out now from the dynamic Tindal Street Press, entitled Little Moscow.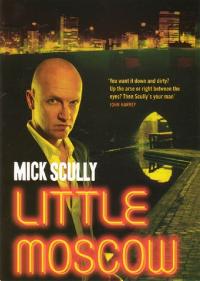 Until now, Mr Scully's work has been unknown to me, but not to my old and distinguished friend John Harvey, who supplies a cover blurb for Little Moscow.
Mick Scully seems to be the man if "you want it down and dirty", proclaims John, going further by adding: "Up the arse or right between the eyes".
Well, John, which is it?
Pip!Pip!
The Ripster