It has been a lousy summer and I'm not talking about the weather. Firstly, I am tasked with reviewing the latest Auerelio Zen mystery, End Games (a cruel title indeed) by my old mate Michael Dibdin, published posthumously by Faber.
Next comes the shocking news that dear old Rodney Wingfield has died, aged 79, after concealing a long-running battle with cancer for several years.
Inevitably, Rodney will be remembered as the creator of Inspector Frost, who is now on a par with Inspector Morse in British folklore, a sure indicator being that both fictional characters have appeared as Times crossword clues (though Rodney was actually a Telegraph reader). Yet for more than twenty years before the first Jack Frost novel was published in the UK, the name R.D. Wingfield was synonymous with high quality, tightly-plotted radio drama and it was over the BBC airwaves that Frost was born, although not without a struggle.
In 1968, the BBC took the first 45-minute play submitted by a bored clerk working in the offices of the Fina oil company and were pleased enough with the broadcast to commission two more. Rodney needed no further encouragement and promptly gave up the day job. From then until the mid-1980s, he was to supply a steady stream of radio plays to the BBC, most with some mystery or crime element, along with a series for comedian Kenneth Williams.
The quality of his plotting, dialogue and penchant for surprise endings brought him to the attention of the publisher Macmillan, who were engaged on building a major crime fiction list. Three years before they were to take on Colin Dexter's first Morse title, they offered Rodney Wingfield a £50 "non-returnable" advance for a crime novel. Rodney often said it was the words "non-returnable" which spurred him on and over the summer of 1972, he produced Frost At Christmas which he submitted to Macmillan and which they then promptly rejected!
Frost was too good a character to waste and so featured in a radio play Three Days of Frost in 1977, with Leslie Sands in the lead when the first casting choice, Ronnie Barker, was unavailable due to television commitments (ironically, with David Jason). Another radio play, A Touch of Frost, followed in 1982, but still that first novel had yet to find a publisher.
It eventually found one – and excellent reviews – in Canada in 1984, twelve years after being rejected by Macmillan but still five more years went by before it was published in the UK by Constable.
This was 1989, when I was a brand new, spankingly enthusiastic member of the Crime Writers Association. It was at one of my first CWA social gatherings that I met Robert Barnard, who had recently returned from Canada. Robert had read my debut novel, which was flattering, and produced from his briefcase a paperback edition of something called Frost At Christmas which he proudly presented to me saying: 'I read this on the plane coming home: it's right up your street; it's rude, crude and pretty rough.'
I loved it and when the novel of A Touch of Frost came out in 1990, I liked that even more, reviewing it enthusiastically in my Sunday Telegraph column. At a party, I met the Constable crime fiction editor and told him how much I liked the Frost books, adding that it was a pity but with those multiple plot threads and black humour, they were far too difficult to turn into a popular TV series. About a year later at another party, that Constable editor came up to me and simply said the words: "David Jason". The TV series aired in 1992 and is still going strong.
To say Rodney Wingfield was less than enthusiastic about the TV Frost would be putting it mildly. He always maintained he had nothing against David Jason's portrayal, it just wasn't his Frost and claimed never to watch it. He once told me that the only way he knew a new episode was in production was if he saw a picture of David Jason growing a moustache, and he refused to have anything to do with last year's ITV retrospective Super Sleuths.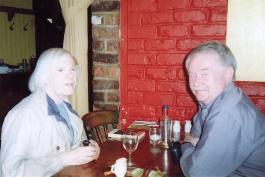 I corresponded with Rodney by fax and then e-mail for several years before I met him in person in what we used to tell people was his "Berchtesgarten-style maximum security retreat" in Basildon. He was a very private man who rarely ventured up to London (I think at least two of his later editors at Constable never actually met him) and turned down all invitations to publishing or showbiz parties, even refusing a Sherlock Award when Sherlock Magazine tried to press one on him.
He swore that Hard Frost (1995) would be the last 'Frost' but a groundswell of pressure from fans and publishers in the US and Japan (where the books were and still are very popular) persuaded him to write what became Winter Frost (1999). It was around 2002 that he told me he was having initial thoughts about a sixth novel, though he always protested that he much preferred writing short one- and two-act radio plays. About a year ago, he told me he had finished a "mish-mash of a first draft" under the working title Autumn Frost and, thankfully, managed to revise the manuscript before his death, which will be published as A Killing Frost in April 2008.
Rodney was not a social animal; some would say he was reclusive. But he was generous and fiercely loyal to those he called friend. In May he sent me an e-mail with his view of this particular column: "It's priceless. Is that what they pay you?"
I shall miss him.
Moriaty returns, but posthumously
Still more bad news follows as I hear of the death aged 80 of John Gardner, the consummate thriller writer who created Boysie Oakes, Herbie Kruger and latterly the engaging wartime policewoman series starring DS Suzie Mountford.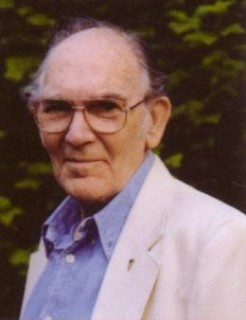 He will, of course, be best remembered for reviving the James Bond franchise (of books), contributing 14 new titles to the canon as well as two novels based on film scripts in the period 1976-96, something he accepted with wry resignation. In truth, I don't think he liked Bond much, nor the "die-hard" Bond fans who resisted any attempt to update the character, though he was proud of one: The Man From Barbarossa. (Am I right in thinking it curious that none were filmed?)
The fifth Mountford book, No Human Enemy appears any day now from those wonderful people at Allison & Busby, which is, I think, his 51st published novel.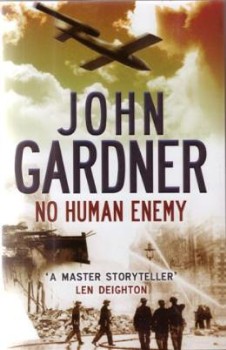 There is, however, a 52nd.
Back in 1974/5 he launched a series featuring Sherlock Holmes' nemesis, Professor Moriaty. Two titles appeared but a planned third did not, causing mutterings of conspiracy theory proportions by the Baker Street Irregulars. The truth is that Gardner could not agree terms with a publisher for the third and at that precise moment a man called Bond; James Bond, walked into his life.
However I am assured that following silver-tongued overtures from that doyen of the mystery scene, my old and distinguished friend Otto Penzler, Gardner was persuaded to resurrect that third book and it was in fact the last thing he completed before his death. The Redemption of Moriaty will eventually be published in 2008, some 32 years late, but for the legion of patient fans it will have been worth the wait.
As it is now public knowledge that Sebastian Faulkes is to inherit the authorship mantle of the James Bond books, and not, as widely thought, that crime-writer, critic and international man-of-action Peter Guttridge, I have been racking my brains as to what else could be taking up so much of Mr Guttridge's time.
For indeed, he is suspiciously busy these days and I have noticed that recently, he has often failed to turn up to previously arranged meetings and venues, some of them offering free food and drink. This is not like him and his public appearances seem to becoming rarer to the extent that the foolish may well say he has dropped "out of sight".
Where, for example, are the plans to celebrate the 10th anniversary of his 1997 debut Nick Madrid novel, No Laughing Matter, an event which surely cannot go unnoticed? Indeed, I have even offered the use of Ripster Hall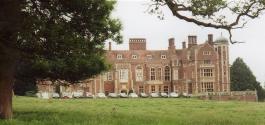 (or at least the grounds, where a marquee or a couple of pup tents could be erected) for the celebrations, but my offer seems to have fallen on deaf ears.
It is almost as if Mr Guttridge was living "off the grid" as our colonial cousins so charmingly put it. And I was thinking that very thought when a press release crossed my desk promoting the new novel The Dark River published by those charming people at Bantam Press.
This novel is "an electric new thriller" by an author who lives off the grid to the extent that his identity is a complete mystery, with no one, not even his agent or publisher, knows who he is (though I have no idea how my very good friends in the Inland Revenue deal with the irksome problem of royalty payments). The nom-de-plume of this novel is the rather intriguing "John Twelve Hawks."
Surely this must be the reason why Mr Guttridge has become so elusive. He is busy penning 'international bestsellers' under this name. In fact the press release almost confirms this by saying that "John Twelve Hawks" has "become a cult" – words often used to describe Mr Guttridge.
You have to admire American crime fans. When they say that a crime fiction convention will be held on "the left coast", they really mean it. In fact in 2009 they are about as far 'left' (if only geographically) as they can go as Left Coast Crime 2009 will be held from 7-12 March in the Marriot Waikoloa Beach Resort in Hawaii.
I am willing to bet that the first conventioneers to enter the hotel bar, bedecked in loud floral shirts and Factor 50 sun-block, loudly humming the famous theme from Hawaii Five-O will be the British delegation. All together now: Tah-da-dah-da-dah, Tah-da-dah-da-dah…
In my day, we got a week-end in Nottingham and were grateful for it.
London's mystery readers and socialites have, for a number of months, remarked on how dull the party scene is without the presence of the effervescent Canadian author Louise Penny.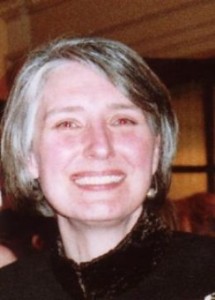 Her charming smile, witty reminiscences of life as a lumberjack and free samples of delicious Maple Syrup [Editor's note: Yeah, right, we got it; she's Canadian.] were the highlight of the social calendar last year. But flagging socialites (and readers, let us not forget) will take heart from the fact that those lovely people at Headline have brought forward the publication of her new book, The Cruellest Month, to 16th September and surely Ms Penny will be gracing the launch with her presence. I have absolutely no confirmation of this, but my understanding is that extra crowd control barriers have been erected around Canada House in Trafalgar Square, which is usually a good indicator of a party in the offing.
The BBC radio quiz Quote, Unquote is required listening for all who work at Ripster Hall, as I believe it fills a gap in the paltry formal education received by many of the under-stairs staff. A recent episode did, however, cause me to shout loudly at the wireless, even physically attacking it and in the process, dislodging two of the valves (which are difficult to replace these days).
My uncontrolled outburst was as a result of a panellist not knowing who wrote those wonderful detective stories Frequent Hearses and The Moving Toyshop. It was, of course, Edmund Crispin (or rather composer Bruce Montgomery under the pen-name Edmund Crispin), but the entire panel professed complete and utter ignorance, including the person whose question it was: crime writer Frances Fyfield.
Take the shame, Frances; take the shame.
Things are coming in pairs this summer. I have already flagged up the excellent marketing idea of Vintage Classic Pairings which couple, in the mystery field, Dostoevsky's Crime and Punishment and Patricia Highsmith's Ripley's Game. Whilst admiring the thinking behind such a "twinning" I admit I had not until recently realised that this was what is known in the retail trade as a "bogof" (buy one, get one free).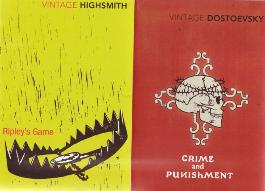 Both books for £7.99 sounds almost too good to be true, but it is.
And then, just when I was thinking I hadn't read a good vampire novel for centuries, along come two, one of them Swedish!
I don't know why I should be surprised that the Swedes have an interest in vampires, for there are contemporary folk tales of a steely-eyed long undead master vampire, fatally attractive to women, who preys on groups of young athletes (usually 11 at a time), draining them of their energy and lifeblood and devouring millions of pounds in cash in the process. He is believed to be in the Manchester region at this very moment.
Let the Right One In by John Ajvide Lindquist (and published by those party people at Quercus) is a quietly gripping vampire novel set, unusually, in the bleak and unlovely suburbs of Stockholm in 1981.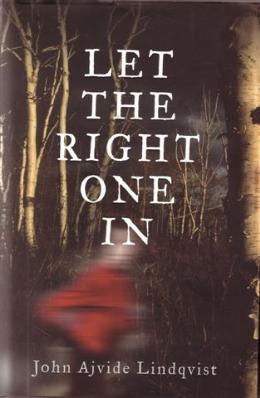 Simon Clark's London Under Midnight (now a trade paperback from Severn House) is clearly set in London. Not only does the title indicate this, but in Chapter One we are also given a description of the "tube station at Piccadilly Circus" thus: The subterranean station lay deep under the London streets.
I am so relieved, I have often wondered where it was.
No doubt these two new vampire tomes will cause frenzied debate among the members of the Dracula Society, but then they're always at each other's throats.
And on to more doubles.
Few can have missed Sam Bourne's The Last Testament for it has been a resounding bestseller for those charming people at HarperCollins this year. Sam's second thriller deals with the discovery of an ancient text, specifically the last will (and testament – geddit?) of the Biblical Abraham, who begat Isaac, Ishmael (who never called) and so forth.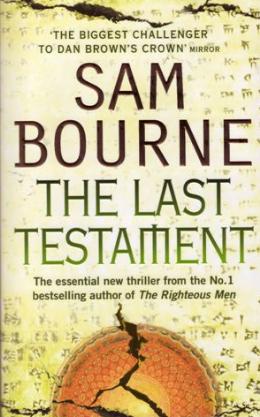 Naturally the contents of this testament are vital to peace in the Middle East and Sam Bourne weaves a good, fast-paced conspiracy with lashings of mayhem around the search for Abraham's Will. When its crucial secret is revealed, though, you can't help thinking that maybe Abraham should have looked for a better solicitor. That way the subsequent long-running family disputes about his property might have been avoided.
The 13th Apostle, published by Avon, is also concerned with a Biblical document left by one Micah, supposedly Jesus's thirteenth apostle, but the really interesting things in this book take place before the Prologue.
It is written by a married couple from New York and they are both doctors. They are Dr Richard Heller and Dr Rachael Heller because it says so, quite specifically, on the title page. Actually, it's Richard F. Heller, M.S.,Ph.D and Rachael F. Heller, M.A.,M.Ph.,Ph.D as it says on the page after the title page, as well as giving full details of their academic placements, which are indeed impressive.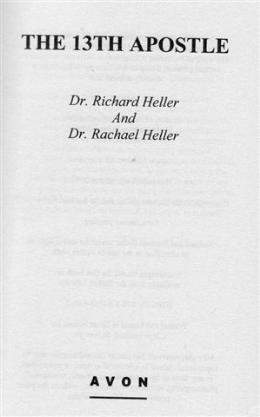 In the authors' blurb we are also told that the pair are doctors and indeed the "No. 1 bestselling authors" of The Carbohydrate Addict's Diet. So now we know, yet we are still not allowed to read their debut novel until we have gone through one of the most extraordinary disclaimers I have ever seen, which is worth quoting in full:
The 13th Apostle is a work of fiction. Names, characters, places, and incidents either are the product of the authors' imaginations or are used fictitiously, and any resemblance to actual persons, living or dead, business establishments, or organizations, events or locales is entirely coincidental.
As each character, organization, or institution is either fictional or portrayed in a purely fictional manner, the perceptions, beliefs, motivations, actions, beliefs (sic), portrayals, and histories of each character, organization, or institution should be considered products of the authors' imaginations and should not be construed as reflecting any aspect of reality. In the same way, character's (sic) perceptions, motivations, actions, beliefs, and histories do not, in any way, reflect the perceptions, motivations, actions, beliefs, or histories of any organization or institution, nor do they reflect the perceptions, motivations, actions, beliefs, or histories, of any character's religious, ethnic, racial background, affiliation, or national origin.
Which surely is an expensive (for a lawyer must have drafted this) way of saying: This is fiction; we made it all up.
When I did make it to the book's Prologue, I find that it cites an 11th century "diary" purporting to record the burning of a "heretic" by the monks of "Weymouth Monastery" on 1st May 1097.
Now I'm not sure that the Bendictines actually burned anyone for heresy in 1079 (or any other year), though I admit that as an archaeologist, my grasp of modern history is slight.
However, I am sure such quibbles are covered by the disclaimer if only I could be bothered to read it again.
The interweb site www.crimespace.ning.com is currently conducting a poll of its 'readers' asking them to vote for the sexiest crime writer they know.
Now I'm sure there's a world of wrong in the very idea of such a poll, but like a slow motion car crash, I couldn't resist looking and, I have to say, take immense pride in the fact that currently running second in the popular vote is British and none other than that pin-up of the Charing Cross Road, Maxim Jakubowski.
I am speechless with admiration for him putting himself forward so bravely, and just a little bit curious as to who the other two people who voted for him are…
Like London buses, you can wait around for a good crime story involving poison for ages, then suddenly three come at once.
I shouldn't be surprised when one of the books is Paul Doherty's superior 14th century historical mystery The Poison Maiden (Headline), for the clue there is, as they say, in the title.
I would have said that one rarely finds poison used in contemporary crime novels these days, but just to prove me wrong, poisons from a cottage garden play a vital role in Nigel McCrery's splendidly creepy Still Waters (Quercus).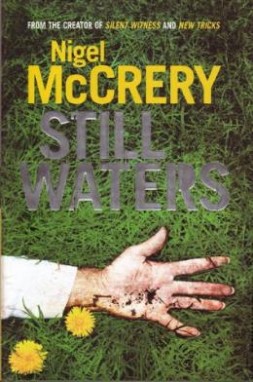 This is a superb thriller which I recommend heartily and has a villain who proves that "still waters" run not only deep, but icily cold.
The villain in Val McDermid's Beneath the Bleeding (HarperCollins) also relies on poisons derived from garden plants, many of which, in the wrong hands, can be truly lethal. Perhaps that is why the turnover of under-gardeners here at Ripster Hall is so high.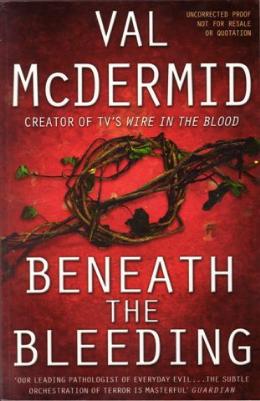 Val's new novel is also noteworthy for shedding light on the hobby (which I am assured is perfectly legal between consenting adults) of "pegging", a practice I was until now blissfully innocent of. But I have always said that it is the duty of the crime writer to shine light into dark places.
A programme on the BBC's Home Service reminds me that this is the centenary year of the birth of Leslie Bowyer-Yin, better known as Leslie Charteris, the creator of The Saint.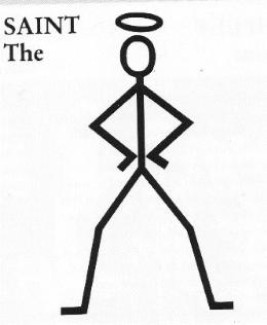 I met Leslie in 1992, not long before his death, at a Diamond Dagger reception at the House of Lords. His award of the Cartier Diamond Dagger was due in no small part to being championed by Peter Lovesey at a time when, to be frank, few other members of the Crime Writers Association were aware that he was still alive.
I found him a charming, positively saintly, man although very frail and confined to a wheelchair and we had a long discussion about his involvement not in crime writing, but in the promotion of the great British pub! Having written a modest monograph or two on the history of the brewing industry, I was well aware of the television and poster advertising campaign of the 1960s where celebrities were shown "dropping in at their local". Among those employed in the campaign were Boris Karloff, Mr and Mrs Bobby Moore, the entire Liverpool football team (featuring Ian St John) and Mr and Mrs Leslie Charteris.
I was able to present Leslie with a photograph from the campaign showing him and his late wife visiting their local hostelry, for which he thanked me most profusely, then beckoning me closer, he whispered that the photograph had brought back memories worth far more than a diamond-encrusted dagger.
Word reaches me from America that a six-hour television adaptation has been made of Robert Litell's magisterial 2002 novel The Company which is nothing less than a fictional history of the CIA.
Weighing in at around 900 pages (not one of them wasted), I thought the book was a magnificent achievement, even eclipsing Litell's famous The Defection of A.J. Lewinter and his slightly surreal Walking Back the Cat, one of my personal favourite spy novels. Unfortunately, The Company's length and weight obviously affected the judgement of the more wimpy reviewers, for I do not think it garnered a single award, which is a disgrace.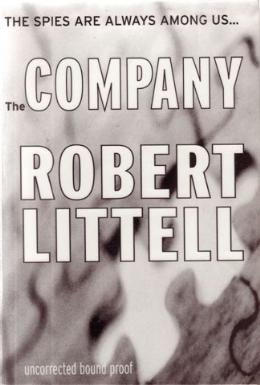 I hope the television series lives up to the book. The script has been written by one Ken Nolan, whom I believe to be the scriptwriter behind the film Black Hawk Down, and stars Chris O'Donell and Alfred Molina, with Michael Keaton in the role of legendary CIA boss James Jesus Angleton.
The Master of St Heffers College, Cambridge, Professor Richard Reynolds, is, I am told, to be the new Chairman of the Dagger judging panel for the Crime Writers' Association.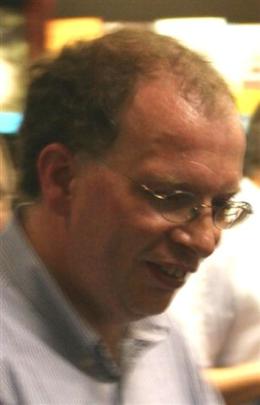 He succeeds Emeritus Professor Geoffrey Bradley who retired from the post at the unfashionably young age of 39, earlier this summer, and who is already filling his spare days with the editorship of that splendid journal Crime and Detection Stories, or CADS to its international subscribers.
There is always a priceless literary nugget in each issue of CADS, often more than one, which simply would not find a home in any other medium, but thank God it does in CADS. In the latest issue (#52) it is the first appearance in English (thanks to Tony Medawar) of an article written in 1983 for the Japanese edition of Ellery Queen's Magazine, by Christianna Brand on her memories of being a member of the famous Detection Club at the same time as Agatha Christie, Dorothy L. Sayers, John Dickson Carr, Cyril Hare and Anthony Berkeley.
And what a joy it is, being worth the price of the subscription alone (a paltry £5.50, contact Geoffcads@aol.com). I have to say, however, that in his Introduction Mr Medawar states that in the centenary of her birth (1907-1988), Christianna Brand "is relatively unknown"!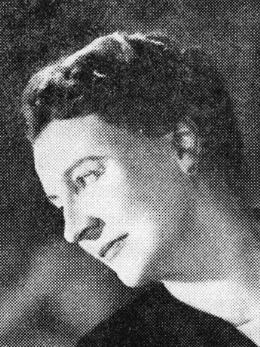 Surely not. That is heresy. To reassure myself, I rushed to the Ripster Hall Library where I was able to caress my green Penguin first editions of Heads You Lose, Tour De Force, Suddenly at His Residence and London Particular only to find that my cherished copy of probably her most famous work, Green For Danger (filmed with the delicious Alistair Sim as the detective) is missing from my shelves!
I have instigated a search of the entire household, the grounds and staff. My factotum Waldo has been armed, given plenipotentiary powers and told to show no mercy.
Another prestigious magazine is the American publication Mystery Scene which recently celebrated its 100th issue. To mark the event, the erudite and tasteful Kevin Burton Smith was charged with compiling a list of the Top 100 Private Eyes who have emerged since Mystery Scene was founded in 1985.
Because my own creation, Fitzroy Maclean Angel features on the list at #2 (the list is alphabetical), I naturally am inclined to call Mr Smith's conclusions The Best List Ever, but modesty compels me to mention the other British detectives (or detectives created by Brits) on the list. Unfortunately this will not take long.
They are; 'Bogie' in the comic strips by Alan Grant and John Wagner; 'Dave Cunane', created by Manchester-based Frank Lean in the 1990s; 'Dirk Gently', created by the late Douglas Adams; 'Bernie Gunther', recently revived by Philip Kerr; 'Cal Innes', from Scottish tearaway Ray Banks; 'Philip E. Marlow' as in The Singing Detective written by the late Dennis Potter; and 'Precious Ramotswe' created by Alexander McCall Smith.
I am sure there must be lots of significant omissions from the list, but do I sound bothered? All complaints to Mystery Scene, not me.
My old and distinguished friend Justin Scott, who goes under several names but is best known as 'Ticonderoga Slim' on the international professional poker playing circuit, recently graced the Thrillerfest convention in New York. (He is seen here enjoying the traditional chugging of tequila shots which marks the opening of the event.)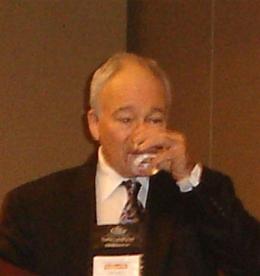 Justin enjoys this column for it makes him laugh out loud at people he has never heard of and tells me how much he enjoyed meeting the new generation of up-and-coming thriller writers and quizzing them on which writers inspired them to take up the thriller challenge. This idea appeals to me, and so I shall dedicate myself over the coming months to discover the "inspirers" (if that is a word – it is now) of the new British generation of thriller writers.
I will naturally keep my loyal readers informed, though I cannot promise not to be distracted from my task by a pretty ankle, the sound of a cork being drawn or a massive advance from a publisher to write a thriller myself.
Pip! Pip!
The Ripster