ALAFAIR BURKE [Interviewed by Ali Karim]
Can you give us some background as to how your book 'Judgement Calls' came about?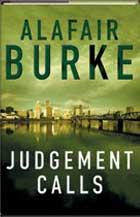 I worked as a prosecuting attorney at the district attorney's office in Portland, Oregon. The entire time I was there, I was an avid reader of mystery/crime novels and as a reader, like most readers, I wondered whether I had one in me? But while I worked, I observed cases and soaked up the atmosphere and looked at people. When I left the DA's office I took some time off and explored the ideas that eventually became 'Judgement Calls'
Can you tell us about your characters and where they came from?
I think everything an author writes about, including their characters, comes from personal experience. Samantha Kincaid has a similar background to me, she went to law school, she worked in a DA's office, she's about my age, but she's an idealised version of me, she works a little harder, she runs a little faster, she's taller and she's fitter…..laughing…..There are a lot of good things about her…laughing….Some of the characters that appear in Judgement Calls are I guess amalgams of people I came across when I was in the DA's office. Her co-workers are fictional but they come from people that I came across in my work.
What do you consider is the most important element in crime writing?
Well I'm very plot orientated and I like books that are tightly plotted. I did start a book without having an outline once, without knowing where the story would lead. That didn't work for me, but works really well for my father. I ended up writing a lot, but I guess what I like about mystery books is that in the middle they get really chaotic, but the end knits all the threads together so the reader gets satisfied. When I started that book without an outline, I had all the chaos, but not the way to knit all the strands back together. I can not work with just characters, themes and settings but need a tight outline so that I can get to the end, and that works for me, even though say 200 pages of the book might only need 4 or 5 pages of outline, but the outline for me is as vital as a roadmap. In terms of plot and character, you need both, because a great plot with uninteresting characters doesn't work, nor will interesting characters cast in a dull plot, you really need both and they have equal importance. Otherwise why not watch TV? What is great about a book is that it takes you deeper than say a movie or TV will, and stimulates your imagination much more than pure visuals. If you look at some of the great crime-writers who write series, well they can only do so if they have great characters, and it is a joy watching them develop over time. But also it is a challenge to keep those characters fresh.
So are you working on a series?
Yes I am, In fact I've just finished my second Samantha Kincaid novel which will be out in fall in the UK.
What do you think of the current trends in the genre?
I really couldn't comment as I know what I like, which is hard-boiled but I don't really know what others are reading. I really like Michael Connelly, Sue Grafton, Harlan Coben, Lee Child and Dennis Lehane…as well as my fathers work which I think is brilliant….laughing….One of the trends I think is the pressure to get a book out each year, which can be difficult especially coupled with the promotional work.
What novels were the early books that you read, that either influenced you, or made you take up the pen?
Encyclopaedia Brown, these are mystery books for kids about a boy called Encyclopaedia Brown, and he is a smart little kid who solves mysteries. In fact, I was a lover of mysteries even before I became aware of my father's work. He hadn't written anything that could be called crime fiction until I was in college; hence I had my Encyclopaedia Brown books. But seriously my father has been a big influence on me. His actual work didn't influence my work as my work is so different, but I guess watching him write every day, his dedication certainly was an influence.