David Corbett [Interviewed by Ayo Onatade]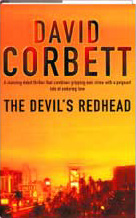 Can you give us some background as to how your book came about?
I was a private investigator in the early eighties and among the first cases I worked on were a number of marijuana smuggling cases that involved smugglers who had come into the business during the seventies. By and large these were High School kids who were wild but not evil incarnate and returning Vietnam veterans and we actually had a pretty good time representing these guys and in the early eighties the Reagan administration was coming down really hard on Marijuana and these sorts of clients were very easy to catch because they were not violent they were not threatening, informants weren't afraid of them, other people in the drugs business weren't afraid of them so they were the first and easiest prey. By the end of the decade they had been eliminated from the business, they were either wise enough to get out because they had be either betrayed or killed or they were in prison. They had been replaced by a thoroughly criminalised ilk and as I noticed this I saw that there was a book in that. A book in the change in the business and how one of these older more gentlemanly smugglers would deal with the way the business had evolved and not wanting to put him in the business but having him deal with it in another way and that is where I came up with the love story at the center of it with his girlfriend who goes to prison with him in the early eighties but then gets out earlier, has unfortunately attached herself to a young man she is trying to help. He is still in the business and that's how we get that dramatic action moving.
Can you tell us about your characters and where they came from?
My main character, my marijuana smuggling protagonist is really a composite of about five of the smugglers that I mentioned, one of them risked, not risked he actually obtained third degree burns on one half of his body swimming through flaming water rescuing two friends one of whom was blinded when a boat exploded and actually saved their lives. I thought that someone on the other side of the law is none the less is capable of that kind of selfless heroism was definitely worth a book. As for Shel Beauregard my female protagonist, she is based on the cocktail waitresses I met when I was in a bar band in my early twenties.
What made you choose crime as your book's subject?
As they say write what you know or as I like to say it and as Grace Palely once said it write what you don't know about what you know. So rather than write about a private investigator I decided to take a little bit of a leap and assume the role of one of my former clients and so take that position as well. So it is really just writing what I know.
What do you consider is the most important element in crime writing?
I believe character is the most important part of any writing, because meaningful action is always character-driven. Even if a character is temporarily the victim of his situation, how he finds the means to reassert control is dictated by or redefines his character. And I also believe people don't just read to be whipped along by a cracking plot. We read to mitigate our loneliness, to see in others a glimpse of ourselves, and this can only be done by well-drawn and compassionately conceived characters. Last, I consider human character one of the great mysteries, and exploring its sometimes crystalline, often shadowy nature is every bit as exciting as discovering who done it.
What does it mean to be included in the Orion New Blood Series?
It is an incredible privilege and I am in the solely due to the efforts of a lady called Barbara Peters a bookseller in America who pitched my book relentlessly to Jane Wood at Orion. Jane came back and found the book on one of her associates desks picked it up read it and decided to buy it. So I was really, really fortunate.
What do you think of the current trends in the genre today?
There so much in the genre that it is so hard to characterise it one way or another. You have got your usual middle of the road mainstream, but what I am really, really pleased about is the number of really wonderfully literary high end mystery writers are appearing particularly out of Britain. I think of John Harvey, Jake Arnott, Robert Wilson, I guess you know that Wilson is astonishing and in America you have Daniel Woodrell, Denis Lehane and I think that the bar is being raised on the literary end and I think that is a very very good thing.
Some do not consider the genre to be "literary" enough and at times it does not get the accolade it deserves. Do you believe that this is the case and if so do you have any views on how people's views might be changed?
This goes back into the last question. It is certainly true that there is a lot in the genre that isn't literary. However there is an increasing number of writers who are literary, quite literary and I think that all people need to do is look, its there, its really quite wonderful.
What novels were early books that you read, that either influenced you, or made you take up writing?
I wrote while I was a private investigator. Before I was a P.I (this is almost sad) I was into writers like John Hawks and Franz Kafka and sort of surrealist realist literary fiction and it turned when I became a private investigator myself. I had never read crime fiction up till then and I picked up The Long Goodbye by Chandler and then I read Double Indemnity by James M Cain and I realised both the strengths of the genre because those are two incredible writers but also the limitations because I realised that Philip Marlowe is not an investigator I would recognise. I thought that there was room to make a realistic investigator but still aspire to the stylistic excellence of a Chandler or the James M Cain. I think that James M Cain, if you want to learn how to pace a book read Cain because his pacing is at such a fever pitch you cannot put his books down, they are just incredible.
What are you working on currently?
I am working on a screen play concerning the recent arrest of Hell's Angels in the western United States. I am also working on my third novel which concerns three men in El Salvador; one is a corrupt cop, one is a sniper who is one of his former buddies and the third is a bodyguard. The corrupt cop has lured the bodyguard and the sniper down, but what he hasn't told them is that the sniper is there to kill the bodyguard's principal.
Is there a book out there you would have liked to have written?
Richard Price's Clockers.
Thank you very much for the interview.