Victoria Blake [Interviewed by Ayo Onatade]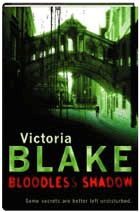 Can you give us some background as to how your book came about?
I have been writing for about 8 years and the two previous books that I had written I had not managed to get published basically. I had not managed to get an agent and so I got extremely fed up and I thought try and write crime and so basically thatís what I did. I thought that I would give it a final whirl with this and if I canít get published with this book then Iíd quit. And thatís basically how it came about. It was kind of like a mixture of commercial reality that hit me on the nose.
Can you tell us about your characters and where they came from?
Well, Sam Falconer I took Sam Spade and the Maltese Falcon because not particularly original but I just love them. I love the Humphrey Bogart films and I just thought a mixture of those two things. Iíve given her my upbringing which was in Oxford. I was brought up in an Oxford College so Iíve used that. Iíve always loved sport although Iíve certainly never been a world champion which I made Sam. So I thought I was quite keen to make her so unsuccessful in sport because it is the kind of excuse I could write about it.
What made you choose crime as your bookís subject?
Well because is a commercial genre and I thought that I would have a better chance of getting published in it. I mean I have always read a huge amount of crime, I was brought up reading really really tons of crime so it wasnít like it was like an alien thing for me to write but Iíd always be frightened by the plotting aspects of it. I just thought o good God I will not ever be able to do that. So Iíd been put off, but then I got going at it.
What do you consider is the most important element in crime writing?
Tension I think. I was listing to Armistead Maupin being interviewed this morning. He quoted Wilkie Collins who said apparently ďmake them laugh, make them cry, make them waitĒ and waiting is about creating tension. So I think tension is really important.
What does it mean to be included in the Orion New Blood Series?
Well it means a huge amount. Before I was published I was working as a bookseller so I know about how many new books get published and if they donít get promoted and if you donít get publicity you go out into a huge pool and you can easily just sink. So it is great to be with other fantastic writers. It is great to have the promotional stuff happening. So it means a huge amount and Orion are just great and fantastic.
What do you think of the current trends in the genre?
I donít really know how to answer that one to be honest. I mainly thought to myself that crime is this huge genre. It is incredibly diverse; it covers a massive different amount of things and I just think that it is fantastically diverse. It is the main thing I could think about that. I mean I wasnít sure what the current trends were to be honest.
Some do not consider the genre to be ďliteraryĒ enough and at times it does not get the accolade it deserves. Do you believe that this is the case and if so do you have any views on how peopleís views might be changed?
Well you see I think that this is a strange one because I have lots of friends that read literary fiction and they read crime and they never complain about crime not being literary or crime as being an inferior thing to the other things that they read. My experience as a reader is that I read literary fiction and I read crime and I just enjoy them both. And of course I believe that crime does not need to worry about people being snotty about it as it is so successful. I donít think that it really matters in a sense.
What novels were early books that you read, that either influenced you, or made you take up writing?
My mother was a huge crime fan, she read all the oldies. So she read Agatha Christie, Margery Allingham, Dorothy Sayers. She also read tons of Alistair MacLean actually, which is all kind of all male action and Hammond Innes. So I was brought up reading all those and so then I suppose those definitely influenced me.
What are you working on currently?
Well I am working on a second Sam Falconer which is basically based around somebody going missing who is involved in the University Boat Race. The University Boat race is good for me because I have Putney and Oxford in my novel and that is an obvious link between the two, the boat race because it starts at Putney and has a University involved.
Is there a book out there you would have liked to have written?
I would really have liked to have written George Pelecanos The Big Blow Down. I think that is a fantastic book. I just think that it is a magnificent book. It is fantastic. It harkens back to the literary issue. It just stands in whatever group you want to put it in. I love it and I would have loved to have written it.
Thank you for allowing me to interview you.