STEVE MOSBY [Interviewed by Mike Stotter]
Can you give us some background as to how your book came about?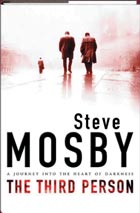 There are a few different plot strands to this. The original idea came a few years ago when I was writing short stories. I had that rather silly idea about this guy whose girl friend had disappeared, who had been killed and he was looking for her. He had given up his job, had some money in the bank and he was going to follow this investigation. He felt that it could be suicide first of all but then probably it wasnít. so I was thinking about this for years, even though it wasnít a great story idea. Then I had the idea for the writer who was in it. And without spoiling it, he writes fiction that could be alive to people who read them. That, coupled with the central realtionship idea, and the original idea, it formed the novel.
Can you tell us about your characters and where they came from?
The actual characters are probably amalgams of people I know. Everything I tend to like seems to be in the first person, which is a bit of a weakness of mine. But the central character is very definitely me in many ways. The other characters have bits of me in them; aspects of friends; aspects of people I meet. But I hope this idea of the central guy and his girlfriend is kind of universal. It is more about relationships, and the inter-relationship between them.
What made you chose crime as your book's subject?
I came from this background in horror writing, I grew up reading horror and writing horror. Iíve written seven books before this one which werenít good enough to be published, and they were all horror books. And horror tends to have some element of crime in them at some point. The boundaries between these genres are quite elastic. A lot of crime I read I would tend to class as horror. A lot of horror writers have transferred into crime and crime should be horrible, really. I really didnít have a genre in mind when I wrote it but sent it off to my agent, who accepted it and sent it to Orion.
What do you consider is the most important element in crime writing?
I suppose it depends on what you like to read in a crime book. The main thing would be the narrative and the plot. Not the quality of the writing, although thatís important. Itís more about solving a puzzle with a crime element, a situation that has to be righted. It doesnít have to be like that, but it seems to be the thing people want from a crime novel.
What does it mean to you to be included in the Orion New Blood series?
Itís great! Obviously when a new writer is published, there are not necessarily a lot of fans out there to receive the book. In this case, we are all guarenteed to be seen, standing side by side out there on the book shelves, weíre promoted together and it comes nine-fold, really.
What do you think of the current trends in the genre?
I havenít read that much to give it an informed opinion. My impression of the crime genre is that 90% of it is standard seriel killer novels. Thereís increasingly inventive serial killers and someone investigates them; thereís a cop with a booze problem - something like that. There seems to be something generic about the lot of it, speaking as an outsider. But having said that, there is room for good writing to be had in that framework. Although I enjoy a lot of it, I feel that some of it is a bit unpleasant, having to read about something taken from real life. It has to be treated with respect and approached with some caution otherwise it undermines what happens to people in real life.
Some do not consider the genre to be ďliteraryĒ enough and at times it does not get the accolade it deserves. Do you believe that this is the case and if so have you any views on how peopleís views might be changed?
Thereís has been a lot of discussion which Iíve read on the internet. There was Stephen Kingís speech when he appealed for more popular fiction to be presented for awards. It is not something that bothers me too much. Good writing is good writing. Youíll find good sentences, good paragraphs and good writing in crime books just as you would in literary books. How people judge your book is out of your control.
What novels were the early books that you read, that either influenced you, or made you take up the pen?
Started off reading the usual stuff; Roald Dhalís kids books and moved up to Stephen King in my teens and most of the horror writers. Then I discovered a guy named Michael Marshal Smith, who I am an enormous fan of. I love the way he combines the genres and works on a very human level.
What are you working on currently?
At the moment, I'm working on a new book for Orion, and hopefully it should be finished by April. It's about a murder investigation in a very strange city. It's going to be a little different to The Third Person, but it will certainly have a similar tone and atmosphere. Apart from that, I always have a few short story ideas on the go, and I'm also busy trying to sort out a website for myself.
Is there a book out there you would have liked to have written?
None, really. There are books I admire a great deal - Michael Marshall Smith's 'Spares' and Jim Crace's 'Being Dead' would be two - or you could say the Harry Potter series for the cash. Maybe the Bible - that might have been fun. But really, I'm just happy I'm getting the chance to do my stuff.