MASSIMO CARLOTTO [Interviewed by Mike Stotter]
Can you give us some background as to how your book came about?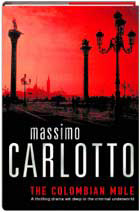 My plots always start of from events that actually happened. This is a story I knew directly because I knew the person who was accussed. I investigated this case along with the defence lawyer right up until the time of the trial.
Can you tell us about your characters and where they came from?
This novel is part of The Alligator series of crime novels. And Alligator is an investigator who is assisted by two partners. One is a former smuggler and the other a former political left wing militant. These three fictional characters in the novel deal with a number of other characters who really did and do exist.
What made you chose crime as your book's subject?
In Italy, crime fiction novels serve to inform on events that are not normally reported by newspapers. Through this story I wanted to describe the way in which consumption and the trafficking and smuggling of drugs in the north-east of Italy has changed.
What do you consider is the most important element in crime writing?
As far as my writing is concerned the most important thing is to get the mix between fiction and reality right.
What does it mean to you to be included in the Orion New Blood series?
Extremely important. There aren't that many Italian crime authors who are translated into English, and for me to be included in this prestigious new crime series is extremely important.
What do you think of the current trends in the genre?
I think they're good. I am happy about them. The more different trends there are, the easier it is for me to try and find the right way in my own writing to tell a story.
Some do not consider the genre to be "literary" enough and at times it does not get the accolade it deserves. Do you believe that this is the case and if so have you any views on how people's views might be changed?
In my view there are good books and there are bad books. The difference in terms of genres is of no importance. In Italy there is a continual discussion about this split for a long time. The readership has clearly demonstrated that there are just good books and bad books.
What novels were the early books that you read, that either influenced you, or made you take up the pen?
One writer that I really love is a great deal is Anne Perry. I met her and really enjoyed her company. Then there's the American hard boiled fiction. That really was a major influence on me in those earlier years because at that time there was no tradition in Italy of crime writing. So it was really two models that inspired me, that of the English novel and the American novel. But my decision to write crime fiction was because I view crime fiction as the literature of truth.
What are you working on currently?
There's so many. I'm working on graphic novels, there's the ninth crime novel coming out, there's a TV series, radio work and in the theatre. But the main thing is that in March my new novel comes out. It is not part of the Alligator series. It is going to be noir. Whether Orion will buy it, I don't know. There will be, however, another Alligator series novel coming out in a year's time which has already been commissioned and being translated. It is provisional called The Master of Knots.
Is there a book out there you would have liked to have written?
The Long Goodbye.